Jan. 6 committee weighs possibility of criminal referrals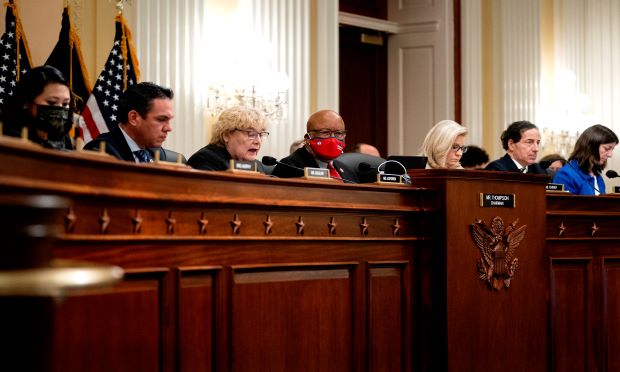 By Michael S. Schmidt and Luke Broadwater
WASHINGTON – When the House formed a special committee this summer to investigate the Jan. 6 Capitol assault, its stated goal was to compile the most authoritative account of what occurred and make recommendations to ensure it never happens again.
But as investigators sifted through troves of documents, metadata and interview transcripts, they started considering whether the inquiry could yield something potentially more consequential: evidence of criminal conduct by President Donald Trump or others that they could send to the Justice Department urging an investigation.
That move — known as sending a criminal referral — has no legal weight, as Congress has little ability to tell the Justice Department what investigations it should undertake. But it could have a substantial political effect by increasing public pressure on Attorney General Merrick Garland, who in his first year in office has largely sidestepped questions about what prosecutors are doing to examine the conduct of Trump and his aides as they promoted baseless allegations of voter fraud.
The questions of criminality go far beyond the contempt of Congress referrals that the House has sent to the Justice Department for Trump's former chief strategist, Steve Bannon, and his former chief of staff, Mark Meadows, for their refusal to cooperate with the investigation. (Federal law requires prosecutors to bring contempt of Congress charges before a grand jury upon receiving such a referral.)
According to people briefed on their efforts, investigators for the committee are looking into whether a range of crimes were committed, including two in particular: whether there was wire fraud by Republicans who raised millions of dollars off assertions that the election was stolen, despite knowing the claims were not true; and whether Trump and his allies obstructed Congress by trying to stop the certification of electoral votes.
It is not clear what, if any, new evidence the committee has that might support a criminal referral, when and how it will determine whether to pursue that option and whether the committee could produce a case strong enough to hold up against inevitable accusations that it acted in a partisan manner.
Behind the scenes, the committee's day-to-day work is being carried out by a team of 40 investigators and staff members, including former federal prosecutors. The panel has obtained more than 30,000 records and interviewed more than 300 witnesses, including about a dozen last week whom committee members say provided "key" testimony.
In recent weeks, the committee has publicly signalled its interest in the question of criminality. Shortly after obtaining from Meadows 9,000 pages of documents — including text messages and a PowerPoint presentation — the panel's top Republican, Rep. Liz Cheney of Wyoming, read from the criminal code at a televised hearing.
She suggested that Trump, by failing to stop the violence at the Capitol on Jan. 6, might have violated the federal law that prohibits obstructing an official proceeding before Congress.
"We know hours passed with no action by the president to defend the Congress of the United States from an assault while we were trying to count electoral votes," Cheney said, adding: "Did Donald Trump, through action or inaction, corruptly seek to obstruct or impede Congress' official proceeding to count electoral votes?"
The question is one of the most significant to emerge in the first six months of the investigation.
The panel has nine House members — including two Republicans — and is modelling itself on the commission that investigated the Sept. 11, 2001, terrorist attacks. The committee plans to produce the authoritative report about Jan. 6.
It plans to hold televised hearings early next year to lay out for the public how the pro-Trump "Stop the Steal" movement helped lead to the Capitol riot. And it ultimately may propose changes to federal laws, toughening statutes to rein in a president's conduct and overhauling the Electoral Count Act, which Trump and his allies sought to exploit in his attempt to cling to power.
One of the challenges the committee faces is that so much has been reported about Trump's efforts to hold onto power and the attacks themselves. So far, the numerous disclosures about the role of Trump, his aides and others who promoted the baseless idea that the election had been stolen from him have had little effect on his Republican support in Congress.
But a credible criminal referral could provide the committee an opportunity to underscore the gravity of what happened while potentially subjecting Trump and others to intensified legal scrutiny.
Although congressional investigators have no powers to charge a crime, their ability to subpoena documents and compel witnesses to testify allows them to reveal new details about events. At times, that process leads to witnesses disclosing potential criminality about themselves or others.
When that occurs, Congress can make a criminal referral to the Justice Department — often in the form of a public letter — that can increase pressure on the department to open investigations. Sometimes members of Congress, amid partisan squabbling, overstate the evidence of criminality and make referrals to the Justice Department that are ignored because they appear political.
Congressional investigations also create problems for witnesses because it is against the law to make false or misleading statements to Congress. The special counsel, Robert Mueller, indicted Roger Stone Jr. in 2019 for lying to congressional investigators examining Russia's interference in the 2016 election and for obstructing that inquiry. Stone was ultimately convicted and then pardoned by Trump.
Stone appeared before the Jan. 6 committee on Friday to face questions about his role in the "Stop the Steal" movement. But rather than answer questions, he repeatedly invoked his Fifth Amendment right against self-incrimination because he said he feared that Democrats would again accuse him of lying under oath.
At a hearing this month, Cheney suggested that the committee could subpoena Trump to answer questions and that criminal penalties would hang over his head if he lied.
"Any communication Mr. Trump has with this committee will be under oath," she said. "And if he persists in lying then, he will be accountable under the laws of this great nation and subject to criminal penalties for every false word he speaks."
Rep. Adam Schiff, D-Calif., a member of the committee, said it was "certainly possible" that the panel would make criminal referrals before the investigation concluded.
"Most of the criminal referrals that I'm aware of, judging from experience in the Russian and Ukrainian investigations, were perjury-related or witness intimidation-related," he said. "But it's not unprecedented for Congress to make referrals when we are aware of evidence that people engage in other criminal activity. I wouldn't exclude that possibility."
One option being examined by the committee, as Cheney revealed, is whether there is evidence to make a referral of Trump or others based on an obscure obstruction charge that federal prosecutors have been using to pursue rioters at the Capitol on Jan. 6: the disruption of Congress' duty to certify the final stage of a presidential election.
That charge, which has been used in lieu of more overtly political counts like sedition or insurrection, has been brought against more than 200 rioters.
As part of their effort to weigh whether the charge would be warranted, the committee is trying to glean what it can about what Trump was saying behind closed doors about what he believed from those who were working with him in the months after Election Day last year, the people briefed on the inquiry said.
The committee is also examining whether there is enough evidence to make a wire fraud referral over how Trump's campaign and the Republican Party raised $255.4 million from donors as he and his allies fundraised off the false claim that the election had been stolen.
The line of inquiry has already created questions about whether people associated with the campaign have criminal exposure and created tension between witnesses and investigators.
In November, the committee subpoenaed the chairman of Trump's campaign, Bill Stepien, to testify. Along with the subpoena, the committee sent Stepien a letter raising the possibility that he was aware that the campaign was raising money by making false claims about election fraud.
"As manager of the Trump 2020 re-election campaign, you oversaw all aspects of the campaign," the letter said. "You then supervised the conversion of the Trump presidential campaign to an effort focused on 'Stop the Steal' messaging and related fundraising. That messaging included the promotion of certain false claims related to voting machines despite an internal campaign memo in which campaign staff determined that such claims were false."
The letter led Stepien to push back on the committee, claiming that it had unfairly tainted him. His lawyer, Kevin Marino, said in response to questions that the committee's chairman, Rep. Bennie Thompson, D-Miss., "has expressly advised us that it was never the select committee's intent to directly or indirectly suggest that Bill Stepien was involved in criminal activity."
Marino said that Thompson "has since informed us that Mr. Stepien was subpoenaed not because the committee has any evidence that he did anything wrong, but based solely on his status as the head of the" campaign. The committee, Marino said, has since withdrawn its subpoena for Stepien to testify.
The committee is also looking at Sidney Powell, one of the lead lawyers in Trump's attempts to overturn the election, who leads an organization that raked in money as she and Trump spread the lie of widespread election fraud. Her organization, Defending The Republic, raised $14.9 million between December 2020 and July. Powell's group has more than $9.3 million in funds on hand, according to an independent audit filed with Florida, which investigated the organization and alleged multiple violations of state law.
So far, Garland has avoided making substantive public statements about the issue. In a House hearing in October, he declined to answer questions about whether the Justice Department was investigating Trump and his allies for their role in the Capitol attack.
The Justice Department's prosecutions stemming from its vast investigation of Jan. 6 — an inquiry that has resulted in slightly more than 700 arrests — have so far concentrated almost exclusively on those who were on the ground at the Capitol that day, breaching barricades, breaking windows or fighting with the police.
The department appears to be building its cases from the ground up, starting with those it can accuse of definable crimes and looking for potential links to others. But it remains unclear whether prosecutors are trying to build cases against people further up the political hierarchy or connecting the attack to Trump and the aides and supporters who worked with him to overturn the results.
-New York Times