SLTC strengthens partnership with Deakin University
Launches Education Centre for Global Collaboration
The country's pioneer in quality higher education in Engineering and Technology, Sri Lanka Technological Campus (SLTC), recently renewed its partnership with coveted Deakin University in Australia at a virtual event hosted at SLTC Trace Expert City, Colombo. Deakin University is one of the top-ranking universities in Australia for quality of education and student satisfaction.
The partnership signing coincided with launch of Centre for Global Education (CGE) which will serve as an education center for faculty, students, staff and the public making world class international education, resources, more accessible to prospective local students who are seeking opportunities to be exposed to global education to complete higher studies.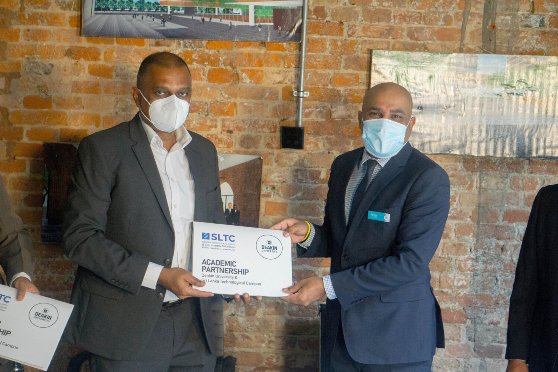 The heightening of partnership was witnessed by academics and administrators of the two the universities; Prof. Gary Smith, Deputy Vice Chancellor Global Engagement, Deakin University signed on behalf of Deakin University while Eng. Ranjith G. Rubasinghe, Founder President/ CEO of SLTC signed on behalf of SLTC.
Prof. Baskaran, Associate Dean- International & Partnerships, Faculty of Science, Engineering and Built Environment at Deakin University said: "The Deakin Cloud Campus serves to deliver an authentic campus experience to students overseas while granting access to a host of resources and services including face-to-face, real-time interactions with faculty based in Australia. Another highlight of this agreement is SLTC being given the green light to initiate the Bachelor of Artificial Intelligence program, making history as the first Sri Lankan institution to embrace the discipline and offer a dedicated degree in the same – we're confident this will be one of the most popular courses in the ensuing years with demand and curiosity for AI soaring both globally and in Sri Lanka."
Rubasinghe thanking Prof Baskaran for the invaluable assistance extended in materializing the meaningful partnership between the two institutions,  said SLTC was very fast in adapting global education trends and will further commit to same, with greater efficiency, via the CGE moving forward.  "We are excited to partner with Deakin University in a more meaningful fashion rather than being a mere franchise-holder. Our role is not merely that of a facilitator but a holistic, fully-fledged University relaying knowledge, facilities, skills & dispositions to local students transcending geographical and other constrains," he elaborated.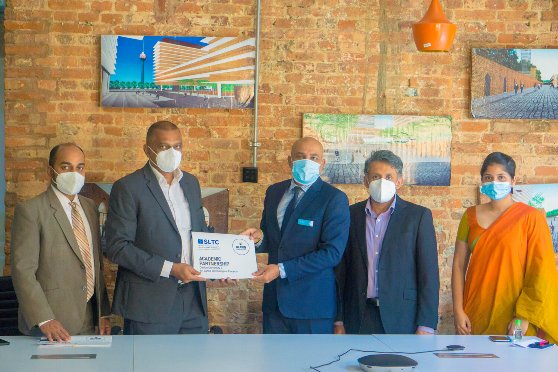 Deakin University is highly competent with more than 40 years of distance and online teaching excellence and 78,000+ online students currently enrolled. It is ranked in the top 1% of universities worldwide (Shanghai Rankings World University Rankings). SLTC is the first research-based, residential, private university fortified with strong industry links globally and locally offering a wide array of Ministry of Education-approved degree programs in disciplines of Engineering, Technology, Business Studies, Computing & IT and Music.