Biden meets Netanyahu, after months-long delay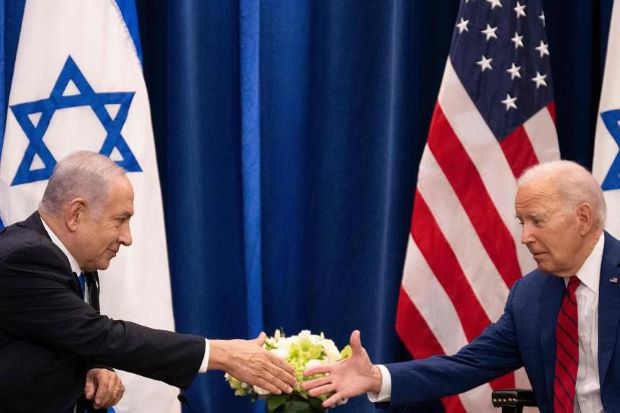 By Patrick Kingsley and Michael D. Shear
NEW YORK – President Joe Biden met with Prime Minister Benjamin Netanyahu of Israel on Wednesday (20) morning at a hotel near the United Nations, bestowing him with a mixture of encouragement and criticism that both soothed and aggravated months-long tensions between the two men.
In granting Netanyahu an audience, Biden provided the embattled Israeli leader with a small public relations victory: It was their first in-person encounter since Netanyahu returned to office in December, and it ended Biden's informal moratorium on contact with the prime minister.
Biden also hinted that Netanyahu might be invited to a more formal meeting at the White House within months — a major boost for the prime minister. "I hope we will see each other in Washington by the end of the year," the president said.
Israeli prime ministers are typically welcomed at the Oval Office within months of their election, and Netanyahu has yet to receive an invitation.
But Biden's other comments before the meeting showed that the relationship still remains thorny. The president voiced gentle criticism at Netanyahu's efforts to reduce the power of Israel's Supreme Court, a contentious move that has set off one of the worst domestic crises in Israeli history.
He also pushed Netanyahu to preserve the possibility of creating a Palestinian state, implicitly criticizing several recent moves by Netanyahu's government to entrench Israeli control of the West Bank.
"Today we're going to discuss some of the hard issues — upholding democratic values that lie at the heart of our partnership, including checks and balances in our systems, and preserving the path to a negotiated two-state solution," Biden said at the start of the meeting.
But Biden also offered Netanyahu some encouragement, promising to block Iranian efforts to secure a nuclear weapon — and to continue to help normalize ties between Israel and Saudi Arabia.
"Even when we have our differences, my commitment to Israel is ironclad," Biden said.
The rest of the meeting was held in private. Biden was expected to voice concerns about Israeli settlement expansion in the West Bank — as well as Netanyahu's judicial overhaul, which has set off nine months of mass protests, dented his polling numbers at home and attracted unusual criticism abroad, in particular from Biden himself.
The president has publicly challenged the prime minister's efforts to overhaul Israel's Supreme Court in the wake of corruption investigations against him.
Though the two leaders have worked together for decades and describe each other as friends, Biden has described Netanyahu's governing coalition as "one of the most extremist" in Israeli history.
Analysts say a photograph with the president offers Netanyahu an opportunity to build a new narrative at home: to present himself as a statesman, remind Israelis of his extensive diplomatic experience and suggest that the recent friction with Biden has ebbed.
But the circumstances of the meeting also provided fodder for Netanyahu's opponents, hundreds of whom protested outside the hotel, chanting against the prime minister and criticizing Biden for meeting with him.
-New York Times