Russia launches missile strikes at targets across Ukraine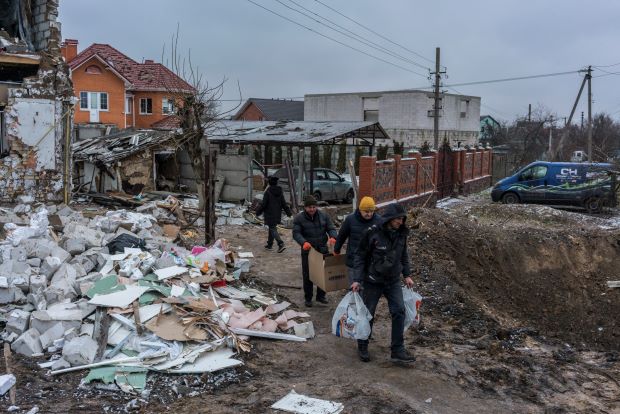 By Michael Schwirtz
KYIV — Russia launched several volleys of missiles at Ukraine on Thursday (26), with strikes reported across the country killing at least 11 people, authorities said.
The wave of strikes came a day after Germany and the United States pledged to send dozens of battle tanks to Ukraine, a significant step up in Western military support. Large booms shook the capital, Kyiv, at about 10:00 a.m. local time. Russia fired 55 missiles at targets across the country, with 47 shot down, Ukraine's air force command said.
Ukraine's State Emergency Service said 11 people were killed in strikes across 11 regions of the country. Another 11 people were wounded in the attacks, which damaged 35 buildings, it said.
As it has for months, Russia targeted energy infrastructure, Ukraine's prime minister, Denys Shmyhal, said in a post on Telegram. "The main goal is energy facilities, providing Ukrainians with light and heat," he said.
Since October, Russia has launched more than a dozen major missile and drone attacks on Ukraine's energy facilities in a campaign to cripple the power grid and leave civilians without power, heat and light over winter. The barrages have sometimes come after Ukraine successes.
Kyiv's mayor, Vitali Klitschko, said one person had been killed and two were wounded when a projectile hit a building in the city's south. Three people were killed in a Russian strike on infrastructure in Zaporizhzhia, the state prosecutor general's office said in a post on Telegram, the messaging app, and there were reports of missile strikes in the Vinnytsia region in western Ukraine and outside Odesa.
Dmytro Kuleba, Ukraine's foreign minister, highlighted that the strikes had come a day after the United Nations' cultural agency, UNESCO, added Odesa to its World Heritage in Danger List.
The addition to the list gives the city "access to reinforced technical and financial international assistance," UNESCO said. "Ukraine may request this, to ensure the protection of the property and, if necessary, assist in reconstruction, if attacked."
For the past week, Russia's air force has been conducting exercises north of Ukraine in Belarus, keeping the country on heightened alert. Countrywide air attack sirens have sounded each time Russian planes take to the air.
Overnight, according to Ukraine's air force command, Ukraine's air defences shot down 24 Iranian-made Shahed exploding drones.
-New York Times