Germany takes over Russian oil subsidiary, securing control of key refinery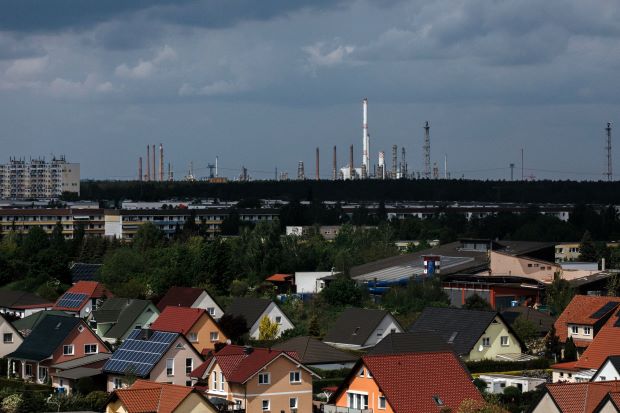 By Melissa Eddy
BERLIN – The German government has taken over the Russian oil giant Rosneft's subsidiary in Germany, an action aimed at securing critical energy supplies as Europe moves toward a ban on Russian imports of crude later this year, the economy ministry said Friday (16).
The move to place Rosneft Deutschland in a trust for at least six months is aimed at ensuring the continued operation of Rosneft's three refineries in Germany, including PCK Schwedt, which supplies gas, heating oil and jet fuel to the city of Berlin and nearby areas, the government said.
Altogether, the refineries provide around 12% of the country's crude oil processing capacity, making Rosneft Deutschland one of the largest oil-processing companies in Germany, the government said.
"Creating the trust counteracts the threat to the security of energy supply and lays an essential foundation stone for the preservation and future of the Schwedt site," the economy ministry said in a statement.
Germany plans to stop importing crude oil from Russia in December, and Russian petroleum products by early 2023, as part of the wider economic sanctions that Berlin and its allies in Europe have imposed on Moscow since Russian forces invaded Ukraine in February.
But Rosneft was not interested in allowing non-Russian crude to be processed at the three refineries, especially the one in Schwedt, an industrial city on the Oder River to the east of Berlin that has received crude directly from Russia through a network of pipelines that have existed for decades.
In the months since the invasion, banks, insurance providers and technology companies have stopped working with Rosneft and its German unit, jeopardizing their ability to function, the ministry said.
Workers at the refineries have also feared losing their jobs if the embargo on Russian oil led to shutdowns. The Schwedt refinery employs thousands in a region with few other economic prospects.
Friday's move echoes Germany's seizure in April of the main German subsidiary of Gazprom, Russia's state-owned natural gas monopoly. The action allowed Berlin to regain power over gas infrastructure that had been acquired by Russia years before the invasion when lawmakers viewed Moscow as a reliable energy supplier.
More than a third of all oil refined in Germany before the outbreak of the war came from Russia, much of it flowing directly to facilities in the country's former eastern states through Cold War-era pipelines. Germany bought 27 million tons from Russia in 2021.
Switching to new suppliers means shipping crude into the country through the port in Rostock, in the northeast, and through Poland to reach the refinery in Schwedt.
-New York Times