Russia claims advances in the east, amid clashes over highway described as the 'road of life'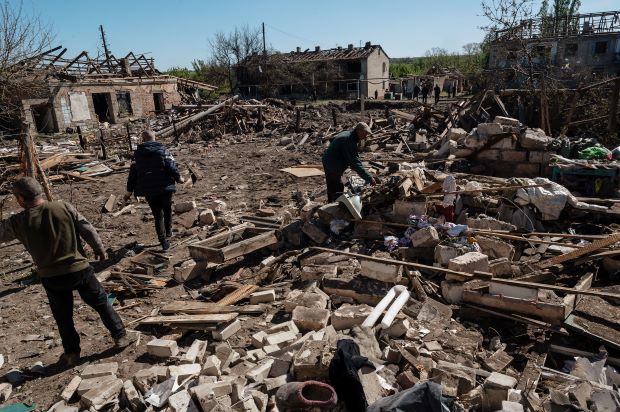 By Cora Engelbrecht and Ivan Nechepurenko
MOSCOW – Russia's Defence Ministry said Tuesday (10) that its forces had pushed deeper into eastern Ukraine, reaching the border between the Luhansk and Donetsk regions amid a grinding battle for control over a strategic strip of highway that has served as an escape route for civilians.
The ministry said Russian troops, along with Russia-backed separatists, broke through "heavily fortified enemy defences," suggesting that Moscow's forces continue to gain ground along parts of the long front line even as they appear to be getting pushed back in the north near the city of Kharkiv.
Russia's claim could not be independently verified, but Ukrainian officials and civilians have said for days that Moscow was concentrating troops and firepower with the apparent aim of capturing or cutting off the industrial city of Sievierodonetsk and continuing a push south to the major city of Kramatorsk.
Russia's reported advance came days after its forces captured the strategic town of Popasna, where a Russian strike on a canal has left "millions of people without water in the controlled and occupied territories," according to the regional governor of Luhansk, Serhiy Haidai.
On Monday, Haidai said Ukrainian forces were "fighting for the 'road of life,'" referring to the strategically important highway that runs 43 miles southwest from Sievierodonetsk toward Bakhmut, to the west of Popasna, in the Donetsk region. Evacuations along the route had ceased Monday because of intensified Russian shelling, Haidai said.
Russia's push toward Sievierodonetsk is part of a wider effort to seize as much as possible of the area known as the Donbas, which comprises Donetsk and Luhansk. If Russian forces can control the land corridor to Sievierodonetsk, Haidai said, Russia could in effect "cut off the Luhansk region" from the rest of Ukraine.
The Russians had constructed three pontoon bridges across the Seversky Donets river toward Sievierodonetsk, according to Oleksandr Motuzyanyk, a spokesperson for the Ukrainian Ministry of Defence. Haidai said the troops had managed to transport several armoured vehicles and soldiers over one crossing before Ukrainian forces destroyed it, adding that the Russian tanks were "under water."
Russia's offensive has been marked by indiscriminate shelling of civilians and infrastructure, Haidai said, adding: "We all see now how Russia pursues the 'liberation of Donbas' by destroying everything."
At least 11 people are believed to be trapped under rubble from a Russian attack on a private home in the eastern village of Shypylove on Sunday (8).
-New York Times