In a 'blessed place,' Francis urges respect for common humanity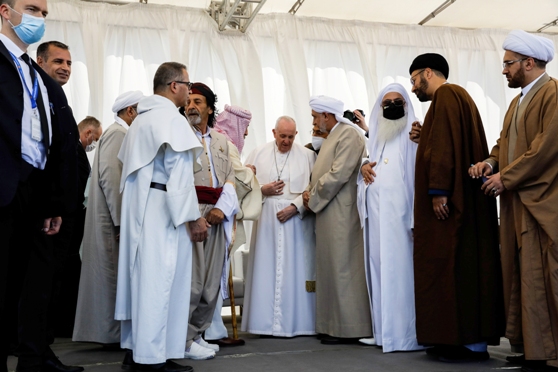 By Jason Horowitz, Jane Arraf and Marc Santora
NAJAF – In settings both intimate and theatrical, in gestures concrete and symbolic, Pope Francis on Saturday (6) used the backdrop of ancient Mesopotamia as a powerful reminder that what binds humanity can be more powerful than what divides.
The pontiff began his second day in Iraq before dawn, boarding a flight to the holy city of Najaf, where he had a private meeting with Grand Ayatollah Ali al-Husseini al-Sistani, the reclusive spiritual leader of Iraq's Shiites.
In his historic visit to Iraq, Francis has sought to lend support to Christians in the majority-Shia country, urged Iraqi leaders to protect all minority rights and sent a message that he himself is back on the global stage after a year cooped up behind the Vatican walls because of the pandemic.
From Najaf, he travelled to the ruins of Ur, one of the world's oldest civilizations. Tradition holds that it is the birthplace of the prophet Abraham, who affirmed belief in a single God. Judaism, Islam and Christianity all trace their roots to Abraham.
After touring a neo-Sumerian ziggurat and other ruins at the heart of what was once a grand city in Nebuchadnezzar II's kingdom — ravaged by time and war, but still stunning and deeply evocative — the pope appealed for solidarity among members of the various faiths.
"This blessed place brings us back to our origins," Francis said, surrounded by Christians, Muslims and members of Iraq's many minorities. "We seem to have returned home."
He called for peace and love, and in doing so realized a dream harboured by John Paul II, who planned to visit Iraq himself, before tensions forced him to cancel more than 20 years ago.
Francis tried to make the most of the moment and said that "the greatest blasphemy" was the act of "hating our brothers and sisters."
"Hostility, extremism and violence are not born of a religious heart: They are betrayals of religion," he said. "We believers cannot be silent when terrorism abuses religion."
-New York Times