February 28 in History
1986 – Olof Palme, 26th Prime Minister of Sweden, is assassinated in Stockholm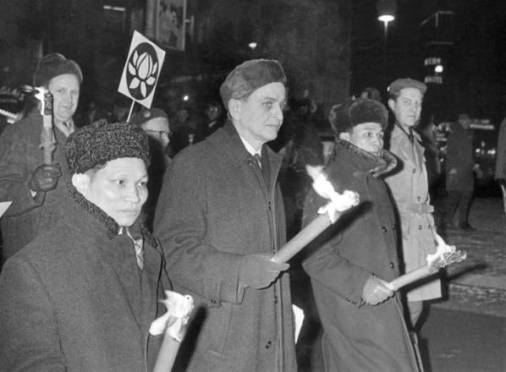 Sven Olof Joachim Palme (January 1927 – February 1986), the internationally famous Swedish politician and statesman who served as Prime Minister of Sweden from 1969 to 1976 and 1982 to 1986 was assassinated in Stockholm on this day is 1986. Palme was a pivotal and polarizing figure domestically as well as in international politics. He was steadfast in his non-alignment policy towards the superpowers, accompanied by support for numerous liberation movements following decolonization including, most controversially, economic and vocal support for a number of Third World governments. He was the first Western head of government to visit Cuba after its revolution, giving a speech in Santiago praising contemporary Cuban revolutionaries.
Frequently a critic of United States and Soviet foreign policy, he expressed his resistance to imperialist ambitions and authoritarian regimes, including those of Francisco Franco of Spain, Leonid Brezhnev of the Soviet Union, António de Oliveira Salazar of Portugal, Gustáv Husák of Czechoslovakia, and most notably John Vorster and P. W. Botha of South Africa, denouncing apartheid as a "particularly gruesome system". His 1972 condemnation of American bombings in Hanoi, comparing the tactic to the Treblinka extermination camp, resulted in a temporary freeze in Sweden–United States relations.
Palme's assassination on a Stockholm street on this day in 1986 was the first murder of a national leader in Sweden since Gustav III in 1792, and had a great impact across Scandinavia. Local convict and addict Christer Pettersson was originally convicted of the murder in district court but was unanimously acquitted by the Svea Court of Appeal. On June 10, 2020, Swedish prosecutors held a press conference to announce that there was "reasonable evidence" that Stig Engström had killed Palme. As Engström committed suicide in 2000, the authorities announced the investigation into Palme's death was to be closed. The 2020 conclusion has faced exorbitant criticism by lawyers, policemen and journalists, decrying the evidence as only circumstantial and too light to ensure a trial, had the suspect been alive.
-Wikipedia
Photo Caption – Olof Palme marching against the Vietnam War with the North Vietnamese ambassador (Nguyễn Thọ Chân) in Stockholm, 1968 – Wikipedia