Sri Lanka needs truth, but not (yet) a truth commission
The Sri Lankan government has long evaded the UN Human Rights Council's requests that it hold accountable perpetrators of atrocities committed during the country's 26-year civil war and since. Absent changes responsive to its concerns, the Council should keep up the pressure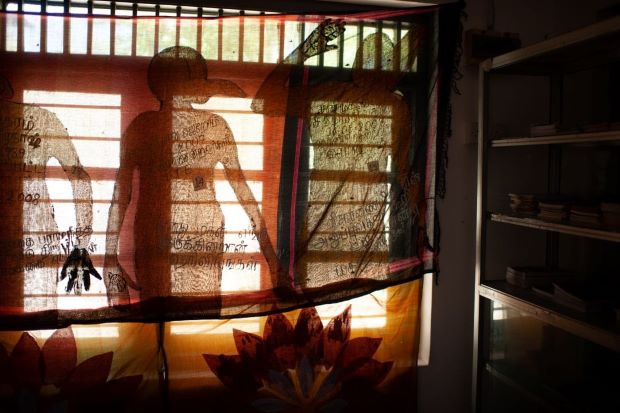 .crisisgroup.org
By Alan Keenan
Impunity has a long history in Sri Lanka. The country is haunted by the ghosts of injustices occurring in both the distant and recent past. Traumatic centuries of Western colonialism left a brutal legacy scarcely acknowledged by the states at fault. 2023 marked the 40th anniversary of Black July – the days of state-sanctioned mob violence that, in 1983, killed some 3,000 Tamils, forced hundreds of thousands into exile, destroyed considerable property and plunged the country into full-scale war. More recent still are the unanswered crimes of the bloody final months of the 26-year civil war that ended in 2009. As government forces cornered the Tamil Tigers in the island's north, eventually defeating the rebels, they also killed tens of thousands of civilians. Mothers of the thousands of missing, many of whom surrendered to the army and were never seen again, have been protesting continuously for more than five years, demanding (but not receiving) information about the fate of their children. The war saw atrocities committed by armed groups claiming to be defending either Sinhalese, Tamils or Muslims. Mass graves – remnants of government campaigns against both Sinhalese and Tamil insurgencies – dot the island. They continue to be discovered.
As members of the UN Human Rights Council prepare to convene in Geneva starting on September 11, the challenge of impunity in Sri Lanka will be on the agenda, with the UN High Commissioner for Human Rights due to report on the human rights situation in the country. For more than ten years, the Council has pushed Colombo to hold accountable perpetrators of atrocities during the civil war and in the years since, as well as to address the underlying governance problems that led to hostilities. It is the only international forum in which Sri Lankan leaders have been pressed to take the steps needed to move beyond the cycles of bloodshed that have bedevilled the country for too long. But this crucial venue could disappear in September 2024 unless a majority of members vote for a resolution that renews the basis for the Council's regular engagement on these issues.
Colombo is working to make sure this engagement lapses. Eager to move out of the international spotlight, the government has been taking steps that it hopes can forestall renewal, including by promising to set up an ostensible truth and reconciliation commission that, in present circumstances, would have little to no chance of success. The Council's members should not allow themselves to be misled. Instead, they should use the year between the forthcoming Council session and the one in 2024 to urge Sri Lanka's government to create the conditions needed for any such commission to do its job effectively – as well as to address the other concerns the Council has identified. Absent changes responsive to the Council's requests, members should vote to continue its oversight.
A Struggle for Accountability
Since late 2022, Sri Lanka's president and foreign minister have been saying they would form a "truth and reconciliation" commission of some kind to deal with the legacy of the civil war, which from 1983 to May 2009 (low-level clashes had begun earlier, in the late 1970s) pitted the Sri Lankan state against the Tamil Tigers. The supposedly reform-minded government led by President Maithripala Sirisena, in power from 2015 to the end of 2019, promised the Human Rights Council it would create a "truth-seeking mechanism" as one of four transitional justice processes. But it never made good on that pledge, or on many others, and the Council has kept up its pressure. Under a successor Council resolution, adopted in October 2022 and still in force, the government is asked to address a range of longstanding governance and human rights concerns, including by "ensuring investigations into, and accountability for, grave violations of human rights" and "promot[ing] healing and reconciliation".
Against this backdrop, and in order to demonstrate its seriousness about dealing with the civil war's litany of abuses, Sri Lanka's current government, led by President Ranil Wickremesinghe, has returned to the unfinished business of a truth commission. In May, the cabinet approved a proposal to create a National Unity and Reconciliation Commission (NURC) – which officials also refer to as the Truth-Finding Mechanism – with the intent of presenting legislation formally setting up the body to parliament later in the year. The initiative, reportedly modelled in part on the South African Truth and Reconciliation Commission, comes on the heels of highly publicised study trips by Sri Lanka's justice and foreign ministers to South Africa, which followed visits undertaken by senior officials from the three previous Sri Lankan administrations.
Yet it is not at all clear what all this activity will yield. The Sri Lankan state has struggled from its early years in the post-World War II period to acknowledge (much less atone for) repeated periods of state and state-sanctioned violence, beginning with the first anti-Tamil "riots" in 1958. When pressed, Colombo has relied on ad hoc commissions. While these bodies have sometimes gathered a considerable amount of factual information, they have rarely generated any recognition from the state of its responsibility. Nor have they made a dent in the systematic impunity with which the state commits its abuses.
Absent a major course correction by the state, there are strong reasons to doubt that anything would be different this time around. Rather than responding to the demands of victims, survivors and their families, or the larger community of human rights advocates, the NURC initiative is driven entirely by the government. The government has had only limited conversations with survivors, victims' families or even the civil society elites with whom it normally makes more of a show of consulting on such issues. These meetings came only after it had announced the NURC's design.
It is widely believed in Sri Lankan political circles that the government's principal interest in such a commission is to influence opinion at the UN Human Rights Council. Since 2012, the Council has passed an unbroken series of resolutions calling for reconciliation, accountability and improved human rights protections in Sri Lanka. With the exception of Sri Lanka's decision to co-sponsor Resolution 30/1 in 2015, governments in Colombo have chafed at Council oversight and resisted making the reforms it has called for. The government has made clear it is keen to see the current council resolution on Sri Lanka be the last. The president's secretary told civil society organizations in July that "if this effort is successful, there will be no need for the country to go to the UN Human Rights Council in Geneva for another year".
The effort could indeed be successful if the traction it is gaining with important outside actors is any indication. The Japanese government has endorsed Colombo's plans and the South African government continues to advise its Sri Lankan counterpart on the matter. The desire of these and other governments to encourage Sri Lankan initiatives to address the civil war's legacy and build trust among communities is welcome. Still, Sri Lankan activist and survivor organizations are correct to worry both that the proposed NURC is not right now positioned to succeed, and that Colombo's campaign to promote it could well lead the Human Rights Council to stop applying pressure for much-needed reform.
A History of Disappointments
Scepticism about the NURC initiative runs deep in Sri Lankan civil society. Among other things, the doubts reflect a lack of confidence in President Wickremesinghe, who was prime minister when the government first promised the Council it would establish a truth commission in 2015, the first year of Sirisena's presidency; that promise was never kept. Moreover, when invited in 2017 to receive the report of a national consultation on transitional justice that his own government had commissioned, Wickremesinghe declined. This same administration, jointly led by President Sirisena, also refused to establish the special war crimes court it had told the Council it would create. Despite initial hopes, the two transitional justice institutions that Colombo did set up in response to international pressure – the Office on Missing Persons (OMP) and the Office for Reparations – were left under-resourced and too politically weak to offer any meaningful truth, justice or reparations.
The failures of these transitional justice initiatives were just the latest in a long history of the Sri Lankan state making promises and establishing flawed domestic mechanisms to reduce international pressure for deeper reforms. For example, in 2008, international observers troubled by blatant conflicts of interest and a lethargic pace of work resigned from the Udalagama Commission, which President Mahinda Rajapaksa had appointed to investigate seventeen separate massacres and assassinations in the first years of his administration. Three years later, in 2011, the government appointed the Lessons Learnt and Reconciliation Commission (LLRC), which had a mandate to look into the events of the civil war's final stages and propose ways to promote "national unity and reconciliation". This latter commission was widely seen as an effort to buy time and avoid an international probe of war crimes. Although it generated surprisingly robust recommendations – including calls to investigate government links to enforced disappearances – it downplayed military responsibility for civilian deaths, and none of its key recommendations were adopted. The follow-up inquiries it spawned led nowhere.
To date, there is no sign the government intends to discard practices that have preserved impunity and protected state power in Sri Lanka for decades. Instead, the evidence points to continued repression without accountability. Political activists across the island continue to be arrested and detained under the Prevention of Terrorism Act (PTA), which the government has proposed replacing with an even more draconian law. Police and army surveillance of Tamil civil society and families of those disappeared in the north and east during the civil war remains intense. The president and senior ministers regularly promote a distorted, politicised narrative that presents 2022's historic protest movement – which led President Gotabaya Rajapaksa to resign – as a threat to democracy.
Meanwhile, the police and military continue to obstruct investigations into enforced disappearances – including by crippling the OMP – and a series of high-profile political murders and massacres cited in multiple Human Rights Council resolutions. More than four years on, there has been no credible or independent probe of the 2019 Easter Sunday suicide bombings that killed 270 people, including 45 foreigners. Instead, the lead police investigators were fired, arrested or forced into exile. Recent televised allegations from at least two insiders that military intelligence officials loyal to the Rajapaksas were complicit in the bombings have sent shock waves through the political establishment and strengthened the case for a transparent, independent inquiry with international involvement. (The main alleged culprit, who is now head of the State Intelligence Services, has denied the accusations, as has Gotabaya Rajapaksa, the ex-president.)
In such circumstances, there is little chance that the proposed truth and reconciliation commission will be able to engage in the free and open discussion of injustice and abuse of power that would be required in order for it to do its job. Recent government promises to stand up an "internationally recognized accountability process" are by themselves not credible absent major steps to enable it to work, as discussed below. Nor will it help to include international observers in the commission's work – an idea the government has floated to build confidence in the body's integrity – if the state remains as determined to maintain impunity as it has been in the past.
Against this backdrop, many fear the NURC will also come at a cost to the victims it is ostensibly meant to assist. The government has over and over again encouraged victims to tell their stories of pain and loss to the succession of insincere or disempowered commissions and other mechanisms it has set up, exploiting their hope that some trace of their missing loved ones might emerge. A member of the 2016 consultation process explained that a common sentiment expressed by those attending the public meetings was "overall exhaustion" from dealing with so many arms of the state supposedly serving the interests of justice – from permanent investigating bodies, such as the police, to ad hoc commissions. This person noted that it was "impossible not to be moved by the palpable grief, desperation and pain of countless family members who spoke of their loss and efforts to find answers, justice and other forms of redress". Yet those commodities remained in short supply.
A Better Way
While it may be too late to block or insist on a fundamental reset of the NURC initiative, the Wickremesinghe administration's desire for international approval gives influential governments – including those that have indicated various degrees of support for the proposed commission – considerable leverage. These states should make clear that their public endorsement of the NURC will depend on the government heeding the requests of victims, survivors and their advocates that key confidence-building measures be made prior to its launch. Among the actions the government should take to create the conditions for truth-telling and justice are:
implementing key recommendations of past commissions of inquiry – especially the LLRC and various disappearances commissions – aimed at challenging the culture of impunity. These recommendations include conducting credible investigations into the fate of the hundreds who remain missing after surrendering to the army in May 2009; creating more effective safeguards against arbitrary arrest leading to disappearance; and establishing an independent public prosecutor separate from the Attorney General's Department;
releasing to victims' families and their advocates – with due protection for the confidentiality of personal information – all relevant government documentation about the status of OMP, police and military investigations into disappearances and key human rights cases;
developing a plan for reviewing and categorising records from past commissions to ensure that the large volume of information already gathered from victims and other witnesses can be made accessible to and used by a new truth commission, should it be established;
in the service of creating conditions in which all Sri Lankans can engage safely in political speech, ending the use of the PTA and other laws to silence dissenters, and halting surveillance of civil society – especially victims' groups in the north and east;
reactivating police and court actions on high-profile abductions and political killings and removing from office those senior police and military officials who are credibly alleged to have blocked investigations;
agreeing to international assistance in key investigations, including the exhumation of mass graves;
and, lastly, launching a public campaign explaining to both Sinhala and Tamil-speaking citizens why the country needs a genuine truth-telling process and what is being done to create the conditions for its success.
In the absence of meaningful progress toward these goals, outside actors that have engaged with Colombo on the NURC's establishment, as well as other member states, should make clear that conditions for its success are not yet in place. Until they are, and until the full suite of key concerns identified in Geneva have been addressed, continued oversight by the Human Rights Council will be warranted. In the absence of such conditions, any ostensible truth and reconciliation commission will almost surely fail to deliver truth or reconciliation – and could even make them harder to achieve.
-Alan Keenan is the London-based Senior Consultant, Sri Lanka,
for International Crisis Group