Bakeer Markar, my friend, the visionary politician
Zahir Sufi Ismaail (90) recalls the life and times and accomplishments of his childhood friend who despite scaling great political heights, remained a simple man and committed to serving the public
Deshamanya Marhoom Al Haj Mohammad Abdul Bakeer Markar, whom I knew from my childhood, was born on May 12, 1917 in Maradana, Beruwala. His father Hakeem Alia Marikkar Mohamed Marikkar belonged to a family of physicians whose ancestors too were physicians. Hakeem Alia Marikkar had his dispensary in Messenger's Street, Colombo 12, opposite the house I was born in and lived.
His father and my father were very good friends. He started primary education at St. Sebastian's College, Bandaranayake Mawatha in Hulftsdorp and secondary education at Zahira College, Colombo.
He was blessed with two sons Imthiaz Bakeer Markar and Yaseer Bakeer Markar and six daughters, namely Dinah, Shamim, Nylah, Haseeba, Faseeha and Faheema.
Bakeer Markar was a fluent speaker and debater in all three languages. And realizing his God given talent, he chose law as a profession. He entered Law College, graduated as a lawyer in 1949, established a wide practice in the Kalutara Bar and was elected President of the Kalutara Bar Association in 1951.
It was his belief that, it was wrong to charge helpless women who came to court for maintenance and he often appeared free for them.
During his student days at Zahira, he built a close relationship with Dr. T. B. Jayah, then Principal of Zahira College. This relationship provided the necessary background and guidance to Bakeer Markar in his public career to serve the people of Beruwala.
He embarked on his political career in 1947, being elected a Member of the Beruwala Urban Council. Nothing could stop him in his desire to serve his people from then on. He was subsequently elected Chairman of the Council. In 1960, he contested the general election and won the Beruwala seat, becoming a Member of Parliament.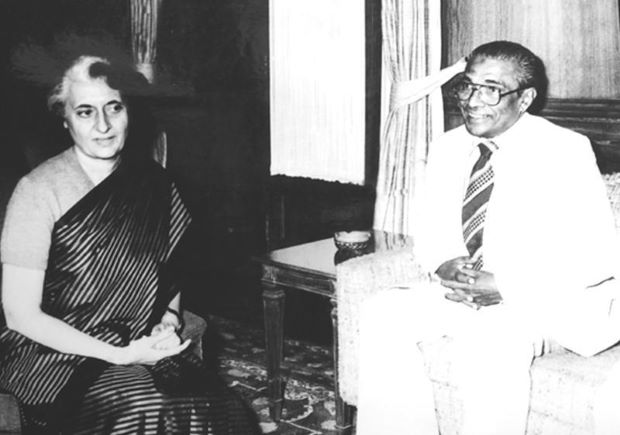 He served as Deputy Speaker of the Parliament from August 4, 1977 to September 7, 1978. On September 21, 1978 he was elected as the Speaker of the Parliament of Sri Lanka in which capacity he served up to  August 30, 1983. He holds the record of being the last Speaker of the old Parliament of Sri Lanka and the first Speaker of the new Parliament established at Sri Jayawardenapura.
Bakeer Markar used to tell us, that it was by design that he decided to admit his – apple of eye Imthiaz Bakeer Markar to Ananda Collage and educate him in the Sinhala medium. He wanted Imthiaz to follow in his foot step and serve the people of Sri Lanka as a leader among the multi-ethnic society in Sri Lanka. He always used to have Imthiaz beside him when deliberating political issues and was very proud of Imthiaz's political achievements, serving as a deputy minister and minister, accomplishments which Bakeer Markar was able to witness during his lifetime.
Bakeer Markar had a close circle of friends that included Marhoom Mashoor Moulana, A. H. M. Azwar, M. H. Amith, Mazzaim Mohideen, Tony Jayah, Cader M. Ali and myself. His first act as the Speaker was to appoint Marhoom A. H. M. Azwar as his Private Secretary. From the time he was Deputy Speaker, Mashoor Moulana, Tony Jayah, M. H. Amith, Azwar and I used to meet for lunch every Friday in the old Parliament and thereafter at 'Mumthaz Mahal' when he was Speaker. We continued to meet when he was minister too, at his official residence at Stanmore Crescent.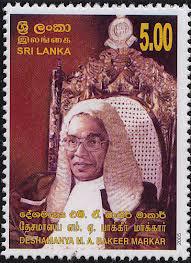 Bakeer Markar resigned as Speaker on August 31, 1983, to be sworn as a Cabinet Minister on the same day. He resigned from Parliament on June 31, 1988, to be appointed as the first Governor of the Southern Province.
He also had the privilege to act as Head of State while both the President and Prime Minister were out of the country. He resigned as Governor of the Southern Province on December 21, 1993, ending a long and fruitful political career.
Bakeer Markar held the position of Vice President at the All Ceylon Muslim League, an organization in which we were actively involved. It was one of our regular Friday lunch discussions that gave birth to the All Ceylon Muslim Educational Conference with Marhoom Shafie Marikkar as its first Chairman.  Keen to mobilize the Muslim youth at national level establishment, Bakeer Markar went on to establishing the All Ceylon Muslim League Youth Front and as its Founder President, set up village level branches throughout Sri Lanka.
He established the 'Saddam Hussein Village' in Eravur, using his influence as Founder President of the Iraq-Sri Lanka Friendship Association, which position he held until his demise.
In 1970, when the plane carrying Indonesian Hajj Pilgrims crashed in Sri Lanka, it was Bakeer Markar who was the Speaker then, who first rushed to the scene of the accident and took personal interest to have the bodies of the pilgrims dispatched to Indonesia. As a token of appreciation, the President of Indonesia personally invited him to visit his country and an Indonesian Hajj Memorial Building was also set up at Katunayake.
In 1986 when the Kantalai tank was breached, Bakeer Markar rendered immense service to the affected people. Realizing the importance of media and media persons, he published two tabloids, Dawn' in English, and 'Uthayam' in Tamil, to give voice to the community amidst many an obstacle.
In politics and public service Bakeer Markar was the hallmark of integrity, sincerity, simplicity and patience. These shining qualities stood him in good stead as a leader among the multi-ethnic society in Sri Lanka. Bakeer Markar answered Allah's call on September 10 1997 at the age of 80, leaving us a heir in his beloved son Imthiaz Bakeer Markar, to carry forward his vision and mission.
-This article was written by Shiraza Rizvi on narrative recollected by Zahir Sufi Ismaail (90), one of the oldest living friend of Deshamanya Marhoom Al Haj Mohammed Abdul Bakeer Markar