Floods rage as weary California faces more rain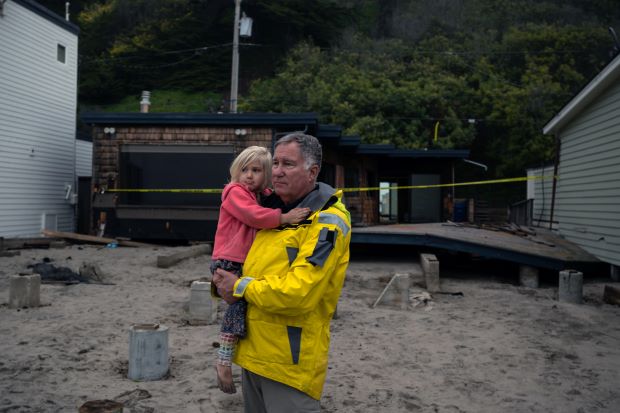 By Victoria Kim, Soumya Karlamangla and Jacey Fortin
LOS ANGELES – An unrelenting series of pounding storms over at least 11 days has left no part of California untouched — flooding towns from north to south, loading inland mountains with snow and transforming the often dry Los Angeles River into a raging channel.
At least 17 people have died in the downpours, which started in late December and stretched into the new year. And more rain is expected.
As of Tuesday (10) morning, amid the latest round of rain, nearly 100,000 residents were under evacuation orders or warnings, state officials said, and about 220,000 utility customers were without power. More than 400 public and charter schools were closed. Hail pelted San Francisco, which was under a flood warning. In central California, rescuers searched for a 5-year-old boy who was swept out of his mother's arms as their car was swamped by fast-rising floodwaters on the way to school.
Extreme weather has plagued many parts of the country this fall and winter: deep freezes, hurricane-like blizzards, tornadoes, drastic temperature swings. But few places have been as savaged by the changing climate these past weeks as California.
The state has scrambled to clear thousands of downed trees from roads and repair busted levees during short breaks from storms, only to be walloped again. The near constant rain heightens the effects: The soaked ground and swollen creeks struggle to absorb more water with each new blast of precipitation.
"It's kind of a marathon," said Paul Horvat, the emergency services manager for Santa Cruz. "We're trying to pace ourselves because we know this can go on and on and on for a while."
He added, "I've never really seen this many rainstorms, big ones, one after another, in my career."
The parade of storms introduced Americans to yet another new term in the ever-expanding weather lexicon: the atmospheric river, a plume of concentrated moisture at the altitude where airplanes often fly. This year, those plumes have streamed in from over the Pacific at a particularly relentless pace.
"Nearly all of California has seen much above average rainfall totals over the past several weeks, with totals 400 to 600% above average values," forecasters with the Weather Prediction Centre wrote.
Since the atmospheric rivers began dumping moisture late last month, rainfall totals in some parts of the Bay Area have eclipsed 11 inches.
There have been periods of respite — some sunshine and time for residents to assess the damage, walk the dog or refuel the generator — and then another deluge.
"We're very much in the middle of this, we're not on a downhill trajectory at all," said Brian Ferguson, a spokesperson for the Governor's Office of Emergency Services.
In Los Angeles, where the infrastructure is famously fragile in the face of heavy rain or floods, some of the scenes have been surreal. On Monday (9), a sinkhole in the suburban Chatsworth neighborhood swallowed two cars. And on Tuesday, commuters were able to splash their way through a pedestrian tunnel at Union Station, which flooded with a few inches of water.
In Montecito, where residents were ordered to evacuate on Monday, the air was filled with the smell of mud and the low, distant sound of small boulders rumbling through fast-flowing creeks. Most businesses were closed, and usually busy streets were largely empty.
Montecito, a community north of Los Angeles near Santa Barbara, is a popular haven for celebrities, including Prince Harry and his wife, Meghan, the Duchess of Sussex; Oprah Winfrey; and Ellen DeGeneres, who posted a video on Twitter on Monday of a raging creek behind her house that she said "never flows, ever."
"We need to be nicer to Mother Nature because Mother Nature is not happy with us," DeGeneres said.
In Gualala, a small town on the northern coast, Robin Applegarth, 71, had to leave her home after the power went out almost a week ago. The restoration date has been delayed three times, she said, and more rain and wind are in the forecast. So she and her husband have checked into a hotel in Santa Rosa, about 70 miles southeast.
"It's a very resilient group of people who live along the Northern California coast," Applegarth said. But, she added, "None of us expected it to go on this long".
The ripple of storms has produced uneven effects. Last week, strong wind and pelting rain brought chaos to the Bay Area. This week, the oceanside counties of Santa Cruz, Monterey and Santa Barbara, all of which lie between San Francisco and Los Angeles, have borne the brunt of the impact.
But just about every community in California has been jolted by the storms in one way or another. Extra snow fell in the Sierra Nevada last week. Heavy wind toppled power lines in Sacramento this past weekend. Mudslides mucked up Los Angeles on Tuesday. Public transportation systems in major cities have been snarled, and roads have been temporarily shuttered just about everywhere, from the mountains to the valleys to the coast. In Malibu, a large boulder blocked a canyon road. In Fresno, a hillside crumbled onto a highway. And multiple stretches of the well-travelled Route 101 were turned into rivers.
In a state that has been parched by droughts in recent years, winter rain and snow can serve an important purpose, providing much of the water used by residents and farmers throughout the year. But when the deluges are especially severe, they can do more harm than good. Storms like these dump too much water, too quickly, for the state's reservoirs and emergency responders to handle.
The land is especially vulnerable in places that have been scorched by wildfires or droughts, leaving behind scars that are conducive to landslides.
The storms are yet another example of how climate change has upended life in the nation's most populous state. It has been ravaged by expanding seasons of wildfires and years of drought, both of which have left behind scars that leave the land unmoored and prone to landslides.
In an atmosphere heated by the burning of fossil fuels, the warmer air can hold more moisture. That means storms in many places, California included, are more likely to be wetter and more intense because of climate change.
Over the past two days, more than a foot of rain has been recorded across portions of coastal California. And 7 more inches of rain could fall in many parts of the state over the next several days, the National Weather Service said, as yet another "enormous cyclone" that is forming off the coast slams areas of Northern California and the Pacific Northwest on Wednesday (11).
Forecasts suggested on Tuesday that storm activity over California could taper off after the middle of next week.
All told, experts say, the cost of the damage done by the storms could top $1 billion — an ominous start to the new year, especially because 2022 was already one of the worst on record for large-scale weather and climate disasters around the United States, according to data released on Tuesday by the National Oceanic and Atmospheric Administration.
-New York Times