Trudeau accuses India of killing Sikh activist on Canadian soil
India's foreign ministry rejects Canadian allegations as 'absurd' and politically motivated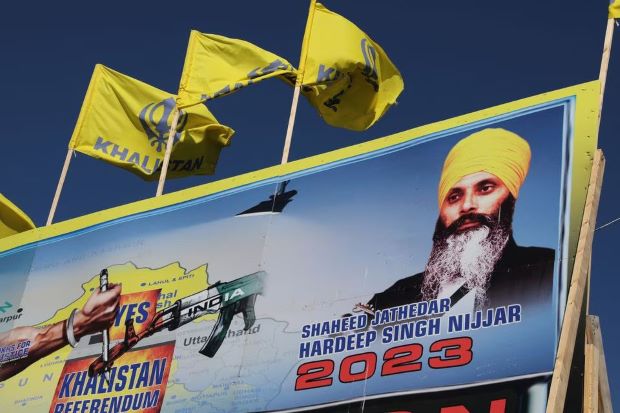 By Ian Austen and Vjosa Isa
OTTAWA – Canadian Prime Minister Justin Trudeau said Monday (18) that "agents of the government of India" had carried out the assassination of a Sikh community leader in British Columbia in June, an explosive allegation that is likely to further sour relations between the two nations.
Speaking in the House of Commons, Trudeau said he had raised India's involvement in the shooting of Hardeep Singh Nijjar directly with Prime Minister Narendra Modi at the Group of 20 summit meeting earlier this month "in no uncertain terms." He said the allegation was based on intelligence gathered by the Canadian government.
"Any involvement of a foreign government in the killing of a Canadian citizen on Canadian soil is an unacceptable violation of our sovereignty," Trudeau told lawmakers. He said Canada would pressure India to cooperate with the investigation into the killing of Nijjar, who advocated Sikh separatism.
Mélanie Joly, the foreign minister, later announced that Canada had expelled an Indian diplomat whom she described as the head of India's intelligence agency in Canada.
India's foreign ministry rejected the Canadian allegations Tuesday (18) morning as "absurd" and politically motivated, saying that Canada had long provided shelter to "Khalistani terrorists and extremists" who threaten India's security. Khalistan is what Sikh separatists call the independent state they seek to create.
The ministry said that Modi had "completely rejected" the allegations when Trudeau presented them to him. "We urge the government of Canada to take prompt and effective legal action against all anti-India elements operating from their soil," the ministry said in a statement.
The allegation that India's government was involved in a political killing in Canada is likely to further corrode relations between the two countries. This month, Canada suspended negotiations on a trade deal with India that were scheduled to have been concluded this year — because of the assassination allegations, it now appears. During the G20, Modi excluded Trudeau from the list of leaders with whom he held formal bilateral meetings.
Trudeau said many Canadians of Indian origin — they make up about 4% of the population — had been angered by the killing and in some cases feared for their personal safety. There are about 1.4 million Canadians of Indian heritage, many of whom are Sikhs, and their number includes Jagmeet Singh, the leader of the opposition New Democratic Party, which is keeping Trudeau's minority government in power. Singh is a common surname and middle name in Punjab.
Nijjar, 45, was shot near a Sikh temple in Surrey, British Columbia. At a news conference in June, investigators from the Royal Canadian Mounted Police said he had been ambushed by masked men, but would not say whether the attack appeared politically motivated.
Nijjar was known for his advocacy of the creation of an independent Sikh nation, Khalistan, that would include parts of India's Punjab state, and India had declared him a wanted terrorist.
Citing the police investigation, neither Joly nor Dominic LeBlanc, the minister of public safety, offered any details about Indian involvement in the killing. But LeBlanc said Jody Thomas, Trudeau's national security adviser, as well as the head of Canada's intelligence service, had travelled over the past few weeks "to confront the Indian intelligence agencies with these allegations."
It was unclear from the two ministers' remarks how forthcoming the Indian government has been or what cooperation, if any, it has offered.
Joly said she planned to discuss India's actions during meetings with Canada's allies after she travels to New York this week for the United Nations General Assembly.
The announcement came the same day a judge opened a public inquiry into interference by foreign governments. It was prompted by allegations that China is meddling in Canadian politics, but LeBlanc said that reviewing India's actions is within the inquiry's mandate. "Obviously these allegations are at a much more serious level," he said.
Nijjar was vocal about the threats to his life, which were shared with Canada's spy agency, the World Sikh Organization of Canada, a nonprofit, said in a statement.
"If these allegations are true, they represent an outrageous affront to Canada's sovereignty," said Pierre Poilievre, leader of the Conservative Party. "Our citizens must be safe from extrajudicial killings of all kinds, most of all from foreign governments."
Singh broke with protocol to address the House of Commons in Punjabi as well as English and said he had spoken with Nijjar's son. "I could hear the pain of that loss in his voice," Singh said. "I can only imagine how much more painful it is going to be knowing this potential connection."
Rumours about possible retribution by India against those critical of its government have stoked fear within the Sikh expatriate community and discouraged many from returning to that country, Singh said. But Canada, he said, had been seen as "a beacon of safety."
"That safety and security that so many Canadians feel has now been rocked," he said.
Sikhs are a relatively small religious group, with about 25 million adherents worldwide, most of them in India.
A violent Sikh insurgency that took shape in India in the 1980s killed a number of government officials. The government responded with widespread human rights abuses, including torture and extrajudicial killings, according to human rights groups.
In 1984, Prime Minister Indira Gandhi sent the military to storm the Golden Temple in Amritsar, the holiest site in Sikhism, which had been fortified by heavily armed Sikh militants. The government said hundreds of people were killed in the clash, but others put the death toll in the thousands.
In retaliation, two of the prime minister's Sikh bodyguards assassinated her, prompting riots in which thousands of Sikhs were killed.
In 1985, a bomb exploded on an Air India flight from Toronto to London, killing all 329 people on board. It remains Canada's deadliest terrorist attack and worst mass murder.
After a prolonged investigation and trial, two Sikh separatists from British Columbia were acquitted in 2005 of murder and conspiracy in that explosion as well as a second blast that killed two baggage handlers in Japan. Many witnesses had either died — some were murdered — or apparently been intimidated out of testifying. Wiretaps by Canada's intelligence agency had been erased before they could be used as evidence and physical evidence was destroyed in the blast.
A third Sikh man was found guilty of manslaughter for his role in making the bombs and, later, of perjury at the murder trial.
About a year ago, Ripudaman Singh Malik, one of the men acquitted in 2005, was shot to death. Two men were later arrested, but the killing rattled the Sikh community in British Columbia.
-New York Times