China denounces COVID testing rules imposed on its travellers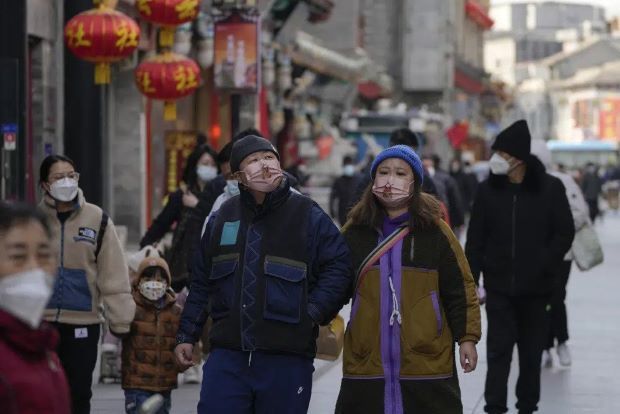 By Alexandra Stevenson
BEIJING – The Chinese government on Tuesday (3) denounced COVID-19 testing requirements imposed by other countries on travellers arriving from China as unscientific or "excessive", and threatened to take countermeasures.
As China prepares to open its borders this week, allowing its citizens to travel abroad for the first time since the pandemic began, countries including Canada, the United States, France, Spain, Japan and the United Kingdom have moved to restrict travellers arriving from the country.
The countries have cited concerns about a surge in COVID-19 infections in China, the potential risk of variants emerging from its outbreak and the government's perceived reluctance to share coronavirus data with other countries. The restrictions include requiring a negative COVID test or mandatory testing upon arrival.
In response, Chinese officials have accused the countries of introducing the restrictions for political reasons.
"Some countries have no scientific basis for restricting entries from China, and some excessive practices are even more unacceptable," said Mao Ning, a Foreign Ministry spokesperson, speaking at a news conference in Beijing on Tuesday.
"We firmly oppose the practice of manipulating COVID prevention and control measures to achieve political goals, and will take corresponding measures in accordance with the principle of reciprocity according to different situations," Mao said. She did not elaborate. Even after China eases its travel restrictions, the government will still require incoming travellers to show a negative result on a polymerase chain reaction, or PCR, test, taken within 48 hours before departure.
Many health experts have said, however, that travel restrictions would not stop new variants — just as earlier bans on international travel did very little to stop the spread of the omicron variant.
China is dealing with a surge of COVID cases after the government abruptly abandoned a 'zero-COVID' pandemic strategy that helped to keep the virus at bay within its borders for nearly three years. The government in December dismantled a sprawling testing apparatus that required residents to test regularly, and scrapped its strategy of lockdowns and gruelling quarantine that applied not just to those who tested positive but also their contacts.
On Sunday (Jan 1), for the first time since early 2020, when COVID-19 first appeared in China, the government will drop quarantine rules for visitors to China from abroad and ease restrictions on incoming flights. It has also restarted processing passport applications by Chinese citizens for tourism abroad. Outbound flight bookings surged nearly 300% on Dec. 27 when the government announced the changes to its border restrictions, as many people began to plan trips abroad to see family and simply travel, according to data from Trip.com Group, a travel-booking company.
Many countries that had long depended on Chinese tourists before the pandemic are now struggling to balance the economic prospect of a flood of Chinese tourism with health concerns over the outbreak in China.
China has stopped regularly reporting daily cases, and many scientists have raised concerns about the opacity of its reporting of severe cases and COVID-related deaths. Some health experts have also cited fears that the sheer volume of cases could mean that the virus will mutate into new and more dangerous variants. There is no indication of this yet, and many scientists are sceptical of such a scenario happening in the coming weeks.
Officially, China reported just 4,804 local cases and three deaths on Monday (2) in its latest disclosure, but several cities have reported estimates of half a million or more daily cases. Health officials in Zhejiang said the coastal province is recording a million cases each day, adding that they expected the outbreak there to peak sometime later this month.
"With the adjustment of international travel policy, the risk of imported new strains and the risk of domestic transmission will also be significantly increased," the Zhejiang provincial Centres for Disease Control and Prevention said in a notice published Tuesday.
China's state-controlled media has accused the United States and European countries of applying a "double standard" to China and of using restrictions as a "political card."
"It seems that, according to the political logic of some people in Europe and the United States, no matter if China 'opens up' or 'doesn't open up,' what it does is wrong," read one commentary by China's state broadcaster, CCTV.
-New York Times