European authorities investigate leaks in pipelines running from Russia to Germany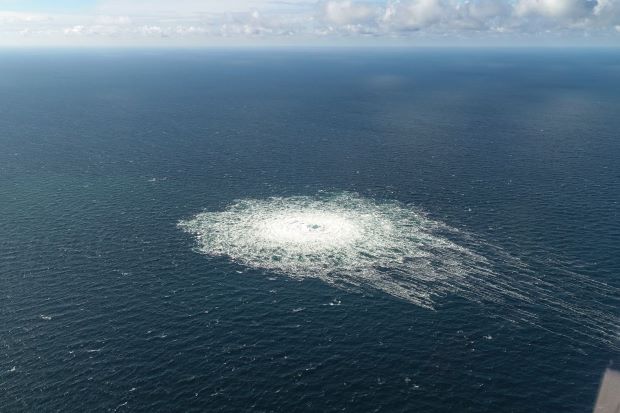 By Melissa Eddy and Victoria Kim
WASHINGTON – Suspicious leaks in two gas pipelines running from Russia to Germany under the Baltic Sea caused a sudden drop in pressure Monday (26), raising concerns about possible sabotage and prompting authorities in Germany, Denmark and Sweden to investigate.
Sweden's national seismic network said it detected two large undersea explosions Monday near the locations of the leaks. Neither of the pipelines — Nord Stream 1 and 2 — had been active, but they were filled with gas when there was a sharp drop in pressure, first registered Monday.
Footage released by the Danish Defence Command showed a swirling mass of methane bubbling up onto the surface of the Baltic Sea. Officials in Denmark raised its security alerts at electricity and gas facilities around the country.
Speculation immediately fell on Russia, which denied responsibility. The leaks underscored the vulnerability of Europe's energy infrastructure, even as the continent tries to wean itself off supplies from Russia as punishment for Moscow's invasion of Ukraine.
Mateusz Morawiecki, Poland's prime minister, blamed Russia for the leaks, saying they were an attempt to further destabilize Europe's energy security. He spoke at the launch of a new undersea pipeline that connects Poland to Norway through Denmark.
"We do not know the details of what happened yet, but we can clearly see that it is an act of sabotage," Morawiecki said. "An act that probably marks the next stage in the escalation of this situation in Ukraine."
Denmark's Prime Minister, Mette Frederiksen, said that sabotage could not be ruled out. "It is too early to conclude yet, but it is an extraordinary situation," she said during a visit to Poland to inaugurate the pipeline from Norway.
"There is talk of three leaks, and therefore it is difficult to imagine that it could be accidental," she said.
Mykhailo Podolyak, a senior adviser to President Volodymyr Zelenskyy of Ukraine, said on Twitter that the leaks were "a terrorist attack planned by Russia and an act of aggression towards EU."
Speaking at a news conference in Washington, Secretary of State Anthony Blinken said Tuesday (27), "There are initial reports indicating that this may be the result of an attack or some kind of sabotage, but these are initial reports, and we haven't confirmed that yet.
"My understanding is the leaks will not have a significant impact on Europe's energy resilience," he added.
The Kremlin's spokesperson, Dmitry Peskov, said of the leaks that "no possibility can be ruled out," but the Russian state media sought to blame the United States and Ukraine. State-run RIA Novosti news agency reported that Washington "is an active opponent of Russian gas supplies to Europe" and said that Ukraine opposed Nord Stream 2 because it "was afraid of losing revenues from the transit of Russian gas."
It was not immediately clear who would benefit from ruptures in the pipelines, which were not in operation.
The pipelines have been a focal point of the broader confrontation between Russia and Europe. After the European Union imposed economic sanctions on Russia to penalize it for invading Ukraine in February, Russia began withholding the natural gas that for decades it had sent to Europe, threatening the continent's energy supply as winter looms.
The governments in Denmark and Germany both said the leaks would not affect natural gas supplies in their countries. Gazprom had already halted nearly all deliveries of natural gas to Europe, through Nord Stream 1 as well as all but one of several overland pipelines, and European countries have turned to other suppliers, including Norway, to meet their energy needs.
-New York Times