Govt. services to resume fully from Monday
Despite upsurge in new Covid case and fatalities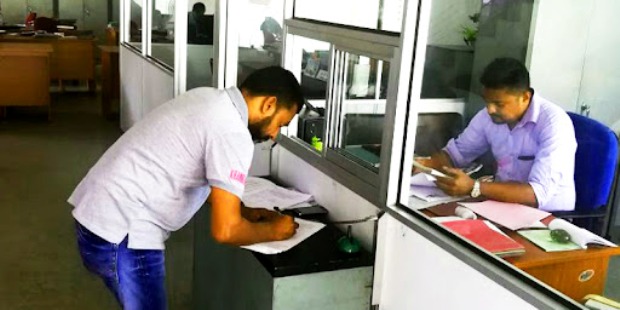 -bnr.wp.gov.lk
COLOMBO – Government services are set to become fully operational with strict adherence to COVID-19 health guidelines, beginning Monday (2), despite a strong warning from doctors of the Delta variant spreading and a rising fatality count.
Sri Lanka on Sunday (Aug 1) recorded 67 COVID-19 related deaths, taking the virus fatality toll above the 4,500 mark. Of this, 355 had died in the last six days. Sunday also saw 2510 new COVID-19 cases confirmed, taken the virus tally to 311,349.
However, the President's office has insisted on getting the government services back to normal, noting that the majority of public servants have been vaccinated, and that priority should be given to restoring normalcy to government services.
P.B. Jayasundera, Secretary to the President has asked the Ministry of Public Services to revoke all circulars issued on working from home and working on a rotation basis, to prevent the spread of COVID-19 earlier this year.
Local media reports said the Secretary to the Ministry of Education has also requested all provincial, zonal and divisional education authorities, principals, teachers and non-academic staff to follow the circular on recalling public sector employees to work from Monday.
However, doctors have warned that Sri Lanka is facing the initial stages of a possible fourth wave, and have cited the upsurge in daily Covid-related deaths that have topped 50 the past week,  and the number of new cases, which have topped 2000 on a daily basis.
President of the Sri Lanka Medical Association (SLMA), Dr. Padma Gunaratne, noted that based on the latest data available, about 30% of the Colombo Municipal Council population had the Delta variant and warned it would soon become the dominant variant infecting 50% of the active cases.
Sri Lanka Public Health Inspectors (PHI) Union has also warned of the Delta variant spread, as the government is also set to remove the intra-provincial travel restrictions on Monday.
The authorities have reduced PCR testing since early July, keeping the number of new COVID-19 cases under 1500.
Lalith Weeratunga, the chairman of the Presidential Task Force for National Deployment and Vaccination Plan for COVID-19 Vaccine has said the focus is now on vaccination.  The President's Media Office ahs said 72% of the population who are over 30, have been administered the first dose of the vaccine, while 16% had received both doses.
-ENCL