Sri Lanka records sharp rise in Covid-fatalities as 67 deaths reported on Wednesday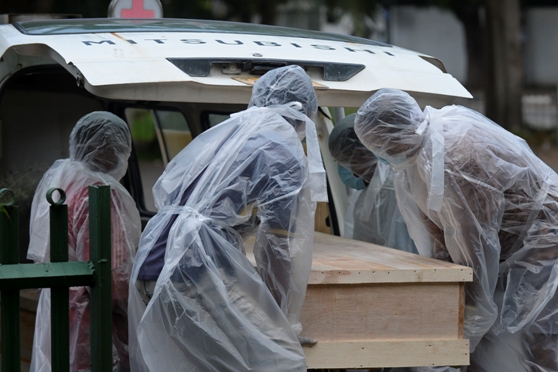 - Lakruwan WANNIARACHCHI / AFP
COLOMBO –Sri Lanka's Covid-fatality count topped the half-century mark for the second consecutive day, with 67 deaths reported on Wednesday (9),  the highest number of deaths reported in a single day so far. Fifty-four deaths were reported on Tuesday (8).
In a convoluted method of recording Covid-deaths, the Department of Government Information attributed the record number of deaths to a time span extending from May 17 to June 8 noting no deaths were reported on Wednesday. A similar statement the previous day said no deaths were reported on Tuesday, but four deaths from Tuesday had been added to Wednesday's report. Similarly, 8 deaths had been accounted for Monday (7), which had four deaths added on Tuesday.
The 67 deaths reported on Wednesday take Sri Lanka's fatality count to 1910.
The Department of Government Information, in a statement quoting the Director-General of Health, identified the deceased as 24 female and 43 males, 19 of them in the age group 70 to 79, 18 in the age group 80 to 89, and 16 in the age group 60 to 69.
The statement said 56 had died while being treated in various designated hospitals, six had died in their residences and five had died on admission to hospital.  The cause of death in most cases has been identified as COVID-19 infection associated with COVID Pneumonia.
Wednesday also saw 2735 new cases being confirmed, 2716 linked to the New Year cluster, taking the virus tally to 213,396, with 180,427 recoveries and 31,126 receiving treatment in various hospitals across the country.
Sri Lanka has seen a surge in daily cases over the past few weeks, forcing authorities to extend the movement restrictions that amount to unofficial island-wide curfews until June 14.
Meanwhile, Japan is said to have reported positively to a request by President Gotabaya Rajapaksa for 600,000 AstraZeneca vaccines.
A statement from the President's office said, "President Gotabaya Rajapaksa's request made to the Prime Minister of Japan, Yoshihide Suga, seeking to obtain 600,000 doses of AstraZeneca vaccine has been met with positive responses."
Sri Lanka is seeking AstraZeneca vaccines to administer a second dose to around 600,000 people who were given the first dose in February from a consignment of COVISHIELD vaccine donated from India. Sri Lanka had placed an order for additional doses, but a deadly outbreak of the virus in India, saw all exports of the vaccine come to a grinding halt.
"The Japanese Government has also acceded to the President's request to provide medical supplies and healthcare equipment needed to contain the spread of COVID-19 virus," the statement said.
-ENCL