Govt. identifies Mohamed Naufer, Hajjul Akbar as masterminds behind Easter Sunday bombings
Claims there is no desire to conceal findings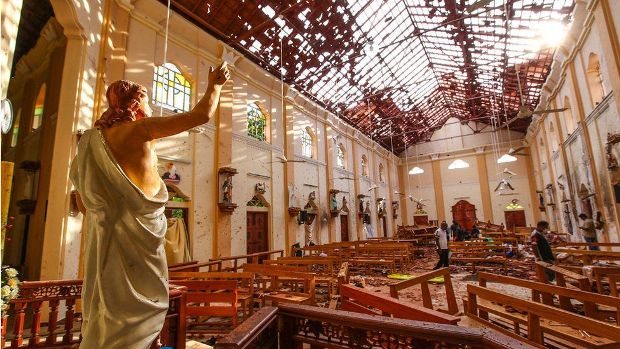 -ENCL
COLOMBO – With opposition pressure mounting to find the brains behind the 2019 Easter bombings, the government on Tuesday (6) identified Maulavi (Islamic preacher) Mohamed Ibrahim Mohamed Naufer and Rasheed Hajjul Akbar, both of whom are in custody, as two of the confirmed masterminds of the deadly attack.
Minister of Public Security, Rear Admiral Sarath Weerasekera, told reporters on Tuesday, no other suspect has been identified as having masterminded the attacks and stressed that the government has no intention to hide its findings.
Weerasekara was responding to a question about allegations levelled by the opposition that information about those who might've planned the attack was not forthcoming.
The minister said the Maulavi had been promoting ISIS leader Abu Bakr al-Baghdadi's brand of Islamic state ideology in Sri Lanka since 2014.
"It was he who brainwashed Zaharan (Hashim, the ringleader of the suicide bombers and founder of the National Thowheeth Jama'ath)," Weerasekara said, adding Zaharan had come on board in 2016.
Naufer is among 32 individuals against whom criminal proceedings are to be initiated, he said, claiming that the 32 are  in turn among 211 suspects in remand custody in connection with the bombings that killed 267 people and injured at least 500 on April 21, 2019.
The minister told Parliament on March 10 that investigations had revealed Naufer had introduced Zahran to IS ideology.
"Investigations revealed that Naufer ideologically handled Zahran up until the attacks. He has been identified as the prime fundamentalist and the one who directed Zaharan to violence," he told Parliament.
At Tuesday's media briefing,  Weerasekara said the Attorney General had delayed filing charges against the 32 individuals until the report of the Presidential Commission of Inquiry (PCoI) on the bombings was available. Now that the report is out, he said, the AG will file charges in the coming days taking into account the evidence available.
In addition to Naufer, the minister also named Rasheed Hajjul Akbar as possibly having masterminded the attack. Akbar allegedly headed the Jamaat-e-Islami organization for 24 years until last September 2019 and was arrested by the Terrorism Investigation Division (TID) in Dematagoda last month.
Akbar is of the same ideological bent as Naufer, he said.
"Other than that we haven't identified anyone as a mastermind. Investigations continue and won't stop. If we find more suspects – we found two or three recently – we will take action against them," he ensured.
-economynext.com