Sri Lanka's Covid deaths cross 15,000 mark
As health officials warn Omicron variant on the rise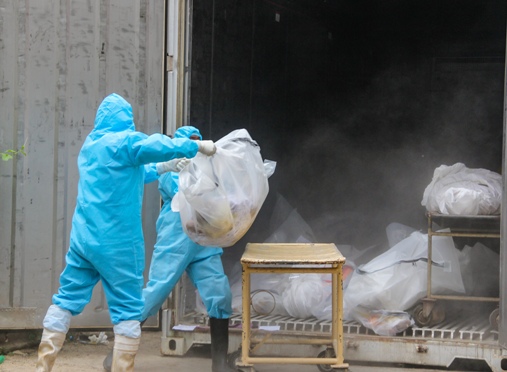 COLOMBO – Sri Lanka passed yet another grim COVID-19 milestone on Sunday (2), with 24 virus related deaths taking the fatality count past the 15,000 mark, even as health authorities warned COVID-19 infections with the Omicron variant were on the rise in the country.
The Department of Government Information, in a statement confirming the deaths, identified the deceased as 20 males and four females, 13 of them aged 60 and above, and 11 aged between 30 and 59.  As has been the practise since Sri Lanka started experiencing a surge in Covid-related fatalities mid last year, no other details were given.
Sunday's confirmation takes the total number of virus related deaths in the country to 15,019.
Meanwhile, Consultant Family Physician Ministry of Health, Dr. Malkanthi Galhena, warned that  COVID-19  infections with the Omicron variant are on the rise, noting that in the future, Omicron positive patients too might be subjected to home care.
So far Sri Lanka has recorded 48 cases of the Omicron variant of the Covid virus, with 41 new cases confirmed on Friday (Dec 31) by Director, Allergy Immunology and Cell Biology Unit of University of Sri Jayewardenepura, Dr. Chandima Jeewandara.
Dr. Galhena, acknowledging Sri Lanka had seen an increase in cases in the Omicron variant detected in the past two weeks, said most of the cases had been reported from the Colombo and Gampaha districts.
Noting that several patients had also been identified from the Anuradhapura district, Dr. Galhena urged the public to understand the threat posed by the Omicron variant and to continue to follow health guidelines in order to ensure the country does suffer another wave of the virus.
-ENCL