President makes changes to controversial 'One Country, One Law' task force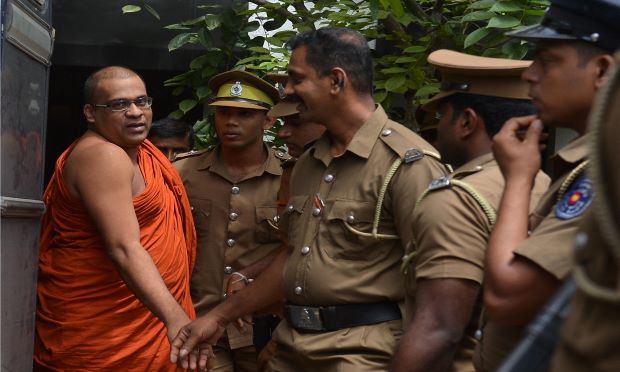 COLOMBO – President Gotabaya Rajapaksa has appointed three new members, purportedly representing women and the minority Tamil community, to the recently formed 'One Country One Law' presidential task force headed by controversial Buddhist monk Galagoda Aththe Gnansara Thera.
According to a gazette notification dated November 6, the new members added to the task force are Ramalingam Chakrawarthy Karunakaran, Yogeswari Patgunarajah and Iyyampillai Dayanandaraja.
The gazette has noted the resignation of Prof. Dayananda Banda and lecturer Mohamed Inthikab from the task force, and also revealed that the president has amended the terms of reference of the task force thus:
"Presenting proposals for formulating a conceptual framework ideally suited for Sri Lanka after making a study of the said concept taking into account the views and opinions held by various parties with regard to the implementation of the concept: 'One Country, One Law'."
President Rajapaksa appointed the task force in late October to come up with proposals for  'one law' for all Sri Lankans abolishing all other personal laws including Muslim marriage law and some other regional laws that had existed for centuries in Sri Lanka.
Gnansara Thera, the General-Secretary of the Bodu Bala Sena (BBS) was appointed to lead the task force, a decision that has been widely panned by some opposition lawmakers, civil society groups and others including those within the government's own ranks.
The composition of the task force was also criticized, in particular the complete absence of Tamil representation. Justice Minister Ali Sabry was also reported to have expressed his surprise at the task force and the appointment of Gnanasara Thera as its chair without his consultation.
The firebrand monk has been accused of promoting Islamophobia in Sri Lanka.
In 2012, Gnanasara Thera was allegedly at the forefront of an anti-Muslim campaign, which called on the majority Sinhalese to boycott Muslim-owned businesses.
The United States in 2014 cancelled a visa issued to the monk while social media platform Facebook blocked his account after the BBS's alleged involvement in violence against the Muslims in Aluthgama.
He was later arrested for contempt of court in 2018 during the previous administration but was later pardoned by President Maithripala Sirisnena.
Critics have said Gnanasara Thera has been used to create a rift between the Sinhala majority and Muslim minority for political reasons. But the monk has denied the allegation and has said Sri Lanka's Sinhala majority has issues that have been ignored by politicians, issues that he had tried to address.
Since the 2019 Easter bombings, the monk has maintained that his cause is not against ordinary Muslims who have coexisted with the Sinhalese for centuries but with extremist, Wahabist elements in Muslim society.
Speaking to reporters on November 1, Gnanasara Thera said recommendations by the BBS, widely seen as an ultranationalist outfit, will make it to the proposals of the presidential task force he leads.
-economynext.com