Teachers promise more protests on World Teachers' Day if salary crisis not resolved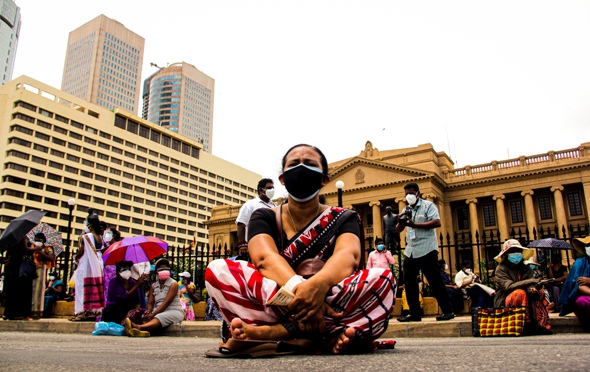 By Chanka Jayasinghe
COLOMBO – School teachers and principals in Sri Lanka are to launch a fresh series of protests on World Teachers' Day on Wednesday (6) demanding a solution to unresolved salary anomalies.
Secretary Ceylon Teachers Union (CTU), Joseph Stalin, told reporters on Tuesday (5) trade union action will continue until the crisis was resolved, urging the government to look at the issue at least on World Teachers' Day and arrive at a solution to end the strike,  which has now been going on for 86 days.
School teachers and principals have been on strike demanding a solution to salary anomalies that have plagued the service for decades, effectively ended online education for students who have had to rely on distant learning for much of 2021 due to the COVID-19 outbreak.
"We have organized protests covering 312 District Secretariat Divisions in the country and we will continue our trade union action until our demands are met," Stalin pledged/
Meanwhile, Education Minister Dinesh Gunawardena said on Tuesday that a decision taken by the Cabinet of Ministers on the matter has been finalized, and requested the teachers to resume their duties.
Last month,  the Cabinet announced a decision to declare the services of both teachers and principals as closed services.
Both services are under the public service, but declaring them a closed service will allow the government to treat them separately from the rest of the public service when resolving their demands of salary anomalies, wages, transfers, and other benefits.
This will also mean that cadres from the teachers' and principals' services cannot be transferred to any other public services.
The decision was recommended by a four-member cabinet subcommittee that looked into the salary anomalies of teachers and principals.
Meanwhile, health authorities have asked that the unions refrain from organizing another series of protests at a critical time when the epidemic finally seems to be under control to an extent.
"We are not opposing trade union action," Deputy Director of Health Services Dr. Hemantha Herath said on Tuesday, claiming, "But if their actions cause the virus to spread more, and if it threatens the health of the general public and the people who join these protests, as health services we think it is a crime, especially at a time where we have not yet taken full control of the situation."
He asked teachers not to join the protests at this moment.
-economynext.com