Early action and early warnings save lives
World Meteorological Day 2022
Earlier this year, the Intergovernmental Panel on Climate Change (IPCC) released the report 'Climate Change 2022: Impacts, Adaptation & Vulnerability', and delivered a stark warning about the impact of climate change on people and the planet. The report stated that ecosystem collapse, species extinction, deadly heatwaves and floods are among the "dangerous and widespread disruptions" the world will face over the next two decades due to global warming. Hoesung Lee, Chair of the IPCC, said "our actions today will shape how people adapt and nature responds to increasing climate risks."
This means that extreme weather conditions and events will frequent, disaster risks will soar, especially for countries that are more climate and disaster vulnerable like Sri Lanka. As a developing island nation, consequences of climate change such as temperature rise, rainfall variability and sea level rise are critically affecting almost all economic sectors of the country. And lives and livelihoods are routinely affected by recurring disasters every year.
Sri Lanka's economy and its people rely heavily on the natural resources that the island offers. From agriculture the people's mainstay to others like tourism, fisheries, forestry and many others indirectly; natural resources sustain the country.  And, as weather, climate and water extremes are becoming more frequent and intense, rural and poor communities and their livelihoods are exposed, than ever before, to multiple hazards at varying degrees.
Early Warning works, Early Action saves
This year's World Meteorological Day focuses on 'Early Warning and Early Action', highlighting the importance of Hydrometeorological and Climate information for Disaster Risk Reduction. With extreme weather events becoming increasingly common, early warning systems which cultivates disaster and risk-aware communities for early action remain a powerful catalyzer of climate adaptation and disaster risk reduction.
Rani, a home gardener living in and around the Dry Zone of Sri Lanka, attests "We receive weather forecasts now, and it has immensely helped improve our home gardens. We have been doing home gardening over the past few years with little success. We didn't get the relevant weather information on time, so most often our efforts would be in vain, as rains or droughts would wash it all away. This is our main source of earning a living, to put food on the table for the family. So, I wanted to share my experience, to encourage others like myself to look into weather and climate forecasting to overcome challenges they face from climate change." Rani is a beneficiary of the Climate Resilient Integrated Water Management Project (CRIWMP) implemented by the United Nations Development Program (UNDP) and the Government of Sri Lanka, funded by the Green Climate Fund (GCF). The Project works on ensuring last mile warning dissemination through the established effective and efficient integrated weather and agrometeorological information system, addressing the need of farmers and at-risk communities in agriculture to access locale-specific, reliable, timely and user-friendly climatic and weather information. The advisories, response plans and water management options generated through this information system help the farmers adjust cultivation practice and crop rotations, prevent disruptions, optimize the water use, understand climate change and its impacts, and, ultimately strengthens the livelihood security of farming communities. This intervention is reinforced by the hydrometeorological network that has been established to monitor the hydrological and meteorological parameters in 3 climate vulnerable river basins to inform the Meteorological and Irrigation Departments to develop weather and water management advisories including flood advisories.
Vajira Hettige, Technical Coordinator, Disaster Risk Reduction at UNDP in Sri Lanka notes, "Early warning and forecasting systems play a pivotal role in reducing and responding to climate risks, not only in the agricultural sector, which allows farmers to plan and manage their cultivation with changing weather patterns, but also for other climate-sensitive sectors in the country. It is crucial that such systems are upscaled and implemented in other economic sectors to strengthen its adaptive capacity".
He adds: "As the pandemic has highlighted, to make progress on climate action and disaster risk reduction, we must embrace preemptive, holistic and effective multi-hazard and disaster risk reduction and management. Our work on climate and hydrometeorological information dissemination must also be underpinned by the improvement of innovation and digital solutions."
Connect, Innovate, Accelerate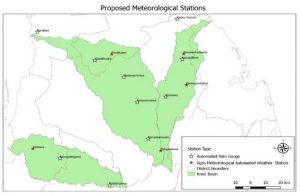 Centring disaster risk reduction and risk management is essential to ensuring that people are safer, and that development is sustainable. UNDP, in collaboration with the Government of Sri Lanka are working towards making inclusive, accessible and sustainable early warnings and early action for disaster resilience a reality. With the support from Government of Japan, UNDP Disaster Risk Reduction and Recovery for Building Resilience Team implements a regional project on 'Accelerating Disaster Risk Reduction and Enhancing Crisis Response through Digital Solutions (Digital Solutions for DRR)', seeking to reach people with impairments or those in the poorer strata of society with digital risk reduction solutions, ensuring no one is left behind. DX4Resilience employs digital solutions to empower vulnerable communities to better respond, prepare and recover from disasters.
With inclusion and last-mile dissemination at heart, UNDP works to bridge the communication gap between information users and disaster risk reduction institutions, including meteorological and hydrological services, the research community, to identify vulnerable and at-risk communities that need locale-specific climate and hydromet information.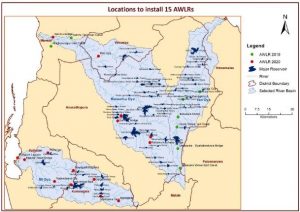 The Web Portal and Mobile Application developed under the CRIWMP in collaboration with the Meteorological Department, the Ministry of Irrigation and other stakeholders, aims to do just that. The web portal is a real-time online data monitoring system supporting forecasters to combine and compare different meteorological parameters, providing a central platform to access met observations, weather forecasts and products. In addition, this portal is connected to a mobile app, which disseminates 10-day weather forecasts for local communities. This intervention facilitates a coordinated response between national institutions to forecast and disseminate the advisories, encourage information sharing, and builds partnerships for more climate and disaster informed, and thus, resilient communities.
Even though Sri Lanka has a host of ongoing interventions to address the issue of Hydrometeorological and Climate information for Disaster Risk Reduction, it is not enough to tip the scales in favour of our communities – the climate change impacts are worsening, and people are still vulnerable to these adverse impacts. But, it does show us how climate and hydrometeorological information could accelerate resilience and presents a way forward; scientific information must be transformed into actionable advisories and disseminated to the communities standing in the front lines of the climate crisis. Digitalization and innovative application of Hydromet and Climate information is more than a component of digital transformation, but the core to saving lives and livelihoods.  As Sri Lanka pivots towards a green development trajectory, early waring and early action must underpin the development frameworks to #BuildForwardBetter.
-UNDP