Fat Bear Week: 480 Otis takes title for 4th time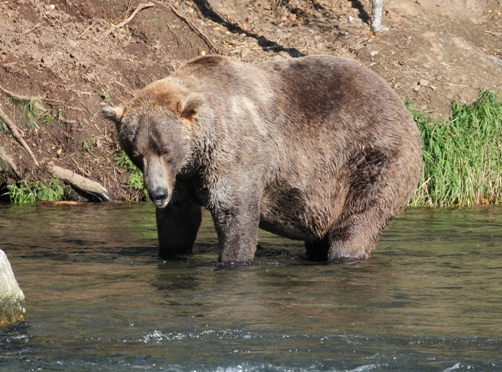 By Johnny Diaz
ALASKA – Move over Bear 747. In the battle of the bulkiest bear in Alaska, there's a new heavyweight champion at Katmai National Park and Preserve.
On Tuesday (5) night, 480 Otis was declared the winner of Fat Bear Week, an online competition that celebrates the bears' pre-hibernation weight gain from late June to October, drawing hundreds of thousands of votes from bear buffs.
At more than 25 years old, Otis is one of the older bears at the park, which encompasses about 4.1 million acres in southwest Alaska and is home to about 2,200 brown bears.
Otis is now a four-time champion, having won the inaugural contest, in 2014, as well as in 2016 and 2017. This year, Otis earned 51,230 votes in the final round to beat Bear 151 Walker's 44,834 votes. Nearly 800,000 votes were cast in the weeklong contest, which featured 12 bears.
"Bears are fascinating animals and lead challenging lives, and I think people are happy to celebrate their success each season," said Amber Kraft, a spokeswoman for the park.
The contest began in 2014 as Fat Bear Tuesday and expanded into a weeklong contest the following year to celebrate the bears' successful weight gains after gorging on sockeye salmon from the Brooks River to prepare for hibernation.
Brown bears can add up to four pounds of weight a day and, as hibernation begins, the largest adult males can weigh more than 1,200 pounds. In 2019, Otis was estimated to weigh more than 900 pounds.
The competition, which began Sept. 29 this year, pits pudgy pairs of bears against each other. Voters pick their favourites on a website hosted by explore.org, a network of nature webcams, and the bear with the most votes moves on to the next round.
Park officials share stories of the bears through profiles that detail their age, gender and offspring. Early in the season, park staffers take photos of the bears when they are skinny and again at the end of the season, after they have gained weight.
Bears at Brooks River are initially assigned numbers for monitoring purposes, with some later acquiring nicknames from staff members at the park.
As a warm-up for this year's competition, park staffers added a junior bracket, a fat baby bear contest that highlighted four of the park's chubbiest cubs.
"Fat Bear Jr. is a great way to share more about the success and struggles of cubs," Kraft said.
She noted that the cubs start their lives about the size of a soup can, weigh on average about one pound at birth and have a survival rate of 50%.
Four of them faced off last month, and the winner was Bear 132's Spring Cub, a 9-month-old with a short muzzle and shaggy brown fur. That bear went on to compete in the adult competition.
Last year's adult winner was Bear 747, his first championship. Past winners also include 409 Beadnose, a female bear who won the battle of the bulge in 2018 and 2015.
-New York Times