Elon Musk's quixotic quest to turn X into an 'everything app'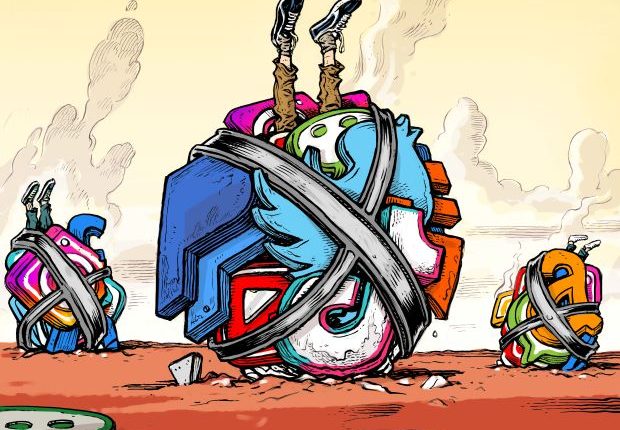 By Ryan Mac
LOS ANGELES — Four years ago, a billionaire tech executive leading one of the world's preeminent social platforms laid out a vision to transform it into an app that could do it all. In an online manifesto, he wrote that the app would not only be central to written communications but have audio, video, payments, commerce and more.
The idea was akin to that of an 'everything app' espoused recently by Elon Musk, the owner of Twitter. But the dream belonged to Mark Zuckerberg, the founder and CEO of Meta, which owns Facebook, Instagram and WhatsApp. In a 2019 blog post, Zuckerberg outlined how he would turn WhatsApp into an app that could be a platform for many "kinds of private services".
In Silicon Valley, the pursuit of an everything app has come up time and again as tech leaders have strained to expand their digital empires. Zuckerberg tried it. So did Dara Khosrowshahi, the CEO of Uber. Evan Spiegel, the head of Snap, said he wanted to go for it, too.
Yet those efforts fell short, with the tech executives unable to replicate the magic that has abounded in Asia with 'super apps' like China's WeChat, Japan's Line and South Korea's KakaoTalk. US tech giants have instead run into cultural differences, regulatory scrutiny and a splintered financial system that has made the quest to build such apps more difficult.
And now Musk, who this week changed Twitter's name to X, the moniker for his everything app, is chasing the same goal — and is likely to face the same challenges.
In the United States, people are "accustomed to single-service apps, which makes moving to a multiservice app a bit disorienting," said Dan Prud'homme, an assistant professor of business at Florida International University. "To some extent, US customers don't like feeling that they are too beholden to a single firm for their everyday needs."
Musk has been enamoured with an everything app since at least last year. Weeks before closing his $44 billion acquisition of Twitter in October, he tweeted that his purchase would be "an accelerant to creating X, the everything app".
On Monday (24), he tweeted about Twitter's rebranding to X, writing: "In the months to come, we will add comprehensive communications and the ability to conduct your entire financial world. The Twitter name does not make sense in that context, so we must bid adieu to the bird."
Yet Musk has said little publicly about what his everything app would look like, how it would function or why people would want to use it. In November, Twitter filed paperwork with the Treasury Department's Financial Crimes Enforcement Network to become a payments processor, and employees have been building a payments service.
Musk did not respond to a request for comment.
His plan faces many doubters. He has "taken a wrecking ball to Twitter" and undermined how people use the platform, said Chris Messina, a tech entrepreneur and the creator of the hashtag. "It seems as if he's going to build a grab bag of different functions and ram it through the user base."
Much of the desire to create an everything app is rooted in Asia, where such apps have flourished for more than a decade. In Japan, people use Line, the country's dominant messaging platform, to store vaccination cards and shop for clothes. In South Korea, people turn to KakaoTalk, which started as a messaging service, to send money and request taxi rides.
None have been as successful as Tencent's WeChat, a messaging, social media and payments app used by more than 1 billion people, mostly in China. WeChat dominates the mobile internet and is a one-stop shop to read news, talk with friends, order pizza or pay the landlord.
Many Silicon Valley entrepreneurs have long considered WeChat the gold standard for mobile apps.
"If you go to China, you see how much easier everything is, and you say, 'I wish I had that for myself,'" said Ted Livingston, the founder of the messaging platform Kik, which is backed by Tencent. "WeChat is effectively the operating system of daily life in China."
In 2013, Snap's Spiegel also referred to Tencent as a model when it came to making money. In an interview last year with Axios, he spoke glowingly of Tencent's continued success with WeChat and said Snap was also building a "Snapchat super app." Tencent has invested in Snap, most recently in 2017.
In 2019, following Uber's initial public offering, Khosrowshahi echoed the super app mantra. He said he saw his ride-hailing app as the "Amazon of transportation" and wanted it to be the "operating system for your everyday life in a city".
That same year, Zuckerberg stated similar ambitions for WhatsApp. Zuckerberg has since added payment and commerce features to Facebook, Messenger, Instagram and WhatsApp, although none have become an everything app.
That may come down to different regulatory and cultural environments, Messina said. UStech giants have come under heightened antitrust scrutiny from regulators around the world, but Chinese tech companies that have Beijing's blessing have flourished, even amid a crackdown on tech power.
In November, Musk was asked at a companywide meeting at Twitter about his everything app idea, two people who attended the event said. An employee noted that there were fundamental differences between Twitter and Tencent, the people said.
Musk responded that the questioner didn't know what he was talking about, before asking for the next question, the two attendees said.
Musk has not held back on his predictions for X. "If done right," he said in a recent podcast interview, X could become "half of the global financial system."
Linda Yaccarino, Twitter's CEO, has also appeared enthusiastic about X.
"X is the future state of unlimited interactivity — centred in audio, video, messaging, payments/banking — creating a global marketplace for ideas, goods, services, and opportunities," she tweeted on Sunday. "Powered by AI, X will connect us all in ways we're just beginning to imagine."
-New York Times