At CPAC, a golden image, a magic wand and reverence for Trump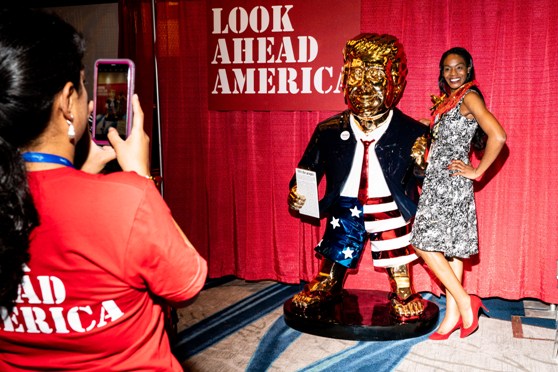 By Elaina Plott
ORLANDO — Tommy Zegan was appalled by the few sculptures of Donald Trump in existence — the life-size nude statue that popped up in major cities in America, the golden toilet in London. So in 2018, he got to work.
Zegan, a Trump supporter who had recently moved to Mexico from the United States, created a 6-foot-tall fibreglass mould of the former president and painted it gold. Zegan's Trump carried a magic wand in his left hand, a reference to Barack Obama's quip in 2016 about Trump's needing one to bring back manufacturing jobs. The sculpted Trump wore his customary suit jacket and red tie, American flag shorts — and flip-flops — "because technically he should be retired," Zegan explained, "but he chose to be a servant".
The final product, titled 'Trump and His Magic Wand', was among the more popular attractions at this year's Conservative Political Action Conference (CPAC) in Orlando, Florida. On Saturday (27), attendees flocked to the event's merchandise hall for photos with the golden sculpture, the scene an almost literal rendering of the Republican Party, which continues to reserve its reverence not for ideas or elected officials but for one man.
"It's definitely not an idol," Zegan insisted. ("I was a youth pastor for 18 years," he noted.) "An idol is something somebody worships and bows down to. This is a sculpture. It's two different things."
The defiantly pro-Trump mood at CPAC represented a culmination of a cycle that began in 2016, when Republican leaders publicly supported Trump's nomination for president while privately presuming a landslide defeat and subsequent irrelevance. It was a pattern that held firm over the four years that followed, with many lawmakers continuing to indulge the president, all while confident that a breaking point — whether a loss in 2020 or, most recently, the riot at the Capitol by Trump supporters on Jan. 6 — was imminent.
Meanwhile, their constituents' devotion to Trump only hardened. For many voters, Trump became the party. And at CPAC, many of the thousands of attendees sporting Make America Great Again hats made it clear that their loyalties no longer lay with the institution itself.
Despite four years of professions of fealty to Trump from the party's elected officials and their orienting of the GOP around his image, dozens of conservatives this weekend bristled at the Republican label, castigated the party's current congressional leadership and vowed to leave the party altogether should Trump decide not to run for a second term in 2024.
The party's viability in the future, these people suggested — some as they proudly displayed their well-worn Trump 2020 T-shirts — was entirely contingent upon its members' willingness to remain fixed in the past.
"We're so disgusted by Republicans that, honestly, if Trump's not running, we don't care who wins," Sany Dash said as she worked at her Trump merchandise booth.
Della Striker, 70, is a lifelong Republican and for the past three years has been a fitness instructor at Mar-a-Lago, Trump's resort in Palm Beach, Florida. But she said her allegiance to Trump had come to transcend political parties. "I only voted Republican, but I never loved anyone. I voted Republican because they were at least pro-life and loved Israel."
But in 2015, she said, she heard a voice.
"I've heard the Lord five times in my life," she said. "I woke up in 2015 — I was waking up, and it said, 'I want you to pray for Donald Trump.'"
Six years later, Striker said she was "very upset."
"Seven Republicans turned on him," she said, referring to the senators who voted to convict in Trump's impeachment trial this month. While she had enjoyed listening to some speakers at CPAC, such as Rep. Matt Gaetz of Florida, she wondered why there were not more speakers she considered sufficiently pro-Trump — in particular, Rep. Marjorie Taylor Greene of Georgia.
Greene, who was elected in 2020 despite a history of racist, anti-Semitic and Islamophobic remarks and her embrace of the QAnon conspiracy theory, was not on the CPAC agenda. But she attended the conference anyway, posing for photos Saturday with throngs of fans in the hallways of the Hyatt Regency.
Other CPAC attendees also questioned Greene's absence from the agenda.
Yet when it came to other Republicans who were missing from CPAC's agenda, including former Vice President Mike Pence and Nikki Haley, Trump's former ambassador to the United Nations, many attendees seemed ambivalent, as if those figures' absence had not even occurred to them.
"No opinion," Zegan, the sculptor of the golden Trump, said with a shrug when asked about Pence. Zegan, like several of those interviewed, expressed the false belief that the loosely affiliated group of far-left anti-fascism activists known as antifa was responsible for the riot at the Capitol ("It's eventually going to come out," Zegan promised). But while some said that Pence had "let down" Trump by presiding over the congressional certification of Electoral College votes, even they seemed not so much angry toward him as indifferent.
As for Haley, Zegan was a bit more animated, pulling out his phone and showing a photo of a painting he had made of her. "I would love to present it to her, but I'm kind of disappointed in her," he said. "When she bad-mouthed Trump — she should've just kept her opinion to herself."
In other words, two figures who were once considered rising stars in the GOP, who for years have had an eye to 2024, appeared to have less currency at CPAC than a freshman congresswoman known for her conspiracy theories and her devotion to Trump.
Asked how he defined the Republican Party right now, Zegan grinned weakly. "In shambles," he said.
-New York Times