No light or heat for millions in places unaccustomed to frigid weather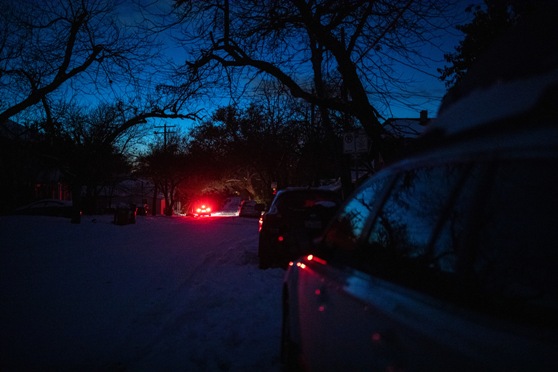 By Will Wright, Giulia Mcdonnell Nieto Del Rio, Campbell Robertson, Derrick Bryson Taylor and Michael Levenson
TEXAS – More than 3 million Texans waking up Wednesday (17) morning went to bed still without power after a winter storm increased consumer demand for electricity while pummelling the state's grid.
Now the state is bracing for yet another arctic blast, with a winter storm warning in effect for dozens of counties in the Fort Worth-Dallas area until Thursday (18) morning. Ice accumulation and 1-3 inches of snow are expected, with up to 6 inches of snow northeast of the metro region.
There was little respite Tuesday (16) night from the previous storm, with freezing rain across much of Central Texas and several inches of snow north of Dallas. Winter weather has left at least 23 people dead across the country since last week, along with bitterly cold temperatures.
In the Northeast and Midwest, residents are digging themselves out. Areas near Buffalo, New York, saw snowfall of 1 to 2 inches per hour Tuesday. And in Chicago, the National Weather Service recorded more than a foot of snow that began falling Sunday (14) evening.
More than 180,000 people in Oregon remained without power Tuesday night, and tens of thousands were without electricity in Kentucky, West Virginia and Louisiana, according to poweroutage.us, a website that tracks electricity outages.
But the worst outages were in Texas, which enters its third day of widespread distress. Gov. Greg Abbott has declared an emergency reform of the Electric Reliability Council of Texas, which manages the state's electrical grid and is struggling to restore power.
The council ordered Austin Energy to shut off some power Tuesday night, according to the utility's Twitter account, which might affect people who previously had it restored. Mayor Steve Adler urged residents to use electricity as sparingly as possible in hopes of staving off further shutdowns, using flashlights and candles if able.
"If you have power, please try to live almost like you don't," Adler said. "If you have heat, run it low. Run it lower."
But efforts to stay warm that did not require power carried their own risks.
Two Houston emergency rooms treated about 100 cases of carbon monoxide poisoning over a 16-hour period from Monday (15) to Tuesday — a huge spike, a hospital system spokeswoman said — as residents of the city resorted to dangerous methods of keeping warm.
The Houston police said a woman and a girl died after a car was left running in a garage to generate heat, and doctors said they were concerned about running out of treatment options if the rush of patients continued. People with severe cases of carbon monoxide poisoning must be placed into a hyperbaric chamber to receive oxygen, and Houston emergency rooms only have a handful available.
"It's definitely very alarming," said Dr. Salil Bhandari, an emergency medicine physician affiliated with the Memorial Hermann hospital at the Texas Medical Centre.
Bhandari and medical staff treated 57 patients late Monday and early Tuesday — half of them children, he said. Twenty-five of those patients needed to spend time in the hyperbaric chamber, Bhandari said, and it can only treat six at a time.
The hospital typically treats about 75 to 100 cases of carbon monoxide poisoning during an entire year, a spokesperson said.
Most of the poisoning cases stemmed from people using generators improperly, often keeping them functioning inside of garages or close to windows, instead of outside, Bhandari said. Entire families were poisoned in some cases.
"The key is that people are not using generators properly," he said, adding that a few people had also brought charcoal grills inside their homes.
At Lyndon B. Johnson Hospital and Ben Taub Hospital, hospitals run by Harris Health system, there were a combined 15 cases of carbon monoxide poisoning in the past 24 hours — and at Lyndon B. Johnson, there was at least one death from the poisoning.
The Houston Fire Department responded to more than 90 calls for carbon monoxide poisoning in a 24-hour period, Chief Samuel Peña said at a news conference Tuesday afternoon. "It'll punch victims when they least expect it," he said, "especially in their sleep."
Peña said people in Houston were turning on their vehicles to stay warm, and cautioned against doing so inside a garage, even with the door open. There were still about 1.3 million people without power in the Houston region Tuesday afternoon, Mayor Sylvester Turner said at the briefing.
"This is easily a situation that could overwhelm an emergency department," Bhandari said.
Referring to those patients that were hospitalized, he said, "That is incredible that nobody died. That is a mass casualty situation."
But the overall death toll related to the storm continued to rise late Tuesday.
In Houston, a homeless man was found dead at an overpass. And a man who was found dead on a median in midtown Houston on Monday was suspected to have died from the extreme cold, the Harris County sheriff said.
A grandmother and three children were killed in a house fire in Sugar Land, Texas, early Tuesday in a neighbourhood that was without power, according to local news reports.
In southern Louisiana, a man died after slipping on the ice and hitting his head, officials said, and a 10-year-old boy died in Tennessee after falling into an icy pond. The authorities in San Antonio said that weather conditions contributed to the death of a 78-year-old man. Slippery roads were responsible for 10 deaths in Kentucky and Texas.
The weather-driven destruction this week did not come solely from ice and snow; in coastal North Carolina, a tornado killed three people and injured at least 10 others early Tuesday morning, though it was unclear if it was meteorologically related to the winter storm.
-New York Times