DeSantis ploughs ahead with whirlwind of friendly interviews and a tour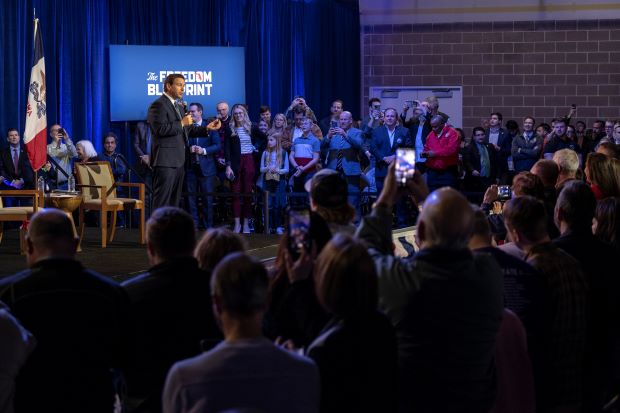 By Nicholas Nehamas, Maggie Astor and Alan Blinder
FLORIDA – Gov. Ron DeSantis of Florida plunged into his first full day of presidential campaigning Thursday (25) after his sputtering Twitter rollout the night before, holding a series of interviews with friendly conservative commentators and announcing a series of in-person events in Iowa, New Hampshire and South Carolina next week.
For DeSantis, the immediate challenge appeared to be moving past the rough kickoff and appealing to a mainstream Republican audience, after a Twitter discussion with billionaire Elon Musk that often strayed into online right-wing grievances and away from the issues voters say they care about most, like the economy.
Acknowledging that a "very small percentage" of Republican primary voters were on Twitter, DeSantis defended his decision to announce his campaign on the social media platform.
"We felt that there would be a lot of buzz about it," he told conservative radio host Erick Erickson on Thursday afternoon. "And I think that was probably the biggest story in the world yesterday. And so hopefully we'll get some people interested in our campaign who may not have been otherwise."
DeSantis also sought to turn attention back to his brewing clash with former President Donald Trump, whose devoted supporters are one of the biggest hurdles to the governor's candidacy. As he began his media blitz, DeSantis took a series of jabs at Trump, noting how frequently the former president attacked him.
"I think a lot of what he's doing is showing everybody that he understands that I've got a good chance to beat him, because he doesn't criticize anybody else now," DeSantis told a New Hampshire radio station. "It's only me."
Trump's team "wouldn't do that if they didn't think that I had a chance," added DeSantis, who argued that he had a better chance of winning independent voters.
At the same time, DeSantis suggested on 'The Clay Travis and Buck Sexton Show' that, if elected, he might consider pardoning Trump if he faced federal charges — along with many other people, including defendants charged in connection with the Jan. 6, 2021, storming of the Capitol.
"On Day 1, I will have folks that will get together and look at all these cases, who people are victims of weaponization or political targeting, and we will be aggressive in issuing pardons," he said, responding to a question about Jan. 6 pardons but also citing other cases that he claimed represented "weaponization" of federal law enforcement.
"Some of these cases, some people may have a technical violation of the law, but if there are three other people who did the same thing but just in a context like BLM and they don't get prosecuted at all, that is uneven application of justice," he added, referring to the Black Lives Matter movement. "And so we're going to find ways where that did not happen and then we will use the pardon power."
Asked directly whether his review might include Trump himself, DeSantis said, "I would say any example of disfavoured treatment based on politics or weaponization would be included in that review, no matter how small or how big."
The governor had avoided mentioning Trump during his rollout Wednesday (24), a delayed livestream Twitter Spaces event with Musk, the platform's owner that was plagued by technical glitches, causing dead air and an intermittently hot mic.
One of the people listening to the Twitter announcement was Trump himself — at least for a while.
"I tried for the first half-hour," Trump said in an interview as he moved toward the seventh tee on his golf course outside Washington. "After that, everybody just turned it off."
Trump crowed about the rollout, calling it a "disaster" and saying, "I don't know if it's recoverable".
"He's very disloyal, but he's got no personality," Trump said of DeSantis. "And if you don't have personality, politics is a very hard business."
Next up for DeSantis is a return to more traditional campaigning, with planned stops in Iowa, New Hampshire and South Carolina, the first three nominating states, from May 30 to June 2. The campaign bills this four-day swing through 12 cities and towns as the first leg of his "Great American Comeback Tour."
DeSantis will start with his first in-person event of the campaign in Des Moines on Tuesday (30). He will remain in Iowa on Wednesday before travelling to New Hampshire on Thursday and to South Carolina on Friday (26).
"Our campaign is committed to putting in the time to win these early nominating states," Generra Peck, DeSantis' campaign manager, said in a statement.
Campaigning in a presidential primary, especially early on, is usually a grip-and-grin affair.
How DeSantis interacts with people on the trip will be closely watched. He has had some awkward moments while meeting voters on the trail, leading to mockery from Trump and other detractors.
DeSantis is expected to need a victory in Iowa and at least a close second-place finish in New Hampshire to show that he can effectively challenge the former president, especially as other candidates, potentially sensing a political opening for a bid, jump into the race.
-New York Times