6 killed in shooting at Virginia Walmart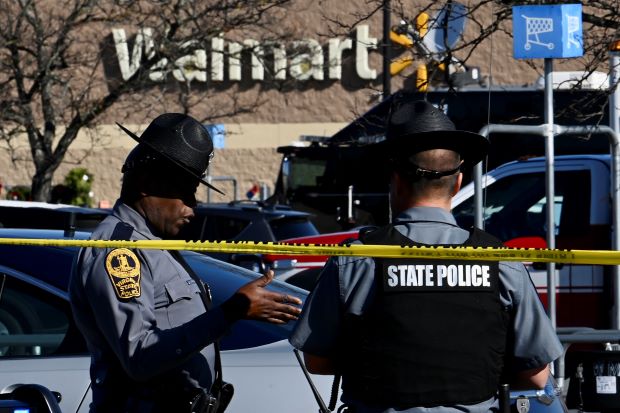 By Chris Cameron and Jenny Gross
CHESAPEAKE, Va. — A Walmart employee opened fire in a store in Chesapeake, Virginia, on Tuesday (22) night, killing six people and wounding at least four others as his co-workers managed the bustle of a hectic holiday week.
It was the second high-profile mass shooting in the United States in three days, after five people were killed at an LGBTQ club in Colorado Springs, Colorado, over the weekend.
The gunman in the Virginia shooting used a pistol and was found dead at the store, apparently of a self-inflicted gunshot wound, Chief Mark Solesky of the Chesapeake Police Department said during a news conference Wednesday (23) morning.
The chief did not identify the gunman or the victims. He said at least four people had been injured and taken to the hospital.
Local hospitals said they were treating five people, including two in critical condition. Two of the slain victims died at one of the hospitals, according to officials.
Solesky said the gunman was an employee at the store and was believed to have acted alone. "We have reason to believe that there's no risk to the public at this time," he said.
He added that he had no indication that the gunman was known to police before the shooting. "There is no clear motive at this time," Solesky said.
A SWAT team has executed a search warrant at the gunman's home, Solesky said. Solesky said the FBI was also involved with the investigation and helping to process the scene.
Donya Prioleau, a store employee, said she was working at the time of the shooting and identified the gunman as her overnight manager, who opened fire on fellow employees in the break room. "None of us deserve to witness that," she said, adding, "I just watched three of my friends killed in front of me."
A shopper in the store, Jeromy Basham, 47, said he heard what sounded liked several loud claps, then people yelling, "It's a gun, get out."
Leo Kosinski, a spokesperson for the Chesapeake Police Department, said at an earlier news conference that officers had responded to a report of a shooting inside the Walmart at about 10:12 p.m., about 45 minutes before the store was scheduled to close. He added that officers who entered the store found "multiple fatalities and multiple injured" people.
"I mean, it's sad. You know we're a couple days before the Thanksgiving holiday," Kosinski said.
In a statement early Wednesday, Walmart said, "We are shocked at this tragic event at our Chesapeake, Virginia, store."
"We're praying for those impacted, the community and our associates," the company said. "We're working closely with law enforcement, and we are focused on supporting our associates."
In a statement, President Joe Biden expressed grief over the shooting. "Because of yet another horrific and senseless act of violence, there are now even more tables across the country that will have empty seats this Thanksgiving," he said. He said he and the first lady, Jill Biden, also mourn for those who have lost loved ones to gun violence and urged the nation to stand together against it. Recent gun control efforts, he added, are not enough: "We must take greater action."
Virginia Gov. Glenn Youngkin ordered that flags over the state Capitol and all local, state and federal buildings be lowered to half-staff through sunset Sunday. "Heinous acts of violence have no place in our communities," he said on Twitter.
-New York Times