Macron survives first confidence vote amid protests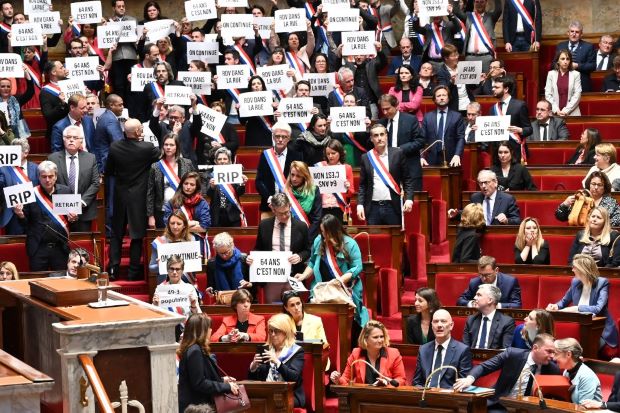 By Angelique Chrisafis 
PARIS – The French government survived a vote of no confidence on Monday (20), but Emmanuel Macron continues to face protests and strikes over his decision to use executive powers to push through an unpopular rise in the pension age.
The first no-confidence motion, put forward by Charles de Courson, France's longest-serving MP and a member of the small opposition centrist grouping Liot, was narrowly defeated — it fell short of the required absolute majority by only nine votes. A total of 278 MPs voted in favour.
The no-confidence motion won the support of politicians from the leftwing grouping, Nupes, as well as Marine Le Pen's far-right, independents and some MPs from the rightwing Les Républicains.
But this was not enough to topple the government.
Another no-confidence motion tabled by Le Pen's party was to take place shortly after but was not expected to pass.
If the government wins both votes, Macron's proposed changes to the pension system are likely to swiftly become law. The minimum general retirement age will rise from 62 to 64, some public sector workers will lose privileges and there will be an accelerated increase in the number of years of work required to qualify for a full pension.
But tensions are likely to continue on the street in the coming days, with a major day of strike action and protests planned for Thursday (23). Macron is now under pressure to address the nation and clarify how he intends for the government to keep working, and whether there could be a reshuffle. Macron's centrist grouping lost its absolute majority in elections last June, leaving the government in a weak position.
The no-confidence motions were called in protest at the government using controversial executive powers to push through the pension changes last Thursday (16) without a parliament vote.
Macron had previously decided that the government should use article 49.3 of the constitution to bypass parliament, because he feared he could not garner enough support from lawmakers.
A rare united front of trade unions has led street protests and on-off strikes since January in protest at the pension changes. Polls show two-thirds of the French public are against the pension plan. Since the bill was pushed through without a parliament vote last week, tensions have increased with spontaneous street protests in cities such as Paris, Bordeaux and Marseille, where there were arrests and clashes with the police.
Roadblocks and demonstrations at roundabouts were under way in some parts of France on Monday, including outside Nantes and Lorient. In Rennes, bins were set alight on a highway and cars were stopped. In Clermont Ferrand, the main rail station was briefly blocked.
-theguardian.com