Anger simmers in France as opposition files no-confidence motions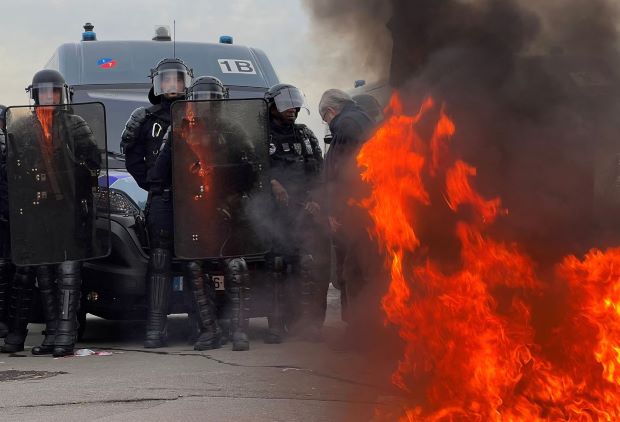 By Aurelien Breeden
PARIS — Opposition parties filed two no-confidence motions against President Emmanuel Macron's government Friday (17) after his decision to push a widely unpopular pension bill through Parliament without a vote, even as protesters blocked roads and labour unions vowed more strikes.
Macron's decision, announced by his prime minister Thursday (16) during a raucous session in the National Assembly, France's lower house of Parliament, infuriated opponents of the bill, which would push back the legal age of retirement to 64, from 62. Overnight, violent demonstrations broke out in several French cities.
"It's a Pyrrhic victory, one that continues to cause harm and that is accelerating a crisis instead of ending it," said Danièle Obono, a legislator for the leftist France Unbowed party. "This is a social crisis that has become a democratic crisis."
Under the rules of the French Constitution, the pension bill will become law unless a no-confidence motion against the government succeeds in the National Assembly. On Friday afternoon, several opposition groups said that they had agreed to back a broad no-confidence motion put forward by a small group of independent lawmakers.
That could allow legislators from both the left and far-right to join in support of the motion, which they would be hesitant to do if it were put forward by either side.
The fragmentation of Macron's opposition in Parliament has often prevented it from uniting behind a single motion in the past, and the one filed by independent lawmakers Friday had a good chance of attracting more lawmakers than usual.
Still, it was not seen as very likely to succeed. Only a single no-confidence motion has succeeded in France since 1958, when the current constitution was adopted.
"This is about being useful to our country by voting against this unfair and ineffective pension reform," Bertrand Pancher, the head lawmaker in the independent group, told reporters at the National Assembly. "This is about preserving our parliamentary democracy, which has been besmirched, and social democracy, which has been scorned."
A vote on that no-confidence motion, and any others that might be put forward Friday, is expected in the coming days, most likely Monday. The far-right National Rally party filed its own motion Friday, too, though it has also said that its lawmakers would vote for motions filed by others.
The mainstream conservative Republican party, while divided over support for the pension bill, has portrayed itself as the party of stability and order and is very reluctant to topple Macron's Cabinet. Their support is critical to passage of any no-confidence motion.
"We will never add chaos to chaos," Éric Ciotti, the head of the Republicans, said Thursday.
Macron's decision to ram a highly contentious bill through Parliament has reinvigorated the months- long protest movement against the retirement overhaul, which also increases the number of years workers have to pay into the system to get a full pension.
In Paris on Friday, a crowd of protesters from the CGT, or General Confederation of Labour, France's second-largest labour union, briefly blocked access to the périphérique, the highway that circles the French capital, where many streets are still marred by heaps of trash because of an ongoing garbage collectors' strike.
"The fight continues," the CGT said in a statement announcing the blockage.
The CGT also announced that strikers would shut down an oil refinery in Normandy over the weekend, potentially disrupting fuel deliveries to gas stations, and teachers unions said that they would strike next week during an exam period — fuelling concerns of longer, more disruptive walkouts.
France's main labour unions, who have kept an unusually united front in the showdown with the government, said that they were more determined than ever and announced that they would organize a ninth day of nationwide protests and strikes next week, on March 23.
Catherine Perret, a top CGT official who read from a joint statement Thursday evening, accused the government of a "real denial of democracy" and said that the unions would continue "calm and determined actions" against the pension changes.
Macron's government, which had insisted up until the very last minute that it wanted to go ahead with a vote Thursday, is now scrambling to quell the anger and insisting it had no choice but to force through a bill that Macron sees as pivotal for France's future.
Olivier Dussopt, the labour minister, told the BFMTV news channel Friday that tallies before Thursday's session suggested three to four votes were missing because some conservative mainstream lawmakers — whose support Macron needed — were missing from the count.
"But it is not a failure," Dussopt said. "Because there is a bill, and this bill will be implemented if the no-confidence motion is rejected."
Commentators were not as optimistic. The front page of Le Figaro, a conservative newspaper, said Macron was "weakened and isolated," while Libération, a left-leaning daily, ran a close-up picture of Macron with the headline "His Fault."
"The lesson for the government and for Emmanuel Macron is stark," Le Monde, one of France's leading newspapers, wrote in its editorial Friday, adding there were "no reliable allies" for him in a National Assembly "dominated by the extremes," making the situation "volatile, inflammable and dangerous."
But by forcing the bill through, Macron runs the risk of "fostering a persistent bitterness, or even igniting sparks of violence," the newspaper added.
The violent overnight protests around the country raised worries that opponents to the pension changes might turn to more radical tactics.
In Paris on Thursday, about 10,000 protesters had spontaneously gathered at Place de la Concorde, across from the National Assembly, in a demonstration that was mostly peaceful.
But it took a far more violent turn when night fell and riot police cleared out the square, firing water cannons and tear gas at protesters who threw cobblestones and scattered into surrounding neighbourhoods, lighting trash fires as they went. Other cities around France were also rocked by violent demonstrations overnight, including Rennes, Nantes, Lyon and Marseille.
Gérald Darmanin, the interior minister, told RTL radio Friday that more than 300 people had been arrested around the country, most of them in Paris. He also said that he had asked Paris authorities to requisition garbage collectors to clear out mounds of trash that have been piling up in the French capital.
"Opposition is legitimate. Demonstrations are legitimate," Darmanin said. "But not chaos."
-New York Times