South Korean prosecutors seek to arrest hunger-striking opposition leader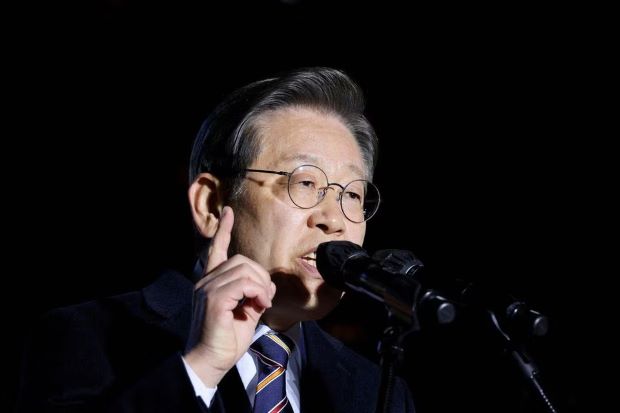 By Choe Sang Hun
SEOUL— Prosecutors on Monday (18) asked a Seoul court to issue an arrest warrant for South Korea's leading opposition figure, Lee Jae-myung, on corruption charges, 18 days after Lee began a hunger strike to protest President Yoon Suk Yeol's foreign and domestic policies.
Lee, the leader of the Democratic Party, was taken to a hospital hours before prosecutors applied for the warrant, on charges including bribery and breach of trust. Party officials said Lee had been found nearly unconscious in his office, his blood sugar levels having fallen sharply.
Lee, 58, lost the 2022 presidential election to Yoon, a former prosecutor, by a razor-thin margin and has been the subject of a series of criminal investigations since then. He has vehemently denied every charge brought against him, calling Yoon's government "a dictatorship by prosecutors" and accusing him of using the criminal justice system to intimidate and discredit his political enemies.
Lee began his hunger strike — ​a means of political protest ​often used during South Korea's years of military dictatorship — on Aug. 31, first in a tent in front of the National Assembly building and later in his offices. He said Yoon had presided over a "retreat of democracy" in South Korea.
Some of the latest charges against Lee stem from his time as mayor of Seongnam, a city south of Seoul. Prosecutors say he gave illegal quid pro quo favours to a private investor in a Seongnam real estate project between 2014 and 2017.
They also say that between 2019 and 2020 — when Lee was the governor of Gyeonggi province, which borders North Korea — he asked a local underwear manufacturer, Ssangbangwool, to illegally transfer $8 million to North Korea, purportedly in an attempt to coax the North into entering an economic exchange program with Gyeonggi.
Lee, a member of the National Assembly, will not be arrested unless his own party lets it happen. By law, South Korean courts cannot hold hearings on arrest warrants for lawmakers unless the legislature votes to let them do so. The Democratic Party controls a majority in the National Assembly, which in February put a stop to prosecutors' last attempt to arrest Lee.
In recent months, Lee has said he would no longer expect his party to shield him from arrest. ​In recent days, party members have asked him to stop his hunger strike, citing his deteriorating health.​ Over the weekend, his political opponent Kim Gi-hyeon, who leads Yoon's People Power Party, urged Lee on social media to stop fasting and discuss his grievances in the legislature.
Lee and his party have blamed Yoon for rising consumer prices and excoriated him for seeking to improve ties with Japan, South Korea's former colonial ruler. They recently accused Yoon of risking public health by not opposing Japan's release of treated radioactive wastewater from the Fukushima nuclear plant.
Yoon's office had no immediate comment on Lee's hunger strike or on prosecutors' attempt to arrest him. On Monday, Yoon left Seoul for a five-day visit to New York for the UN General Assembly, where he was expected to raise warnings about signs of growing military cooperation between North Korea and Russia.
Yoon, 62, a conservative, came to power vowing to reverse his predecessor Moon Jae-in's policy of emphasizing negotiations and reconciliation with North Korea. But he has since suffered low approval ratings, with a majority of respondents in various surveys disapproving of his performance in office.
In recent weeks, Yoon has escalated his attacks on progressive political enemies, likening some of them to "anti-state forces" and accusing them of colluding with North Korea. He has also accused opponents of spreading "fake news." Opposition lawmakers have accused him of worsening the country's political polarization.
-New York Times