Thai opposition parties dominate elections, eye coalition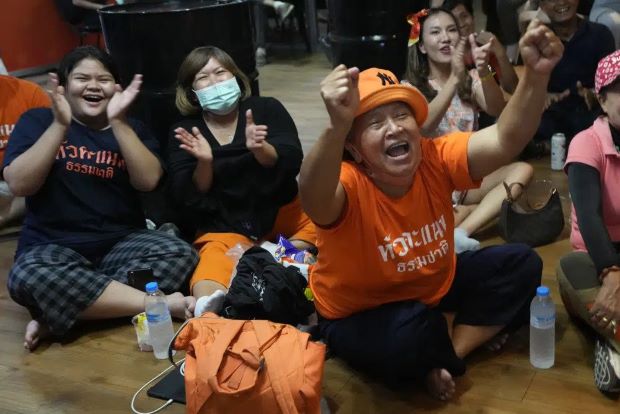 By Thanaporn Promyamyai and Chayanit Itthipongmaetee
BANGKOK – Thailand's two major opposition parties dominated Sunday's (14) national elections, with voters rejecting nearly a decade of military-backed government.
But in a kingdom where coups and court orders have often trumped the ballot box, fears persist the military could seek to cling on, raising the prospect of fresh instability.
The election campaign played out as a clash between a young generation yearning for change and the conservative, royalist establishment embodied by Prime Minister Prayut Chan-O-Cha, the ex-army chief who seized power in a 2014 coup.
With ballots counted from three quarters of polling stations, the reformist Move Forward Party (MFP) was on nearly 8.4 millions votes followed by Pheu Thai on 6.9 million.
Prayut's United Thai Nation party lay third on 2.8 million, though it is not yet clear how the popular vote will translate into parliamentary seats.
MFP leader Pita Limjaroenrat said his party could take 160 of the 500 lower house seats, declaring that the result "closed the door" on any chance of army-backed parties forming a minority government.
MFP will seek talks with Pheu Thai and a coalition deal is "definitely on the cards", Pita told reporters.
Pheu Thai leader Paetongtarn Shinawatra congratulated MFP on their success and said "we can work together".
"We are ready to talk to Move Forward, but we are waiting for the official result," she said.
Pheu Thai, the party of billionaire former premier Thaksin Shinawatra now fronted by his daughter, Paetongtarn, had urged voters to deliver them a landslide to see off the threat of military interference.
The Election Commission is not expected to officially confirm the final number of seats won by each party for several weeks.
But without an overwhelming majority, MFP and Pheu Thai may still face a battle to secure power, thanks to the junta-scripted 2017 constitution.
The new premier will be chosen jointly by the 500 elected MPs and 250 senate members appointed by Prayut's junta — stacking the deck in the army's favour.
In the controversial last election in 2019, Prayut rode senate support to become prime minister at the head of a complex multi-party coalition.
Adding to the uncertainty, rumours are already swirling that MFP could be dissolved by court order — the same fate that befell its predecessor Future Forward Party after it performed unexpectedly well at the 2019 poll.
The election was the first since major youth-led pro-democracy protests erupted across Bangkok in 2020 with demands to curb the power and spending of Thailand's king — breaching a long-held taboo on questioning the monarchy.
The demonstrations petered out as Covid-19 curbs were imposed and dozens of leaders were arrested, but their energy fuelled growing support for the more radical opposition MFP.
As he arrived to vote in Bangkok, Pita, 42, said he expected a "historic turnout".
"Younger generations these days care about their rights and they will come out to vote," he told reporters.
While MFP sought support from millennial and Gen Z voters — who make up nearly half the 52 million-strong electorate — Pheu Thai drew on its traditional base in the rural northeast where voters are still grateful for the welfare policies implemented by Thaksin in the early 2000s.
As results came in, a glum-looking Prayut thanked voters for their support as he left his party HQ.
"I'll continue to do my best regardless of the result," he told reporters.
The former general made an unashamedly nationalist pitch to older voters, painting himself as the only candidate capable of saving Thailand from chaos and ruin.
But he struggled badly in the polls, blamed for a sputtering economy and feeble recovery from the pandemic, which battered the kingdom's crucial tourism industry.
Rights groups accuse Prayut of overseeing a major crackdown on basic freedoms, with a huge spike in prosecutions under Thailand's draconian royal defamation laws.
The country has seen a dozen coups in the last century and has been locked over the last two decades in a rolling cycle of street protests, coups and court orders dissolving political parties.
The Shinawatra family's bitter tussle with the royalist-military establishment has been at the heart of the drama, with Thaksin ousted in a 2006 coup and his sister Yingluck unseated by Prayut in 2014.
An unclear or disputed result this time could lead to a fresh round of demonstrations and instability.
– Agence France-Presse