September 19 in History
2006 –Thai army takes over power in a coup d'état, revokes constitution and declares martial law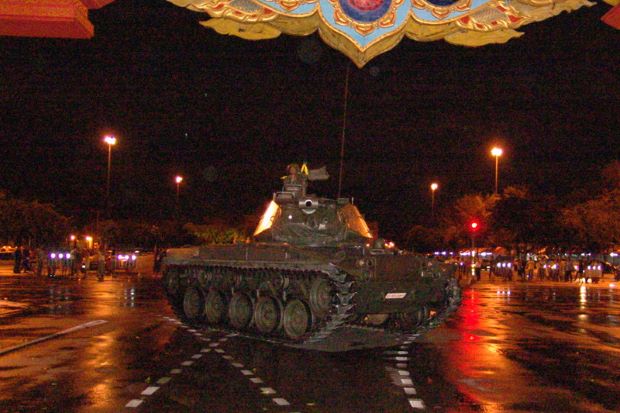 The 2006 Thai coup d'état took place on this day in 2006, when the Royal Thai Army staged a coup d'état against the elected caretaker government of Prime Minister Thaksin Shinawatra. The coup d'état, which was Thailand's first non-constitutional change of government in fifteen years since the 1991 Thai coup d'état, followed a year-long political crisis involving Thaksin, his allies, and political opponents and occurred less than a month before nationwide House elections were scheduled to be held. It has been widely reported in Thailand and elsewhere that General Prem Tinsulanonda, key person in military-monarchy nexus, Chairman of the Privy Council, was the mastermind of the coup. The military cancelled the scheduled October 15  elections, abrogated the 1997 constitution, dissolved parliament and constitutional court, banned protests and all political activities, suppressed and censored the media, declared martial law nationwide, and arrested cabinet members.
The new rulers, led by General Sonthi Boonyaratglin and organized as the Council for Democratic Reform (CDR), issued a declaration on  September 21 setting out their reasons for taking power and giving a commitment to restore democratic government within one year. However, the CDR also announced that after elections and the establishment of a democratic government, the council would be transformed into a Council of National Security (CNS) whose future role in Thai politics was not explained. The CNS later drafted an interim charter and appointed retired General Surayud Chulanont as Premier. Martial law was lifted in 41 of Thailand's 76 provinces on January 26, 2007 but remained in place in another 35 provinces. Elections were held on December 23, 2007, after a military-appointed tribunal outlawed the Thai Rak Thai (TRT) party of Thaksin Shinawatra and banned TRT executives from contesting in elections for five years.
The 2006 coup was named the unfinished coup after another army general Prayut Chan-o-cha staged the 2014 Thai coup d'état eight years later against the government of Yingluck Shinawatra, Thaksin Shinawatra's sister, removing her government. The 2014 coup had taken over the country for five years, much longer than the 2006 coup, and drafted the junta senates to be involved in the prime minister election.
-Wikipedia
Photo Caption – A M41 Walker Bulldog light tank parked in the centre of Rajadamnern Avenue, in front of the Parliament House in Bangkok on September 19, 2023 – Wikipedia