March 24 in History
1990 – Indian intervention in the Sri Lankan Civil War ends with last ship of Indian Peace Keeping Force leaving Sri Lanka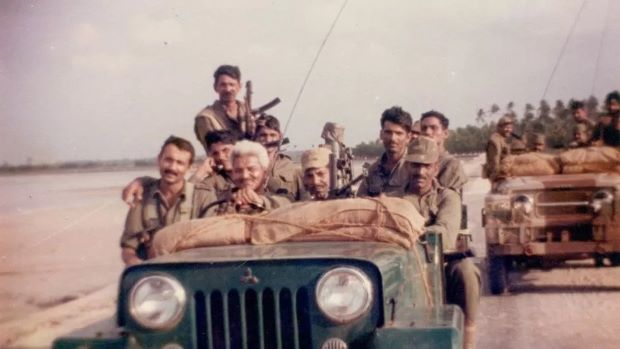 The deployment of the Indian Peace Keeping Force (IPKF) in Sri Lanka, intended to perform a peacekeeping role, began withdrawing in 1989, and completed the withdrawal on this day in 1990. The deployment followed the Indo-Sri Lankan Accord between India and Sri Lanka of 1987 which was intended to end the Sri Lankan Civil War between militant Sri Lankan Tamil nationalists, principally the Liberation Tigers of Tamil Eelam (LTTE), and the Sri Lankan military. The original intention was the IPKF would not be involved in large scale military operations. However, after a few months, the IPKF engaged the LTTE in a series of battles. During the two years in which it was deployed, the IPKF fought numerous battles against the LTTE. Nationalist sentiment led many Sinhalese to oppose the continued Indian presence in Sri Lanka. These led to the Sri Lankan government's call for India to quit the island, and they allegedly entered into a secret deal with the LTTE that culminated in a ceasefire. But the LTTE and IPKF continued to have frequent hostilities. In April 1989, the Ranasinghe Premadasa government ordered the Sri Lanka Army to clandestinely hand over arms consignments to the LTTE to fight the IPKF and its proxy Tamil National Army (TNA). Although casualties among the IPKF mounted, and calls for the withdrawal of the IPKF from both sides of the Sri Lankan conflict grew, Rajiv Gandhi refused to remove the IPKF from Sri Lanka. However, following his defeat in Indian parliamentary elections in December 1989, the new Prime Minister V. P. Singh ordered the withdrawal of the IPKF, and their last ship left Sri Lanka on March 24, 1990. The 32-month presence of the IPKF in Sri Lanka resulted in the deaths of 1,165 Indian soldiers and over 5000 Sri Lankans. The cost for the Indian government was estimated at over ₹10.3 billion. -Wikipedia
The deployment of the Indian Peace Keeping Force (IPKF) in Sri Lanka, intended to perform a peacekeeping role, began withdrawing in 1989, and completed the withdrawal on this day in 1990.
The deployment followed the Indo-Sri Lankan Accord between India and Sri Lanka of 1987 which was intended to end the Sri Lankan Civil War between militant Sri Lankan Tamil nationalists, principally the Liberation Tigers of Tamil Eelam (LTTE), and the Sri Lankan military.
The original intention was the IPKF would not be involved in large scale military operations. However, after a few months, the IPKF engaged the LTTE in a series of battles. During the two years in which it was deployed, the IPKF fought numerous battles against the LTTE.
Nationalist sentiment led many Sinhalese to oppose the continued Indian presence in Sri Lanka. These led to the Sri Lankan government's call for India to quit the island, and they allegedly entered into a secret deal with the LTTE that culminated in a ceasefire. But the LTTE and IPKF continued to have frequent hostilities. In April 1989, the Ranasinghe Premadasa government ordered the Sri Lanka Army to clandestinely hand over arms consignments to the LTTE to fight the IPKF and its proxy Tamil National Army (TNA). Although casualties among the IPKF mounted, and calls for the withdrawal of the IPKF from both sides of the Sri Lankan conflict grew, Rajiv Gandhi refused to remove the IPKF from Sri Lanka. However, following his defeat in Indian parliamentary elections in December 1989, the new Prime Minister V. P. Singh ordered the withdrawal of the IPKF, and their last ship left Sri Lanka on March 24, 1990. The 32-month presence of the IPKF in Sri Lanka resulted in the deaths of 1,165 Indian soldiers and over 5000 Sri Lankans. The cost for the Indian government was estimated at over ₹10.3 billion.
-Wikipedia
Photo Caption – The Indian Peace Keeping Force tasked with overseeing a ceasefire between Tamil militants and the Sri Lankan government began withdrawing in 1989, and completed the withdrawal in 1990 – Surender Sangwan/BBC