September 16 in History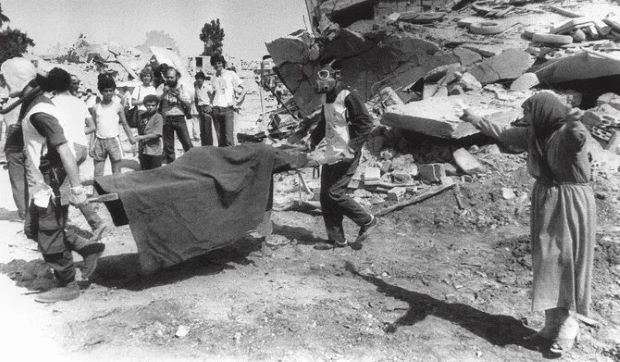 -AFP
On this day in 1982, Lebanese Christian militiamen entered Beirut's Sabra neighbourhood and the nearby Shatila refugee camp and — as the Israeli troops that had invaded Lebanon three months earlier looked on, blocked exits and illuminated the scene at night with flares — embarked on a 36-hour massacre of Muslim men, women and children that left between 460 and 3,500 dead and shocked the world.
The massacre was believed to be in retaliation by the Phalangists for the assassination of President Bachir Gemayel two days earlier and was carried out by the militia under the command of Elie Hobeika (the Lebanese Forces intelligence chief and liaison officer with Mossad).
The militia had been ordered by Israeli Defence Forces (IDF), which surrounded the camp,  to clear Palestine Liberation Organization (PLO) fighters out of Sabra and Shatila, as part of the IDF's manoeuvring into West Beirut. As the massacre unfolded, the IDF received reports of atrocities but did not take any action to prevent or stop the massacre.
In June 1982, the IDF had invaded Lebanon with the intention of rooting out the PLO. By August 30, under the supervision of the Multinational Force, the PLO withdrew from Lebanon following weeks of battles in West Beirut and shortly before the massacre took place. Various forces — Israeli, Lebanese Forces and possibly also the South Lebanon Army (SLA) — were in the vicinity of Sabra and Shatila at the time of the slaughter, taking advantage of the fact that the Multinational Force had removed barracks and mines that had encircled Beirut's predominantly Muslim neighbourhoods and kept the Israelis at bay during the Beirut siege. The Israeli advance over West Beirut in the wake of the PLO withdrawal, which enabled the Lebanese Forces raid, was in violation of the ceasefire agreement between the various forces.
In February 1983, a commission chaired by Seán MacBride, the assistant to the UN Secretary General and President of United Nations General Assembly at the time, looking into reported violations of International Law by Israel concluded that Israel, as the camp's occupying power, bore responsibility for the violence. The commission also concluded that the massacre was a form of genocide.
In February 1983, the Israeli Kahan Commission, appointed to investigate the incident, found that Israeli military personnel, aware that a massacre was in progress, had failed to take serious steps to stop it. The commission deemed Israel indirectly responsible, and Ariel Sharon, then Defence Minister, bore personal responsibility "for ignoring the danger of bloodshed and revenge", forcing him to resign.
–