September 6 in History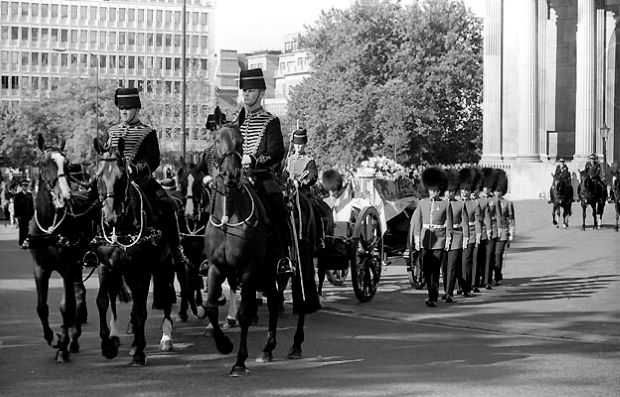 The funeral of Diana, Princess of Wales, who died on August 31 from injuries she sustained earlier that day in a car crash in the Pont de l'Alma tunnel in Paris, France, started at 9:08 a.m. in London on this day in September 1997, when the tenor bell of Westminster Abbey started tolling to signal the departure of the cortège from Kensington Palace. The coffin was carried from the palace on a gun carriage by riders of the King's Troop and escorted by mounted police along Hyde Park to St James's Palace, where Diana's body had remained for five days before being taken to Kensington Palace. The Union Flag on top of the palace was lowered to half-mast. The official ceremony was held at Westminster Abbey in London and finished at the resting place in Althorp.
Two thousand people attended the ceremony in Westminster Abbey while the British television audience peaked at 32.10 million, one of the United Kingdom's highest viewing figures ever. An estimated 2 to 2.5 billion people watched the event worldwide, making it one of the biggest televised events in history.
During the funeral service, Elton John sang 'Candle in the Wind' which had been re-written in tribute to Diana.
The burial occurred privately later the same day. Diana's former husband, son, mother, siblings, a close friend, and a clergyman were present. Diana's body was clothed in a black long-sleeved, three-quarter length woollen cocktail dress designed by Catherine Walker which she had chosen some weeks before, a pair of black pantyhose, and a pair of black shoes. A set of rosary beads was placed in her hands, a gift she had received from Mother Teresa, who died the same week as Diana. In her hands there was also a photograph of her sons, a photo which travelled around with her and had been found in her handbag.  Her grave is on an island within the grounds of Althorp Park, the Spencer family home for centuries.
-Wikipedia
Photo Caption – Funeral procession of Diana, Princess of Wales passing St. James Park. The coffin is transported on a ceremonial gun carriage by the King's Troop, Royal Horse Artillery, escorted by a detachment of Welsh Guards – peace-on-earth.org