Jaffna star Viyaskanth unites Lankans like Murali
By The Line Judge
COLOMBO – Muttiah Muralitharan may have polarized opinion around the world on his way to claiming a monumental 800 Test wickets, but his everlasting legacy will be uniting a nation during a bitter civil war.
He was regarded as a national treasure though his prodigious ability to spin the ball on any surface raised some eyebrows. Umpire Darrell Hair became Sri Lanka's enemy number one when he 'no-balled' Muralitharan during the 1995 Boxing Day Test against Australia in Melbourne that even strained relations between the two countries. Sri Lankans rallied to the defence of the genial off-spinner, moving the International Cricket Council (ICC) to bend the law.
More significantly every time Muralitharan played for Sri Lanka the guns in the war front became silent on both sides of the divide. He became Sri Lanka's main weapon snaring over 1,300 wickets in all three formats of the game during an 18-year international career. An ethnic Tamil hailing from the central hill capital, he spoke Sinhala fluently and was the pride of Sri Lanka. He even attempted to bridge the gulf between the two major communities by travelling to the North to make an appeal to the Tigers to lay down arms and engage in peace talks.
Just as Muralitharan captivated a nation, a teenager from the heartland of Jaffna, Vijayakanth Viyaskanth, is on the brink of stardom after making a fairytale debut for Stallions in the inaugural Lanka Premier League (LPL) last Friday (4). The 19-year-old leg spinner from Jaffna Central College became the cynosure of all eyes after he bowled immaculately claiming 1-29 to even overshadow the victorious performance of Colombo Kings. Coming in to bat as the last man, he survived the pace barrage of West Indian Andre Russell and when his turn came to bowl, he scalped the prized wicket of former Sri Lanka captain Angelo Mathews in his third over thanks to stupendous catch on the boundary by former Pakistan captain Shoaib Malik.
A product of Sri Lanka Cricket's (SLC) talent hunt program, Viyaskanth has already created history by becoming the only cricketer from the war-torn Northern peninsula to make it to the national team in over 50 years when he represented the Sri Lanka Under-19 in two Test matches against India and Australia. "All credit to the country's cricket age talent hunt program which paved the way for a boy from Jaffna to make it to the district and provincial level and upwards," said former Sri Lanka captain Hashan Tillekeratne who was the Sri Lanka Under-19 coach in 2018.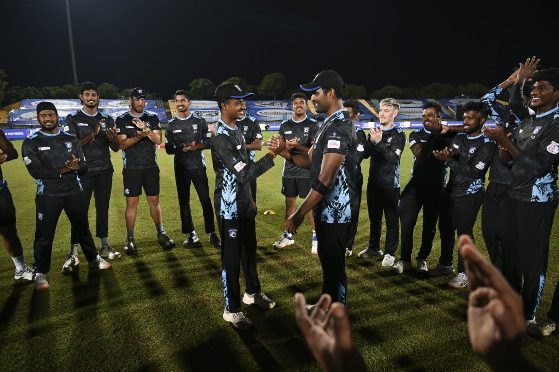 Viyaskanth's selection in the playing XI and the inclusion of a team named after the city of Jaffna in the LPL has paid off for the owners of the Jaffna Stallions franchise, Sri Lanka Cricket and for Sri Lanka in general. Jaffna Stallions is probably the only franchise to include young cricketers from their hometown.
"The inclusion of three Jaffna-born youngsters in our team is testimony to the kind of cricketing talent this province has. It is also an encouragement to the cricketing community of Jaffna and rural cricketers across the island. I am confident that LPL will further boost cricketing interest among young cricketers and offer real opportunities in the future. Our consortium shall strive to work beyond the LPL matches and make real grass roots progress to help the development of cricket in Jaffna. We hope one day one of our kids will play at national and international level," said its Chief Executive Officer (CEO) Selva Waran.
The teenager's TV appearance alone has helped the Jaffna Stallions franchise draw new fans and has warmed the cockles of cricket fans who have embraced this youngster from the North, with well wishes on his birthday which fell on December 5 coming from Sports Minister Namal Rajapaksa no less. "It is wonderful to see young Vijaykanth Viyaskanth earning his spurs in the Jaffna Stallions Team at the Lanka Premier League," tweeted the minister. "This is exactly what this tournament is all about, providing a platform for youngsters around the country to showcase their talent," he added.
"He is a brilliant bowler and I was happy to see him making his debut in this format in a high-profile game," said former Sri Lanka captain Dinesh Chandimal after scoring an unbeaten 68 for Colombo Kings in the same match.
He also praised Viyaskanth for his character and the temperament he displayed during his first outing.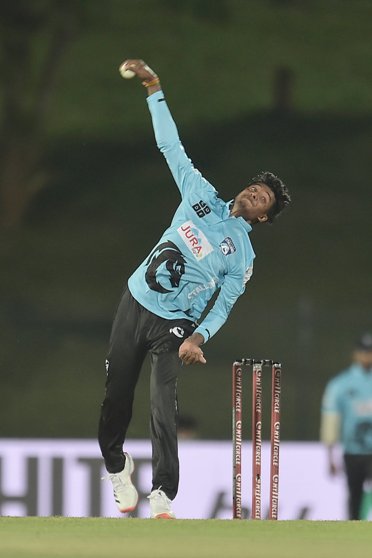 "He had a very good attitude and was confident in his first game from the little that I saw on the field. He bowled to some of the legends like Angelo Mathews and Andre Russell in this game and I hope he will learn some more during the tournament," said Chandimal, predicting a bright future for the youngster. "I think, if he can do some more hard work he has a bright future for Sri Lanka and I am looking forward to his heroics in this tournament."
Anandan, Chief Strategist of Jaffna Stallions said before the tournament began that they wished to create a pathway for aspiring youth in Jaffna to gain entry to higher grade cricket.
"We are very proud to present the three home-grown talented youngsters from Jaffna, Theivendram Dinoshan (18), Vijayakanth Viyaskanth (19) and Kanagarathnam Kabilraj (21) who will play a very important role in the team," he said.
The LPL will undoubtedly inspire Sri Lankan youth from minority groups to believe that they too can achieve Viyaskanth's success.
Viyaskanth is no Muralitharan but the LPL has served as a catalyst to unite a nation still fractured by the travails of war to rise together as a nation without being blinded by race and religion and to embrace home-grown talent from all over the island.
-ENCL