Vagaries of attaining HP at any cost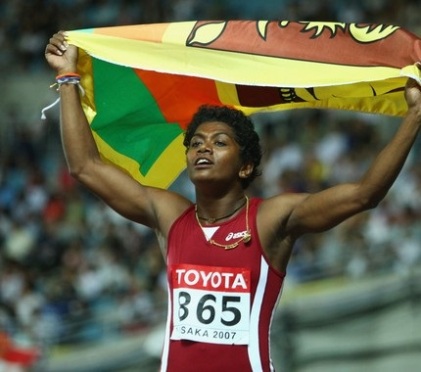 By The Line Judge
COLOMBO – High-performance (HP) in sport has been a much bandied topic in Sri Lanka of late without understanding its significance. Officials believe merely uttering these magical words will bring home medals for the country in the international arena. The National Olympic Committee of Sri Lanka (NOC) appointed Olympic legend Susanthika Jayasinghe as the Director of High Performance, and she even roped in the services of her mentor, renowned American coach Tonie Campbell, to launch a HP program in the country last year. With all due respect to her phenomenal achievements and despite her best intentions, even Susanthika has failed to inspire Sri Lanka's athletes to attain HP by her own high standards.
"Athletics has hit rock bottom. We must do something to lift our standards. We are not in competition with the Athletics Association or the sports ministry. We have not won an Olympic medal for two decades. With the appointment of Susanthika as Director of High Performance and the arrival of Tonie Campbell, we see a better future for athletics in the country," said Maxwell de Silva, NOC secretary general last October.
Campbell stressed the importance of educating coaches and felt there was no need to bring down foreign coaches here.
NOCSL Vice President and Head of its HP Unit, Asanga Seneviratne, also lamented that no program is in place to support and develop elite athletes to the next level.
"I'm ashamed to say I'm doing HP because what I'm really doing now is trying to find finances to help the athletes live a day-to-day life. HP in other countries usually takes care of families of athletes. We have to take care of the athletes and cannot overlook their families or siblings who are in poverty," he said.
"Since 2018 we have been funding 40 top athletes of different sports and signed up and approached corporations. Unfortunately, the sports ministry, NOC and federations are not working together. That's the biggest problem we have here," he added.
Much water has flowed under the bridge since, with the coronavirus pandemic crippling economies and global sports in general. Sri Lanka has got a pragmatic young Sports Minister in Namal Rajapaksa. A former Sri Lanka rugby captain, Namal has made some innovative decisions to develop sports in the country.
Much needed sports committees were appointed and plans made to make it mandatory for all the national pools to engage in yoga and meditation. For the first time in history, a fully equipped sports complex named 'Volleyball House' was established for Sri Lanka's national sport. Many playgrounds around the country are being developed.
Now, the minister has appointed two HP committees to identify talents around the island in a bid to uplift the sporting standards. The committees have been categorized into two tiers based on performance. Together with the NOC, National Sports Council and the Department of Sports Development, they will oversee the identification of talent and the upliftment of sporting standards in the country.
Tier one headed by Sanjeewa Wickramanayaka, includes Olympic swimmer Julian Bolling, Yaswanth Muttettuwegama, Major General (Rtd) Rajitha Ampemohotti, Rear Admiral Shemal Fernando, Amal Edirisooriya and Asanga Seneviratne, a former Sri Lanka rugby international. Tier two headed by Bolling includes Muttettuwegama, motor racing ace Dilantha Malagamuwa, Fazil Hussain, Amal Edirisooriya, Ruwan Keragala and former national sprinter Shehan Ambepitiya.
The committee consists of members from the NOC, the National Sports Council and the Department of Sports Development. "The objective of this committee is to create a system that can identify and nurture with the aim of winning international medals. This is the first time such a committee has been appointed representing three important institutions which are responsible for the future of sports in Sri Lanka. This committee will work towards developing the sports sector and identifying the right talent that exists in all corners of the country," the minister said.
The appointment of a HP committee is a step towards identifying top sporting talent in Sri Lanka. Failure to identify talent and negligence in providing adequate facilities for athletes to train is a key factor in Sri Lanka's sporting failure.
The minister has received several proposals from a wide-ranging network of people on how Sri Lanka can uplift its sports sector.
The two HP committees would do well to study a critique on high-performance in sport 'Fastest, Highest, Strongest' authored by Rob Beamish and Ian Ritchie first published in 2006 in the aftermath of the Ben Johnson scandal. Although athletes had tested positive for banned substances before Johnson, and drug controversies in high-performance sport had come and gone many times, Johnson's performances leading up to, and at the Games, crystallized the key issues lying at the centre of high-performance sport in the modern era. Johnson's 100 metre victory in 9.79 seconds demonstrated the phenomenal athletic feats that high-performance athletes can achieve, but his positive test left people wondering how and why an athlete would so single-mindedly pursue the outer limits of athletic performance.
The official response to Johnson's positive test was the Canadian government's Order in Council PC 1988–2361 on October 5, 1988, which established a commission "to enquire into and report on the facts and circumstances surrounding the use by Canadian athletes of drugs and banned practices intended to increase athletic performance." The commission placed high-performance sport and performance enhancement under public scrutiny in ways they had never been before.
High performance should not be a means to an end. The right environment should be created to increase the profile of athletes and encourage them to the limits to achieve goals not just medals at any cost because doping in sports is the biggest menace afflicting sports.
-ENCL