What has Israel 'found' in Gaza's al-Shifa Hospital?
The Israeli military claims it has found rifles, grenades and military vests — but so far, no Hamas command centre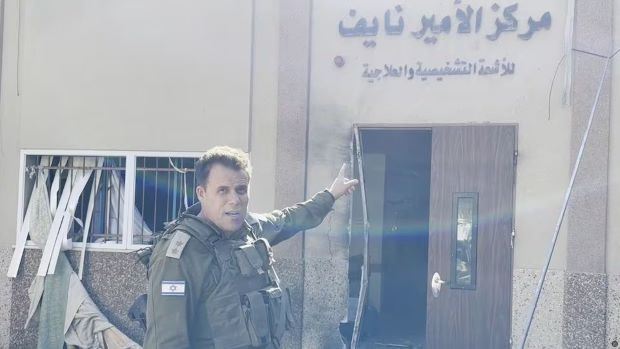 PALESTINEAN TERRITORIES – Israel on Thursday (16) raided Gaza's al-Shifa hospital for a second day in a row.
On Wednesday (15) Israeli troops had raided the coastal enclave's largest medical facility, starting at 2:00 a.m. Israel has long claimed that Hamas was using the hospital as a command centre. The Israeli army has said the raid has helped it find evidence to back up its assertion.
So what does Israel claim to have found?
What was found in the hospital?
The Israeli military released video footage from inside an undisclosed building within the medical complex.
The video showed three duffel bags that the military claims were found hidden in an MRI lab, each containing an assault rifle, grenades, Hamas uniforms and flak jackets.
Additionally, the army showed assault rifles without ammunition clips and a laptop that it said were found.
Israeli military spokesperson Jonathan Conricus said: "These weapons have absolutely no business being inside a hospital," adding that he believed the material was "just the top of the iceberg."
What about Hamas tunnels and military command?
In the days leading up to the raid, Israel insisted that Hamas was operating tunnels underground al-Shifa Hospital. It also claimed that the hospital was a command centre and military post for Hamas.
Israel's claims were also backed by United States President Joe Biden, who accused Hamas of committing war crimes by having its military headquarters under the hospital.
Yet, more than 24 hours after Israel's raid started, the Israeli army has not shown evidence of either Hamas-run tunnels or a military command centre under the hospital.
Are there holes in Israel's claims?
Mustafa Barghouti, the general secretary of the Palestinian National Initiative, said that what Israel had shown in videos from under al-Shifa Hospital so far could easily have been planted by the army itself.
"All they've shown is a Kalashnikov and a laptop that they could have put there easily and claim that it was found there," the veteran Palestinian legislator told Al Jazeera.
On X, formerly Twitter, the Israeli army first posted a video of Conricus taking viewers on a tour through parts of al-Shifa, which it said was without any edits or cuts.
. On social platforms, that further fuelled questions about the veracity of Israel's claims.
How has Hamas responded?
Hamas has denied and dismissed the latest statements by the Israeli military.
"The occupation forces are still lying … as they brought some weapons, clothes and tools and placed them in the hospital in a scandalous manner," Qatar-based Hamas senior member Ezzat El Rashq said.
He added that Hamas has repeatedly called for a committee from the United Nations, the World Health Organization and the International Committee of the Red Cross to verify Israel's claims of Hamas tunnels under Gaza hospitals.
Barghouti said Israel has constantly rejected these calls for an independent, international team to investigate the situation in al-Shifa. "Israel doesn't want that because they know that they are lying," he said.
What is happening in al-Shifa now?
Israel's military continues to attack al-Shifa, with troops deployed on all sides of the hospital, Al Jazeera's Hani Mahmoud reported from Khan Younis in southern Gaza.
The Israeli military has destroyed the specialised surgeries building in the medical facility. The partitions, walls between the rooms and all the medical equipment inside the building have been completely demolished, he said.
Hundreds of patients, doctors and nurses, and more than 2,000 others sheltering at al-Shifa are still believed to be at the hospital.
"What we see today is that this war is about attacking civilians and attacking hospitals and destroying medical facilities," said Barghouti.
-aljazeera.com