Born out of a desire to celebrate time-honoured traditional values harmoniously reflecting our culture on a world stage, Samarphanam is an event management company founded by Malathy Sivendran in 2006 and has completed 17 years as a pioneer in the fashion industry. Since its inception, it has spearheaded numerous celebrity fashion shows, cultural extravaganzas and spectacular saree showcases around the globe.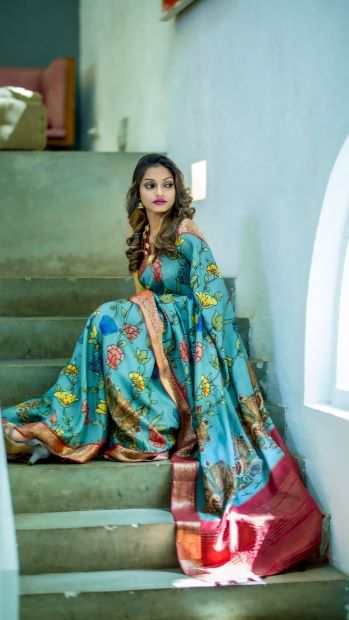 Samarphanam's designer sarees reflect the creative genius of Malathy Sivendran, adding a contemporary touch to traditional designs. She specializes in designing sarees using signature styles such as glamorous Kalamkari patterns, unique Cutwork designs, intricate embroidery motifs, elegant kundan and temple jewellery sarees, and in-addition hand painting and mural artwork making each saree an exclusive one-of-a-kind design.
As well as utilizing her skills to produce exquisite sarees, she also produces custom designer blouses. Sarees and blouses are sold internationally in UK, Canada, USA, Australia, New Zealand, India, and Sri Lanka.
Samarphanam Entertainment specializes in showcasing creative events and has conducted events for many charity fund-raisers including fashion shows, cultural shows with celebrity guests and many famous Indian models. Celebrities have included Kushboo, Kala Master Group, Simran, Trisha, Shreya and Pooja. The shows and exhibitions aim to blow away all expectations by providing high standards for affordable prices.
The highlights of her latest designer collection depict the story of the epic 'Ramayana' and the scriptures of 'Krishna Leela' inscribed across the silken threads, creating stunning masterpieces which are pure works of art. This year's collection harnesses the skills and talent of the master weavers, craftsmen, and artisans from Kanchipuram to create a wide array of choices ranging from the traditional classics to ethnic fusions and especially an exciting variety of corporate sarees, perfect for any budget.
The Vastra Utsav Exhibition 2023 will be held from 9:00 a.m. to 5:00 p.m. on March 4 at the Women's International Hall, No 26, Guildford Crescent, Colombo 7; from 2:00 p.m. to 9:00 p.m. on March  10 and from  9:00 a.m. to 9:00 p.m. on March 11 at Sivananda Nilayam Saiva Mangaiyar Vidyalayam, No 23, Rudra Mawatha, Colombo 6.