Thank you India
Sri Lankans come together in a show of gratitude for India's help in the country's moment of need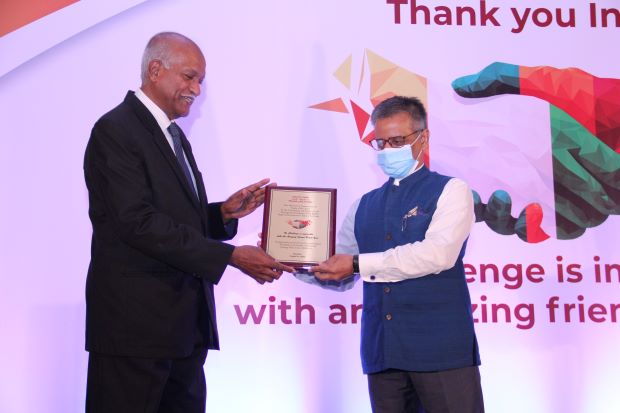 COLOMBO – Oxford Languages define gratitude as 'the quality of being thankful; readiness to show appreciation for and to return kindness'.  At Taj Samudra's Grand Marquee in Colombo on August 31, the definition resonated with real substance as a large number of Sri Lankans got together to thank India for her magnanimity in the country's moment of need.
The event, simply called 'Thank You India!' with a subtext 'Let us join together to express our utmost appreciation towards the Government and People of India for their continuous generosity and kindness throughout these challenging days', had Indian High Commissioner in Sri Lanka, Gopal Baglay as an honoured guest, and saw number of distinguished Sri Lankans articulating the country's appreciation of India's continued benevolence.  Among them were Minister of External Affairs, Ali Sabry, Dr Kosgoda Siri Subhuthi Anunayaka Thera, Dr M.Wimalasara Thera, Prof. Mallawa Handi Jagath Ravindra, Kimarli Fernando, Dr Vinya Ariyaratne, Navin Gunaratne, A. Balraj, Nayomini Weerasooriya, Mahendra Amarasuriya and K. R. Ravindran.
With the economy in a free-fall since the onset of the COVID-19 pandemic, Sri Lanka has been battling a severe economic crisis with food and fuel shortages affecting a large number of people across the country. India has been at forefront of extending economic assistance to Sri Lanka, and is one of the countries that have provided the maximum amount of assistance in time of need.
Minister Sabry summed up the collective senses of Sri Lanka's appreciation when he said, "We would have been done and dusted if not for Indian help. We are deeply grateful for it."
He also acknowledged the exceptional level of support given by India and the crucial role played by Nirmala Seetharaman, the Indian Minister of Finance, in enabling Sri Lanka to engage with the IMF at the start.
The line –up of speakers, expressing their goodwill towards to the Government of India and its people, said the citizens' outpouring of gratitude towards India for reaching out to Sri Lanka in her time of acute need, was not only timely but also appropriate given the consistent level of co-operation between the two countries.
They highlighted the common cultural and social values the two countries share, with many recalling personal anecdotes and occasions of warmth and sincerity between the two nations.
In acknowledging the sentiments expressed by the citizens of Sri Lanka, The High Commissioner stressed on  the uniquely historic ties between the two countries and said helping the closest neighbour in a spirit of brotherhood and fellowship was a key aspect in that relationship.
Baglay also noted that India and Sri Lanka are "Sahodaraya" (born from the same womb) so it was but natural for India to do "sahayog ", which is to help each other as part of one family.
-ENCL