Rotary's new leadership gears for massive economic development program in Sri Lanka
As Sri Lanka experiences its worst ever economic calamity and struggles to lift itself from the brink of bankruptcy, Rotarians from District 3220, comprising Sri Lanka and Maldives, under the dynamic leadership of District Governor Pubudu de Zoysa are preparing to launch a massive economic development program across the country.
"Rotary has always stepped in to support the country during some of its darkest hours and we are confident we can make a real difference in the lives of the people and give a vital boost to the economy as well," said District Governor de Zoysa drawing inspiration from Rotary's previous achievements.
"Rotary played a pivotal role in Sri Lanka's Polio eradication program as well as was instrumental in setting up the Ceylon National Association for Prevention of Tuberculosis (CNAPT), Sri Lanka Anti Narcotic Association (SLANA), Mahamodara Maternity Hospital Galle, Human Heart Valve Bank at Lady Ridgway Hospital (LRH) and Cancer Early Detection and Prevention Centre. When the tsunami hit Sri Lanka in December 2004, Rotary rebuilt 24 schools around the country, during the COVID-19 pandemic Rotary provided vital medical equipment to the Medical Research Institute (MRI) and many hospitals and supplies and supported the vaccination program of the Ministry of Health" de Zoysa added.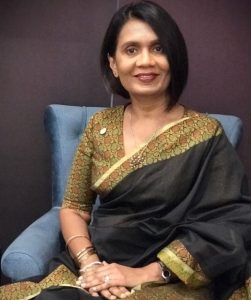 Pubudu de Zoysa assumed office as the third lady District Governor of Rotary Sri Lanka for 2022/23, on July 1, 2022 marking the beginning of the new Rotary year, which also coincided with the installation of the first Rotary International lady president, Jennifer Jones, after 117 years.
De Zoysa, a past pupil of Dharmasoka College Ambalangoda, is a rare combination of a Chartered Civil Engineer, Marketer (CIM – UK), Financial Administrator ( CIMA – Passed Finalist) and General Management (MBA – University of Colombo) with vast management experience behind her in a range of sectors – Logistics, Supply Chain and Demand Management, Project Management across the institutions, both local and multinational, including top positions at Sanken Lanka, GlaxoSmithKline, Holcim Lanka, Finco Engineering Sales, University Grants Commission, University College Ratmalana – Ministry of Vocational & Skills Development and now at Ministry of Health, Global Fund Project.
De Zoysa joined Rotary 22 years ago and has served with distinction in various roles within the district. She has spearheaded several key national initiatives of Rotary Sri Lanka and brought her own brand of dynamic leadership to these projects ensuring their tremendous success.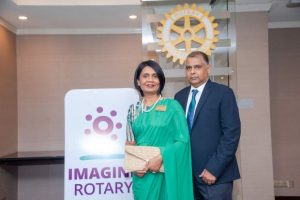 Pubudu is married to Krish Fernando, who returned to Sri Lanka after a long stay in the US and Canada and now works at the Sri Lanka Tourism.
Among her most recent successes has been the leadership she has given to the joint projects between the Ministry of Health, World Health Organization (WHO) and Rotary during the Covid pandemic and Cervical Cancer elimination Project. De Zoysa's efforts resulted in the procurement of vital medical equipment and urgent medical supplies valued at over LKR 200 million. Among these was a fully automated PCR, the first ever high value equipment to MRI, to save millions of lives. Rotary was also the very first service organization invited to partner with the Ministry of Health's Vaccination Programs.
This year's Rotary program (from July 2022 – June 2023) will focus on the economic development of vulnerable communities with due consideration to the current economic, health and social challenges of Sri Lanka.
Rotary is set to launch its flagship project, which is a Joint Partnership with UNICEF and Rotary International to assist Children and other communities impacted by the economic crisis in Sri Lanka in the areas of Health, Education and Water. The project will be on a global scale and will involve the participation of non-Rotarians, business communities, professionals in Sri Lanka as well as overseas.
Another initiative will focus on Vocational Skills Development for School Leavers, NVQ qualified students in partnership with the Vocational Training Authority (VTA) ensuring placements as interns and job opportunities in the fields of hospitality, mechatronics, ICT at leading corporates – both locally and globally. A special program in partnership with Rotarians of Philippines and ICTA will provide scholarships in the ICT field for deserving candidates with an envisaged target of 500 scholarships valued at over LKR 2 Billion.
Among Rotary's other programs for the year will be the enhancing of the Rotary's global networks and partnering with Rotary Districts in the USA, Canada, Australia, Germany, Hong Kong, Nepal  and Philippines. In keeping with these challenging times a key aspect will be a special focus on instilling care and supporting fellow Rotarians and their family members.
Founded in 1905, Rotary International, now in its 117th year, is the world's largest service organization with over 1.4 million members spread across 36,000 clubs in more than 210 countries and cities who work on a volunteer basis to improve the lives of local communities. Rotary is best known for its key role in setting up the United Nations at the end of World War II, and has the singular honour of holding a permanent seat in the assembly from the inception.  In 1985, Rotary took on the challenge of eradicating Polio from the world and today, after immunizing over 2.7 billion children globally, it is poised to achieve that goal with 99.9% success to-date and only two countries remaining to be cleared of the disease.
Rotary has been in Sri Lanka since 1929 and its work is well entrenched in the social fabric of the country with a special focus on the development of the health sector. Its membership of over 2000 Rotarians is spread across 71 clubs throughout all districts in Sri Lanka and also one in Maldives and the organization is ideally placed to drive community initiatives.
In response to the tsunami of December 2004 Rotary Sri Lanka launched the 'Schools Reawaken' project which built 24 schools destroyed by the tsunami across all affected districts. The US$ 18 million project remains the largest undertaken by any single Rotary district worldwide and helped send over 15,000 students back to brand new schools with all the modern facilities. Today, those schools continue to flourish and have so far produced more than 100 doctors, lawyers, engineers, teachers and other professionals.
Among Rotary's other flagship projects are the 'One Million Trees Project' to grow back our forests for future generations and support the environment. The 'Little Hearts project' helped establish a human heart valve bank to use human tissue grafts for children born with Congenital Heart Disease (CHD), and the 'Stop the Spread' – Rotary's efforts to combat the spread of the Covid virus through increased awareness and prevention programs in partnership with the Ministry of Health.