Biden's confrontation with Netanyahu had been brewing for years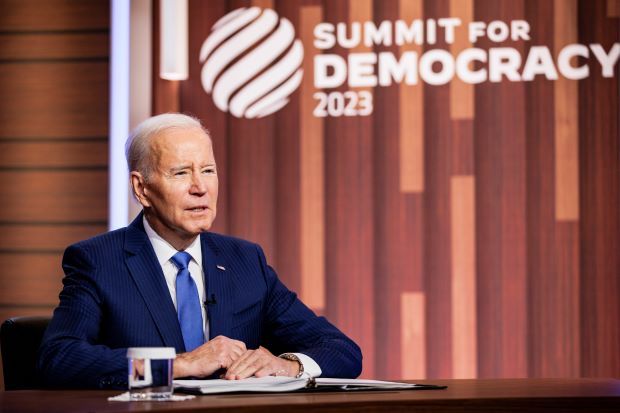 By Katie Rogers and Michael Crowley
WASHINGTON — When President Joe Biden bluntly warned Prime Minister Benjamin Netanyahu that he "cannot continue down this road" of overhauling his country's judiciary, he touched off the kind of response usually expressed by America's adversaries rather than its allies.
"Israel is a sovereign country which makes its decisions by the will of its people and not based on pressures from abroad, including from the best of friends," Netanyahu said Wednesday (29), accusing the US president of meddling in another country's politics — which is exactly what Biden was intending to do.
It was a remarkably public outbreak of the kind of disagreement that usually takes place in private. But there were other factors at work that had been brewing for many years.
There is no love lost between the two leaders, despite their polite façade when it comes to their decades-long relationship and their common commitment to Israel's defence. Netanyahu made no particular effort to hide his backing for President Donald Trump in the 2020 election, making clear his preference for an incumbent who gave him everything he asked for, including moving the US Embassy to Jerusalem and paying little attention to the Palestinians while siding with Israel on its claims over Palestinian territory in the West Bank.
In Biden's eyes, Netanyahu engaged in what was perhaps the boldest interference in the US legislative process in modern history, when he arrived in Washington in 2015 and addressed Congress, denouncing a then-pending nuclear deal with Iran as a "nightmare" that "will all but guarantee that Iran will get those nuclear weapons, lots of them."
At the time, Netanyahu denied that he was interfering in American politics — instead, he insisted, he was making the case against a deal that he believed would weaken Israel's own security.
Still, former officials who have helped to shape US-Israel policy in past administrations called the current crisis extraordinary.
"This is unlike any other crisis in the US-Israel relationship," said Aaron David Miller, a senior fellow at the Carnegie Endowment for International Peace and former State Department Middle East peace negotiator. "I've never seen any administration react to a new Israel movement with the intensity, frequency — and at as senior a level — as this one."
Miller and others said that recent weeks had dramatically changed US perceptions of Netanyahu, leaving Biden administration officials with much less confidence that disputes with the Israeli leader and his right-wing government could be contained.
"What strikes me is that the Biden administration is dealing with a Bibi who's very different from anything that anybody had dealt with previously," said Daniel Kurtzer, who served as the US ambassador to Israel during the George W. Bush administration, using a nickname for the prime minister.
The conflict escalated after suggestions Tuesday by the US ambassador to Israel that Netanyahu would be welcome in Washington sometime soon.
But Biden made it clear that such an invitation was not in the cards. When asked whether Netanyahu would be invited to the White House, the president replied: "No. Not in the near term."
Netanyahu has recently faced a corruption trial and was unseated in 2021, only to be re-elected as prime minister the next year. He has since thrown his lot in with ultraconservative political forces, assembling a far-right coalition that has privately caused Biden administration officials to question how much control Netanyahu has over the factions that have made him powerful.
The back-and-forth with Netanyahu put Biden in an awkward position this week as his White House hosted a summit devoted to promoting democratic ideals, even as allied governments continued to test them.
Netanyahu's critics say his plan to change the makeup of Israel's judiciary branch is an existential threat to the country's 75-year democratic tradition. Netanyahu's announcement that he would pause the plan to give the government greater control over the Supreme Court — which could allow his administration to end the continuing corruption trial against him — has left Biden administration officials hopeful that he will pursue a permanent compromise.
So, as quickly as the tension rose, Netanyahu and the Biden administration sought to smooth over any rift, with John Kirby, a White House spokesperson, telling reporters that there was "a lot to like" about Netanyahu's statement.
"He talked about searching for a compromise," Kirby said. "He talked about working towards building a consensus here with respect to these potential judicial reforms. He talked about how unshakable he knows the relationship is between the United States and Israel."
He added: "And the great thing about friends, and I'm sure you all have friends, you don't always agree with everything your friend does or says. And the great thing about a deep friendship is you can be that candid with one another."
Speaking virtually at the White House democracy summit Wednesday, Netanyahu said that "Israel and the United States have had their occasional differences, but I want to assure you that the alliance between the world's greatest democracy and the strong, proud and independent democracy — Israel — in the heart of the Middle East, is unshakable. Nothing can change that."
He added that his country "will always remain a proud, strong and vibrant democracy as a beacon of liberty and shared prosperity in the heart of the Middle East."
Biden is also facing brewing domestic concern over settlements. On March 9, 92 House Democratic members sent a letter urging Biden to "use all diplomatic tools available to prevent Israel's government from further damaging the nation's democratic institutions" and undermining a potential two-state solution for the Palestinians.
The settlement matter, while largely overshadowed by the judicial reform, has the potential to further rock relations between the two countries. The Biden administration has been pressuring Netanyahu's coalition for months to rein in settlement activity in the occupied West Bank, with little success.
Just last week, the State Department pointedly rebuked Netanyahu's government for approving a measure that would allow settlers to return to areas of the West Bank and the Gaza Strip evacuated in 2005, in what, if acted upon, would be a potentially explosive provocation for to the Palestinians.
The United States was "extremely troubled" by the new law, State Department spokesperson Vedant Patel said, calling it "particularly provocative and counterproductive" amid a surge of Israeli-Palestinian violence that many experts warn could burst into another mass Palestinian uprising, or intifada.
Kurtzer warned that even if Netanyahu backed down on the judicial reform plan, in part to placate Biden, he could feel resulting pressure to take more aggressive steps on settlements and other policies to appease his fragile right-wing coalition.
"The reality is that part of the payoff to his coalition may be a big settlements push," Kurtzer said.
What comes next for Biden depends heavily on how events play out within Israel, analysts said. Netanyahu could yet agree to some compromise approach to the proposed judicial measures, as Biden has recommended, and quell the massive demonstrations within his own country. That would move the matter from the political front burner and allow Biden to return to more private forms of cajoling.
If Netanyahu goes ahead and the demonstrations continue, Biden may be forced to take an even tougher stand — especially if disquiet grows among Democrats in Congress, who are growing increasingly outspoken about their concerns. In the meantime, the president has been criticized by Republicans who say he has been unnecessarily hard on Netanyahu compared with other leaders he has invited to the White House.
"Utterly disgraceful," Sen. Ted Cruz, R-Texas, wrote on Twitter about Biden's invitation snub. "Biden gleefully hosts anti-American radicals like Lula, while shunning close American allies like Netanyahu," Cruz said, referring to Luiz Inácio Lula da Silva, the president of Brazil who has long accused US officials of trying to undercut him politically. And Ron DeSantis, the Republican governor of Florida, announced plans to visit Israel in late April.
On Wednesday, a White House spokesperson stressed that officials within the administration and the Israeli government were in regular contact despite the flap. The official then reiterated Biden's hope that the Israelis find a compromise to judicial reform, while adding that the United States would not interfere in Israel's domestic politics.
-New York Times