Libya's foreign minister flees country amid uproar over meeting with Israeli counterpart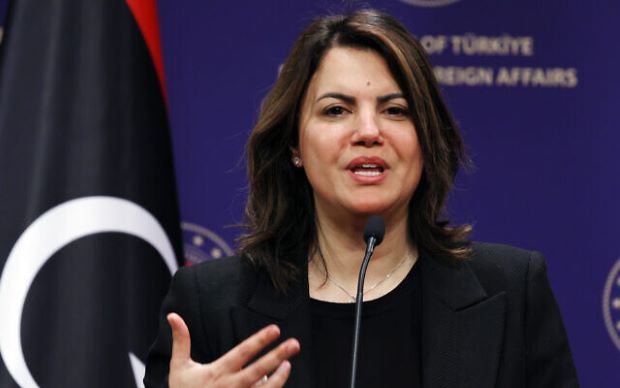 By Vivian Yee and Isabel Kershner
TRIPOLI – The Libyan foreign minister has fled to Turkey out of fear for her safety, Libyan officials said Monday (28), amid a growing uproar in their country over news that the minister met with her Israeli counterpart in Rome last week.
Israel's triumphal announcement of the meeting Sunday (27) set off protests in several Libyan cities and prompted the prime minister to suspend the foreign minister, Najla Mangoush. Israel does not have diplomatic relations with Libya, one of a host of Arab countries with a long history of hostility toward Israel.
The Libyan Foreign Ministry said the meeting in Rome last week was "informal and unplanned," and that Mangoush had reaffirmed Libyan support for the Palestinians. But that did little to quell protests in the capital, Tripoli, and other parts of the country.
The rage that greeted Mangoush's contact with her Israeli counterpart, Eli Cohen, was a reminder that, for all the fanfare around US-brokered normalization deals between Israel and three Arab countries over the past few years, much of the Arab world remains deeply hostile to Israel and devoted to the Palestinian cause.
In Israel, their meeting, hosted by Italy's foreign minister, was initially hailed as a diplomatic breakthrough. An Israeli Foreign Ministry statement on Sunday described it as "historic", the first meeting between the foreign ministers of the two countries.
Cohen described it in the Foreign Ministry statement as "the first step of ties between Israel and Libya," adding: "Libya's great size and strategic location afford huge importance to contacts with it and huge potential for Israel." He said he had spoken to Mangoush about the potential benefits of expanding relations and the importance of preserving Jewish heritage in Libya, including renovating synagogues and Jewish cemeteries there.
The statement added that they had discussed their countries' historical ties and the possibility of Israeli humanitarian assistance and cooperation in agriculture and water management.
But the Libyan Foreign Ministry's statement painted a very different picture.
It played down the meeting as a chance encounter at best, one that "did not include any discussions, agreements or consultations." It said Mangoush had reaffirmed Libya's support for the Palestinian cause and reiterated Libya's "complete and absolute rejection of normalization with the Zionist entity".
It went on to reject any portrayal of the encounter as "a meeting, talks, or even as a possible arrangement or consideration of holding such meetings."
However, Israeli officials said the meeting had been long planned, fuelling suspicions among Libyans that Prime Minister Abdul Hamid Dbeibah had authorized the move from the first.
Israeli officials said there had been a prior understanding that the fact of the meeting would be made public. The officials, who spoke on condition of anonymity because of the diplomatic sensitivity involved, said the meeting had been planned over several months and that Israeli and Libyan officials had discussed it in advance.
The backlash only intensified the sense of political crisis in Libya, an oil-rich North African nation that has been mired in chaos and violence in the years since the country's long-time dictator was overthrown in the 2011 Arab Spring uprising.
The country has long been split between two rival governments in the eastern and western halves of the country. Dbeibah leads the western administration, based in Tripoli, where he has defied growing pressure from other political players to give up power.
Dbeibah has often turned to Western countries for support in his quest to remain in office, fuelling speculation among Libyans that he was pursuing ties with Israel in a bid for American favour and international legitimacy.
Khalid al-Mishri, the former head of Libya's High Council of State, a powerful Tripoli-based advisory body, said Mangoush's reported meetings with Israeli officials meant that Dbeibah's government "has crossed all prohibited lines and must be overthrown." Al-Mishri has clashed with Dbeibah previously.
But it was Mangoush who faced the most immediate backlash. Libya's internal security agency confirmed Monday that Mangoush had left the country, saying in a statement on Facebook that it had not helped her do so. Two Foreign Ministry officials, who asked not to be identified because of the sensitivity of the issue, said Mangoush had flown to Turkey because of safety concerns.
Libya was home to a thriving Jewish community for thousands of years, but it emptied out over the last century as a result of anti-Jewish pogroms and hostile governments. No Libyan Jews are known to remain in the country.
Israel has established formal diplomatic relations in recent years with the United Arab Emirates, Bahrain and Morocco. The country's far-right government, led by Prime Minister Benjamin Netanyahu, is now discussing the prospect of a similar agreement with Saudi Arabia.
In contrast to the celebratory tone of Cohen's initial announcement Sunday, Israel's Foreign Ministry appeared to be on the defensive Monday after Mangoush fled Libya. In a second statement, the ministry suggested that it had publicized the meeting with Mangoush only after news of it had already leaked.
And although Cohen had described the meeting as a first step toward ties, a senior Israeli government official Monday said the two foreign ministers had not discussed normalizing relations.
Members of the Israeli opposition castigated Cohen for publicizing the meeting.
"Overseeing the foreign policy of a country like Israel is complex and is often explosive and needs to be done cautiously and judiciously," Yair Lapid, the centrist leader of the opposition and a former prime minister and foreign minister, said in a statement Monday.
Cohen's handling of the episode was "amateurish, irresponsible and a grave failure of judgment," Lapid said. "This is a morning of national disgrace and the risking of human life for the sake of a headline."
-New York Times