Oath Keepers leader is to 18 years in Jan. 6 sedition case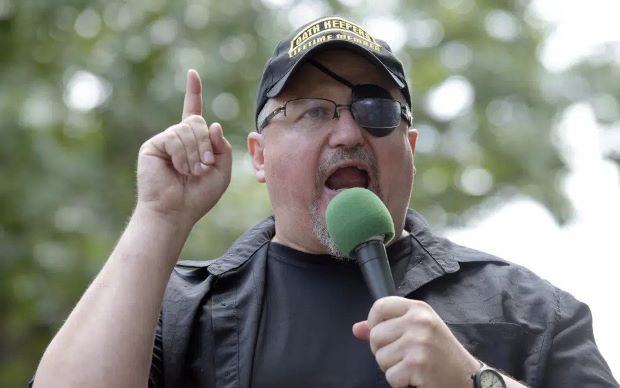 By Alan Feuer
WASHINGTON — Stewart Rhodes, the leader of the far-right Oath Keepers militia, was sentenced Thursday (25) to 18 years in prison for his conviction on seditious conspiracy charges for the role he played in helping to mobilize the pro-Trump attack on the Capitol on Jan. 6, 2021.
The sentence, handed down in US District Court in Washington, was the most severe penalty so far in any of the more than 1,000 criminal cases stemming from the Capitol attack — and the first to be increased for fitting the legal definition of terrorism.
It was also the first to have been given to any of the 10 members of the Oath Keepers and another far-right group, the Proud Boys, who were convicted of sedition in connection with the events of Jan. 6.
At a dramatic, nearly four-hour hearing, Judge Amit Mehta chided Rhodes for seeking for years through his leadership of the Oath Keepers to have American democracy "devolve into violence".
"You, sir," Mehta went on, addressing the defendant, "present an ongoing threat and a peril to this country, to the Republic."
Kathryn Rakoczy, one of the lead prosecutors in the case, said Rhodes exploited his talents and influence to goad his followers into rejecting the results of the 2020 election and ultimately mobilized them into storming the Capitol in two separate military-style "stacks" in a violent effort to keep then-President Donald Trump in office.
Rhodes, 58, gave a defiant address to the court, blaming the news media for demonizing the Oath Keepers for leading the Capitol attack. He also compared himself to Soviet-era dissident Alexander Solzhenitsyn and to the beleaguered main character in Franz Kafka's novel 'The Trial'.
"I am a political prisoner," Rhodes said.
The hearing opened a week of sentencing proceedings for eight other members of the Oath Keepers who were convicted at two separate trials — in November and January — of charges that included not only seditious conspiracy but also the obstruction of a congressional proceeding to certify the 2020 election.
In the end, Mehta said he had imposed a harsh sentence because seditious conspiracy was "among the most serious crimes an individual in America can commit."
-New York Times