Myanmar's Suu Kyi likely to spend life in prison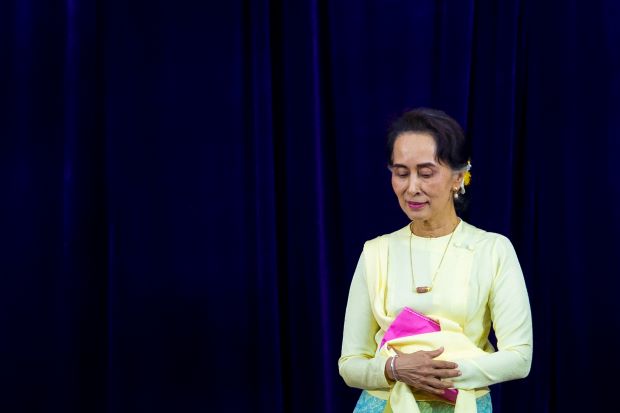 By Matt Stevens and Mike Ives
YANGON – Aung San Suu Kyi, Myanmar's ousted civilian leader, was found guilty of corruption Friday (30) and sentenced to seven years in prison, almost two years after she was first detained by the military in a coup.
Suu Kyi, 77, a Nobel laureate, had already begun serving a 26-year prison sentence in connection with more than a dozen charges she has faced since the military coup. The additional sentence she received Friday, in a courtroom that sits inside a prison in the capital, Naypyidaw, ends her legal trials and makes it likely that she will remain behind bars for the rest of her life — or as long as the junta stays in power.
Her lawyers plan to appeal, according to a source familiar with the proceedings.
Since the coup on Feb. 1, 2021, Myanmar has been racked by violence. Protests erupted across the country as the junta's opponents mounted a civil disobedience movement and national strike. The military responded with brutal force, shooting and killing protesters in the streets. Thousands of armed resistance fighters have continued to battle the Tatmadaw, as the army in Myanmar is known, using guerrilla tactics and training in the jungle.
Last week, the United Nation's Security Council adopted a resolution condemning the junta's rights abuses in the aftermath of the coup and demanding the release of political prisoners.
Suu Kyi has been charged with a series of crimes, including corruption, election fraud, inciting public unrest and breaching COVID-19 protocols. A number of other government leaders have also stood trial in recent months, and the regime has executed some pro-democracy activists as it continues to crack down on its opponents.
The military-controlled Election Commission first brought election fraud charges against Suu Kyi in November 2021, about a year after her political party won in a landslide. During that trial, Suu Kyi and other senior government officials were accused of manipulating voter lists to secure their victory over the military-backed party. She has denied all of the charges against her.
Friday's sentencing pertained to a set of charges separate from the election-fraud case and was one of several verdicts that have been meted out against Suu Kyi in recent months.
She was found guilty of five counts of corruption that caused a loss of state funds. In the most recent case, prosecutors argued that an investigation found Suu Kyi did not follow the proper protocols when she rented one helicopter and bought a second, sometime between 2019 and 2021.
The UN and other international organizations have demanded Suu Kyi be released, although the junta has insisted that the charges against her are not politically motivated. Suu Kyi is revered by many in Myanmar, but the military has long sought to minimize her influence, said Kyee Myint, a human rights lawyer in Yangon, Myanmar's largest city.
"As long as Daw Aung San Suu Kyi is in politics, the military will never win," Kyee Myint said. "That's why long-term prison terms are imposed — to remove Daw Aung San Suu Kyi's influence in politics."
Suu Kyi is the daughter of Gen. Aung San, the country's independence hero, who was assassinated when she was 2 years old. As an adult, she was one of many people who spent years in jail for their political opposition to the military junta that seized power in 1962 and ruled the country for decades.
In 1991, she won a Nobel Peace Prize for her nonviolent resistance to the generals who had locked her up, turning her into an icon for global democracy. She eventually began a power-sharing arrangement with the military when her party, the National League for Democracy, won its first landslide election victory in 2015. She was given the title foreign minister and state counselor.
By the time of her arrest in 2021, Suu Kyi had already lost some of her lustre, in large part because she had downplayed the army's murderous campaign against Myanmar's Rohingya Muslim minority, who have been forced to flee the country by the hundreds of thousands. But she still has legions of devoted followers.
"Burmese protesters have marched flying portraits of her father, Aung San, decades after he was murdered, so we can assume that her own portrait will continue to be used as a call to collective action and protest against those holding illegitimate power, regardless of her own action," said Renaud Egreteau, an expert on civil-military relations in Myanmar and a professor at the City University of Hong Kong.
"She is still the matriarchal figure that invokes resistance against the army," he added. "I doubt a farcical trial can change that."
Since being detained in 2021, Suu Kyi has been allowed to speak only with her lawyers. They have been banned from speaking to the news media during the trials. Earlier this year, the country's military-backed Supreme Court announced that it would auction off Suu Kyi's residence, where she spent nearly 15 years under house arrest during the previous military regime.
-New York Times