Xi and Biden grapple with thorny disputes, like Taiwan and climate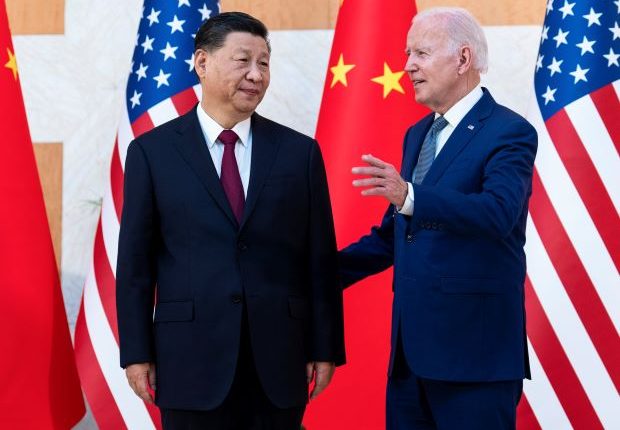 By Katie Rogers and Chris Buckley
BALI — President Joe Biden and his Chinese counterpart, Xi Jinping, met for nearly three hours to hash out some of the thorniest issues in their relationship, including tensions over Taiwan, the economy and a return to climate negotiations.
Biden and Xi made a cautious promise to try to improve a relationship that is at its most rancorous point in decades, and he pledged to send his top envoy to China soon.
Biden warned Xi that China's aggressive stance toward Taiwan threatened stability in the region and could ultimately jeopardize the global economy. Xi replied that Taiwan's independence was as incompatible to peace and stability as "fire and water".
"I do not think there's an imminent attempt on the part of China to invade Taiwan," Biden said at a news conference after the meeting.
Xi and Biden, in their first face-to-face meeting as top leaders, were betting big that personal diplomacy and their shared history could help mediate deep disagreements that threaten to easily derail their fragile accord.
About the global economy, Biden said the United States would "compete vigorously, and I'm not looking for conflict."
"I'm looking to manage this competition responsibly. I want to make sure that every country abides by the international rules of the road."
China, in its statement, said that teams from each government would work on implementing the points of consensus, and "promoting the return of China-U.S. relations to a stable track of development."
Though both sides left the summit without finding common ground on some of their most contentious disagreements, both leaders appeared eager to downplay the idea that Washington and Beijing were headed toward Cold War-era confrontation.
"I absolutely believe there need not be a new Cold War," Biden said.
What else to know:
— The White House, in a separate statement, said Secretary of State Antony Blinken would travel to China at some point after the meeting.
— Compounding tensions between the two countries is Beijing's partnership with Moscow. Biden, the White House said in its summary, raised the invasion and threats by the Russians to use nuclear weapons. Both leaders "reiterated their agreement that a nuclear war should never be fought," the White House said. According to the Chinese account, Xi said that "China is highly concerned with the current situation in Ukraine."
— The two men, who have known each other since Biden was vice president, have talked by phone or video five times in the past 18 months.
— Xi comes to the meeting as the most powerful Chinese leader in decades, weeks after a Communist Party congress gave him a groundbreaking third term in office. And Biden was buoyed by a better-than-expected performance for Democrats in the midterm elections last week.
-New York Times