G-7 leaders pledge 'undeterred' support for Ukraine after Russian strikes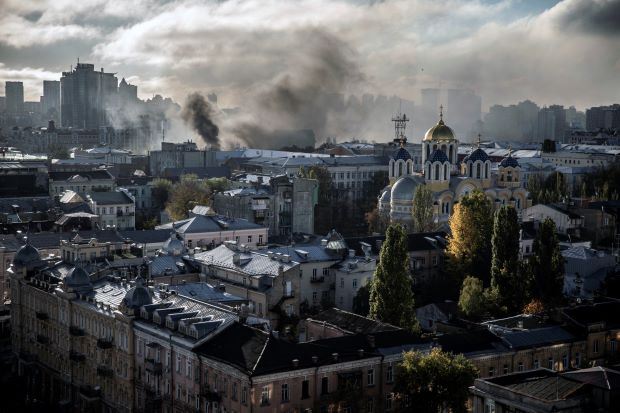 By Michael Schwirtz, Andrew E. Kramer and Megan Specia
KYIV — President Volodymyr Zelenskyy asked the leaders of seven major industrialized nations for more "modern and effective air defence systems" on Tuesday (11), a day after Russia launched an intense aerial assault against civilian targets in his country.
Additional defence systems are necessary to counter Russian missiles and drones, particularly those supplied by Iran, Zelenskyy told the leaders of the Group of 7 nations, who held an emergency meeting a day after Russian missile strikes killed at least 19 people across the country. After the meeting, the leaders pledged "undeterred and steadfast" financial and military support for Ukraine, and emphasized "severe consequences" for Russia if it were to use chemical, biological or nuclear weapons.
The strikes across Ukraine on Monday (10) knocked out waterworks and power stations, plunging cities temporarily into darkness. But the strikes, in retaliation for an attack on a bridge linking Russia and occupied Crimea, did not appear to seriously damage Ukraine's ability to wage war, analysts said.
On Tuesday, Ukraine said that it had shot down numerous Russian cruise missiles, a sign that its air defences were still effective against what analysts say is Moscow's declining stockpile of precision weapons.
Many Ukrainians again sought shelter underground Tuesday morning after the country's emergency ministry warned of "a high probability of rocket attacks" throughout the day. By the afternoon, the intensity of strikes did not appear to be as severe as Monday, although several targets were hit, including three power plants in western and central Ukraine, far from the front lines.
A dozen rockets also struck the embattled southern city of Zaporizhzhia, killing at least five people and hitting a school, medical facility and car dealership, local officials said.
Here are the latest developments:
— Russia's latest assault renewed questions about its military capacity, with analysts saying Moscow's use of dozens of precision missiles, of which it has a dwindling supply, would leave it fewer to use on the battlefield against advancing Ukrainian forces.
— Zelenskyy said in his nightly address that electricity had been mostly or fully restored in several regions. He asked Ukrainians to limit their energy consumption from 5 p.m. to 10 p.m. to avoid overloading the system.
— The UN human rights office said that Russia appeared to have deliberately targeted civilians and critical infrastructure in its bombardment Monday, which the agency said constituted a war crime.
-New York Times