Ed Sheeran wins copyright case over Marvin Gaye's 'Let's Get It On'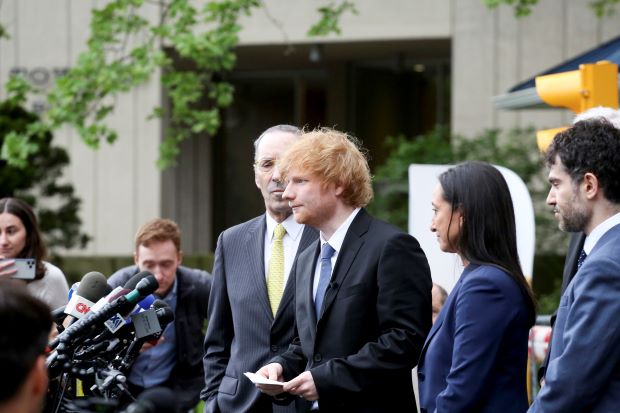 By Ben Sisario
NEW YORK — A federal jury found on Thursday (4) that pop singer Ed Sheeran did not copy Marvin Gaye's classic 'Let's Get It On' for his 2014 hit 'Thinking Out Loud', in the music industry's highest-profile copyright case in years.
Over two weeks in a downtown Manhattan courtroom, Sheeran, one of music's biggest global hit-makers, testified — often with a guitar in hand — that 'Thinking Out Loud' had been created independently one evening with his friend and long-time collaborator Amy Wadge. The song was inspired, he said, by the decades-long loves that he and Wadge observed among elders in their families.
The two tracks share a similar syncopated chord pattern that the family of Ed Townsend, Gaye's co-writer, which filed the suit, called the "heart" of 'Let's Get It On'. Sheeran and his lawyers never denied that the chords in the two songs are similar, but called them commonplace musical building blocks that have turned up in dozens of other songs.
The jury, which deliberated for around three hours, found that Sheeran had created his song independently.
"I am obviously very happy with the outcome of the case," Sheeran said in a statement that he read outside the courthouse. "At the same time, I am unbelievably frustrated that baseless claims like this are allowed to go to court at all."
He reiterated a point his legal team has long made in the dispute, which began in 2015: that the similar chord progression that both his song and Gaye's song use is a common one.
"We have spent the last eight years talking about two songs with dramatically different lyrics, melodies and four chords which are also different and used by songwriters every day, all over the world," Sheeran said. "These chords are common building blocks which were used to create music long before 'Let's Get It On' was written and will be used to make music long after we were gone.
"I am just a guy with a guitar who loves writing music for people to enjoy," he added. "I am not and will never allow myself to be a piggy bank for anyone to shake."
After the verdict was read shortly after 1 p.m., Sheeran rose and hugged members of his legal team. He then walked over to Kathryn Griffin Townsend, Townsend's daughter, and hugged her too. The two then spoke briefly.
After that, Griffin Townsend said that she respected the jury's decision and that she had defended her father's legacy.
"I stood up for my father's intellectual properties," she said. "I was up against an army."
She also said that she was glad to finally have the opportunity to speak one-on-one with Sheeran, and that he had invited her to a show on his tour, which opens Saturday (6)). "If we had been able to just talk," she said, "we wouldn't be here today".
The case, which was filed in 2017 and had been delayed in part by the coronavirus pandemic, involved questions of originality in pop music, and whether the use of basic musical elements, like chord progressions and simple rhythmic patterns, can be owned by a single creator or are free for any musician to use and adapt.
These questions have been tested in a series of recent cases that have stoked fears among musicians that the line between inspiration and plagiarism was being muddied. In a decision in 2015 that shook the business, Robin Thicke and Pharrell Williams' song 'Blurred Lines' was found to have infringed Gaye's 'Got to Give It Up'. Five years later, the tide turned: Led Zeppelin won an appeals court victory over its megahit 'Stairway to Heaven', and the judges provided guidance about how copyright applies to works involving "commonplace elements".
In Sheeran's case, the plaintiffs argued that even if elements like chords may not be under copyright individually, their "selection and arrangement" on 'Let's Get It On' was original and distinctive enough to warrant protection. Sheeran's side responded that the plaintiffs' case did not pass the high legal bar required for such protection.
At times, Sheeran, who has faced litigation stemming from accusations of copying twice before, grew vexed and combative at the stand.
"To have someone come in and say, 'We don't believe you, you must have stolen it,'" Sheeran said, "I find that really insulting".
He insisted that he did not borrow from 'Let's Get It On', and, playing an acoustic guitar in the witness box, he showed that the chord progression at the core of both tunes, while similar, was not identical.
In 'Thinking Out Loud', he testified, the second of the four chords in the progression was major, rejecting a suggestion by Alexander Stewart, a musicologist from the University of Vermont hired by the plaintiffs, that it was similar to a minor one in 'Let's Get It On'.
"I know what I'm playing on guitar," Sheeran said. "It's me playing the chords."
Griffin Townsend, who often wore a tan-coloured coat with the word 'integrity' emblazoned on the back to court, said she had filed her suit to protect her father's legacy. On Day 3 of the trial, the proceedings were interrupted when she collapsed and was taken to a hospital. When Griffin Townsend returned to the courtroom Monday (May 1) morning, Sheeran embraced her.
Among Griffin Townsend's litigators was Ben Crump, who has gained national renown as a civil rights lawyer representing the families of George Floyd and Breonna Taylor. In his opening statement, he told the jury that the evidence in the case included "a smoking gun": a fan video showing Sheeran move seamlessly between 'Thinking Out Loud' and 'Let's Get It On' at a European concert.
Sheeran defended his "mashup" technique, saying he frequently played such medleys in concert, which are made possible by the limited harmonic palette of mainstream pop music. Cradling his guitar, he demonstrated for the jury.
"Most pop songs can fit over most pop songs," Sheeran said. "You could go from 'Let It Be' to 'No Woman, No Cry' and switch back."
For the wider music industry, Sheeran's victory preserves a status quo about copyright. After the disruption of the 'Blurred Lines' case, many commentators viewed Led Zeppelin's win as steering copyright cases back into more familiar territory. Katy Perry and her collaborators on the song 'Dark Horse' were immediate beneficiaries of that ruling.
"This is a win for all songwriters, including the next Ed Townsend and the next Marvin Gaye," said Jennifer Jenkins, a law professor at Duke who specializes in music copyright. "The copyright over the original, creative features of 'Let's Get It On' remains intact, but this verdict frees up the scaffolding it was built upon."
-New York Times