Sinead O'Connor, evocative and outspoken singer, dead at 56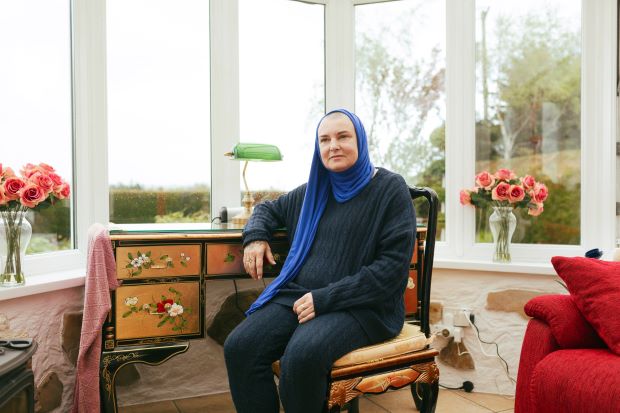 By Ben Sisario and Joe Coscarelli
Sinead O'Connor, the outspoken Irish singer-songwriter known for her powerful, evocative voice, as showcased on her biggest hit, a breath-taking rendition of Prince's 'Nothing Compares 2 U', and for her political provocations onstage and off, has died. She was 56.
Her long-time friend Bob Geldof, the Irish musician and activist, confirmed her death, as did her family in a statement, according to the BBC and the Irish public broadcaster RTE.
"It is with great sadness that we announce the passing of our beloved Sinead," the statement said. "Her family and friends are devastated and have requested privacy at this very difficult time." No other details were provided.
Recognizable by her shaved head and by wide eyes that could appear pained or full of rage, O'Connor released 10 studio albums, beginning with the alternative hit 'The Lion and the Cobra' in 1987. She went on to sell millions of albums worldwide, breaking out with 'I Do Not Want What I Haven't Got' in 1990.
That album, featuring 'Nothing Compares 2 U', a No. 1 hit around the world and an MTV staple, won a Grammy Award in 1991 for best alternative music performance — although O'Connor boycotted the ceremony over what she called the show's excessive commercialism.
O'Connor rarely shrank from controversy, though it often came with consequences for her career.
In 1990, she threatened to cancel a performance in New Jersey if 'The Star-Spangled Banner' was played at the concert hall before her appearance, drawing the ire of no less than Frank Sinatra. That same year, she backed out of an appearance on 'Saturday Night Live' in protest of the misogyny she perceived in the comedy of Andrew Dice Clay, who was scheduled to host.
But all of that paled in comparison to the uproar caused when O'Connor, appearing on 'SNL' in 1992 — shortly after the release of her third album 'Am I Not Your Girl?' — ended an a cappella performance of Bob Marley's 'War' by ripping a photo of Pope John Paul II into pieces as a stance against sexual abuse in the Roman Catholic Church. "Fight the real enemy," she said.
That incident immediately made her a target of criticism and scorn, from social conservatives and beyond. Two weeks after her 'SNL' appearance, she was loudly booed at a Bob Dylan tribute concert at Madison Square Garden. (She had planned to perform Dylan's 'I Believe in You', but she sang 'War' again, rushing off the stage before she had finished.)
For a time, the vitriol directed at O'Connor was so pervasive that it became a kind of pop culture meme in itself. On 'SNL' in early 1993, Madonna mocked the controversy by tearing up a picture of Joey Buttafuoco, the Long Island auto mechanic who was a tabloid fixture at the time because of his affair with a 17-year-old girl.
Once a rising star, O'Connor then stumbled. 'Am I Not Your Girl?', an album of jazz and pop standards like 'Why Don't You Do Right?' and 'Bewitched, Bothered and Bewildered', was stalled on the charts atObituary, No. 27. Her next album, 'Universal Mother' (1994), went no higher than No. 36.
British musician Tim Burgess, of the band Charlatans (known in the United States as the Charlatans UK), wrote on Twitter on Wednesday (26): "Sinead was the true embodiment of a punk spirit. She did not compromise and that made her life more of a struggle."
O'Connor never had another major hit in the United States after 'The Emperor's New Clothes', from 'I Do Not Want What I Haven't Got', although for a time she remained a staple on the British charts.
But in her 2021 memoir, 'Rememberings', O'Connor portrayed ripping up the photo of the pope as a righteous act of protest — and therefore a success.
"I feel that having a No. 1 record derailed my career," she wrote, "and my tearing the photo put me back on the right track."
She elaborated in an interview with The New York Times that same year, calling the incident an act of defiance against the constraints of pop stardom.
"I'm not sorry I did it. It was brilliant," O'Connor said. "But it was very traumatizing," she added. "It was open season on treating me like a crazy bitch."
Sinead Marie Bernadette O'Connor was born in Glenageary, a suburb of Dublin, on Dec. 8, 1966. Her father, John, was an engineer, and her mother, Johanna, was a dressmaker.
In interviews, and in her memoir, O'Connor spoke openly of having a traumatic childhood. She said that her mother physically abused her and that she had been deeply affected by her parents' separation, which happened when she was 8. In her teens, she was arrested for shoplifting and sent to reform schools.
When she was 15, O'Connor sang 'Evergreen' — the love theme from 'A Star Is Born', made famous by Barbra Streisand — at a wedding, and was discovered by Paul Byrne, a drummer who had an affiliation with the Irish band U2. She left boarding school at 16 and began her career, supporting herself by waitressing and performing 'kiss-o-grams' in a kinky French maid costume.
'The Lion and the Cobra' — the title is an allusion to Psalm 91 — marked her as a rising talent with a spiritual heart, an ear for offbeat melody and a fierce and combative style. Her music drew from 1980s-vintage alternative rock, hip-hop and flashes of Celtic folk that came through when her voice raised to high registers.
She drew headlines for defending the Irish Republican Army and publicly jeered U2 — whose members had supported her — as "bombastic".  She also said she had rejected attempts by her record company, Ensign, to adopt a more conventional image.
The leaders of the label "wanted me to wear high-heel boots and tight jeans and grow my hair," O'Connor told Rolling Stone in 1991. "And I decided that they were so pathetic that I shaved my head so there couldn't be any further discussion."
'Nothing Compares 2 U' — originally released by the Family, a Prince side project, in 1985 — became a phenomenon when O'Connor released it five years later. The video for the song, trained closely on her emotive face, was hypnotic, and O'Connor's voice, as it raised from delicate, breathy notes to powerful cries, stopped listeners in their tracks. Singers such as Alanis Morissette cited O'Connor's work from this period as a key influence.
Not long after 'Nothing Compares' became a hit, O'Connor accused Prince of physically threatening her. She elaborated on the story in her memoir, saying that Prince, at his Hollywood mansion, chastised her for swearing in interviews and suggested a pillow fight, only to hit her with something hard that was in his pillowcase. She escaped on foot in the middle of the night, she said, but Prince chased her around the highway.
The effects of childhood trauma, and finding ways to fight and heal, became a central part of her work and her personal philosophy. "The cause of all the world's problems, as far as I'm concerned, is child abuse," O'Connor told Spin magazine in 1991.
Her mother, whom O'Connor described as an alcoholic, died when she was 18. In her memoir, O'Connor said that on the day her mother died she took a picture of the pope from her mother's wall; it was that photo that she destroyed on television.
On later albums, she made warmly expansive pop-rock ('Faith and Courage', 2000), played traditional Irish songs ('Sean-Nós Nua', 2002) and revisited classic reggae songs ('Throw Down Your Arms', 2005). Her last album was 'I'm Not Bossy, I'm the Boss', released in 2014.
As her music career slowed, O'Connor, who had been open in the past about her mental health struggles, became an increasingly erratic public figure, often sharing unfiltered opinions and personal details on social media.
In 2007, she revealed on Oprah Winfrey's television show that she had been diagnosed with bipolar disorder and that she had tried to kill herself on her 33rd birthday. Her son Shane died by suicide in 2022, at 17.
O'Connor said in 2012 that she had been misdiagnosed and that she was suffering from post-traumatic stress disorder stemming from a history of child abuse. "Recovery from child abuse is a life's work," she told People magazine.
Several years ago she converted to Islam and started using the name Shuhada Sadaqat, though she continued to answer to O'Connor as well.
Complete information on survivors was not immediately available. O'Connor had two brothers, Joe and John, and one sister, Eimear, as well as three stepsisters and a stepbrother. She wrote in her memoir that she was married four times and that she had four children: three sons, Jake, Shane and Yeshua, and a daughter, Roisin.
In discussing her memoir with the Times in 2021, O'Connor focused on her decision to tear up the photo of John Paul II as a signal moment in a life of protest and defiance.
"The media was making me out to be crazy because I wasn't acting like a pop star was supposed to act," she said. "It seems to me that being a pop star is almost like being in a type of prison. You have to be a good girl."
-New York Times