COLOMBO – Indian Naval Ship (INS) 'Batti Malv', which arrived at the Trincomalee Port on Tuesday (16) on a two-day operational visit, engaged in various training programs in Sri Lanka and participated in a Passage Exercise (PASSEX) with Sri Lankan naval vessel Ranadheera off Trincomalee, before departing on Wednesday (17).
The vessel, a 6m long fast patrol craft carrying a crew of 101, was welcomed by the Sri Lanka Navy in accordance with naval traditions, subsequent to which its Commanding Officer Lieutenant Commander Man Singh M called on Commander of Eastern Naval Area, Rear Admiral H. G. U. D. Kumara at the Eastern Naval Command Head Quarters.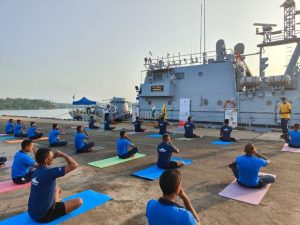 The crew also participated in a yoga session in the run-up to the International Yoga Day scheduled on 21 June 2023, and carried out social interaction with school children from the Southern Province, providing assistance to improve quality of education.
A statement from the Indian High Commission said the visit of INS Batti Malv, was also significant in view of the potential for cooperation between India and Sri Lanka for augmenting capabilities of Sri Lanka Navy in similar fast patrol craft for efficiently addressing shared challenges for maritime security in the region.
The statement recalled that INS Kiltan and Savitri had earlier visited Colombo from April 3 to 6, 2023 to participate in SLINEX-23.
Visits by Indian Navy ships in Sri Lanka aim to achieve bonhomie and interoperability between the two neighbouring navies in keeping with the vision of 'Neighbourhood First' policy of India, it added.
-ENCL